Lindsey Graham Agrees Trump 'Can Be Prosecuted Like Any Other Citizen' But Opposes Impeachment
Senator Lindsey Graham, a South Carolina Republican, voiced his opposition to the pending Senate impeachment trial for former President Donald Trump but said that he could be "prosecuted like any other citizen."
Graham, like the majority of GOP senators, voted in late January to say that he viewed the second Senate trial for Trump to be unconstitutional. The resolution was pushed forward by Republican Senator Rand Paul of Kentucky, with just five Republicans voting against the measure alongside 50 Democrats—rejecting the suggestion that the trial would be unconstitutional. During a Sunday interview with CBS News' Face the Nation, Graham reiterated his opposition to the trial, which will start Tuesday.
"Here's what I would say: If you believe he committed a crime, he can be prosecuted like any other citizen," Graham said. "Impeachment is a political process. We've never impeached a president once they're out of office. I think this is a very bad idea."
Later in the interview, host Margaret Brennan asked Graham if any of Trump's actions ahead of the January 6 insurrection, which led to five deaths, deserves "a reprimand."
"Well, I mean, he's gonna have a place in history for all of this," Graham said. "But the point of the matter is, we're in Congress. We're not prosecutors."
Newsweek reached out to Graham's press secretary for comment but did not immediately receive a response.
The five Republican senators who voted with Democrats to say the trial would be constitutional include Mitt Romney of Utah, Pat Toomey of Pennsylvania, Lisa Murkowski of Alaska, Ben Sasse of Nebraska and Susan Collins of Maine. During an interview with CNN on Sunday, Toomey asserted once again that he believes the trial is "constitutional." However, he said it's "very unlikely" that Trump will be convicted.
"I think it's clearly constitutional to conduct a Senate trial with respect to an impeachment," Toomey said. Most constitutional scholars agree with Toomey's assessment; however, some conservatives have argued that it's unconstitutional as Trump is no longer in office.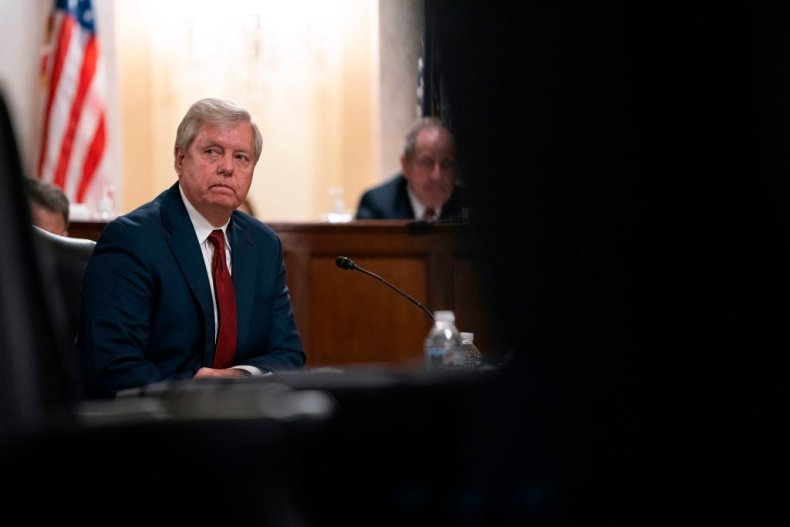 At least 17 GOP senators would need to vote in favor of impeachment. With 45 Republicans already voting last month that they view the trial as unconstitutional, most analysts believe it is highly unlikely that Trump would be convicted. However, Senator Bill Cassidy, a Louisiana Republican, pushed back on Sunday against the idea that the conviction vote would mirror the results of Paul's resolution.
"I think it's important to understand the nature of that vote. It was called two hours before it. There was no debate and no explanation from either side," Cassidy said during an interview with NBC News' Meet the Press. The GOP lawmaker said he doesn't think that the vote on Paul's resolution predetermined the outcome of the trial.