Lindsey Graham's Reason for Not Testifying Was Just Torn to Shreds
Prosecutors have rejected a number of arguments that South Carolina Senator Lindsey Graham has put forward in an attempt to prevent himself from having to testify about attempts to overturn the 2020 election results.
On Thursday, lawyers from the Kaplan Hecker and Fink firm filed an amicus brief to the Supreme Court laying out why it should deny Graham's request to stay an order requiring him to testify in front of a special grand jury in Fulton County in Georgia.
The brief was filed after Supreme Court Justice Clarence Thomas temporarily froze the order requiring Graham to testify.
Graham was subpoenaed as part of the investigation led by Fulton County District Attorney Fani Willis into whether Trump committed a crime in his attempts to overturn Georgia's 2020 election results. It focuses on the former president's phone call with Secretary of State Brad Raffensperger urging him to "find" 11,780 votes.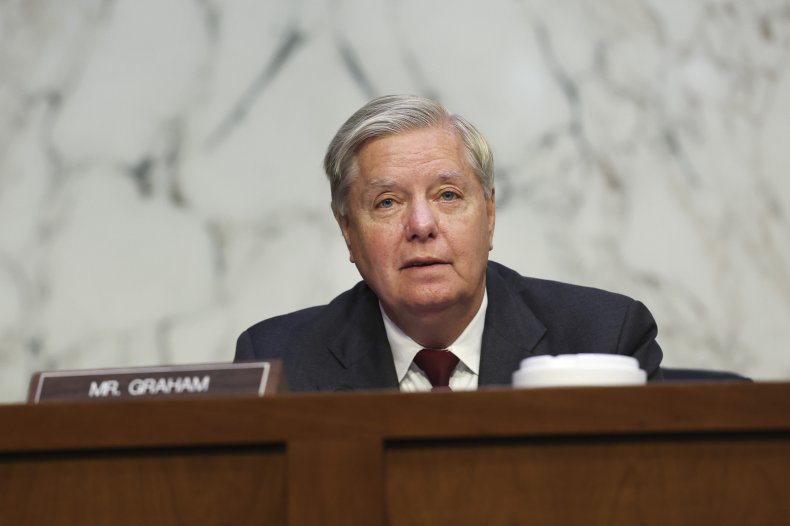 Investigators want to speak to Graham about his own phone calls to Raffensperger soon after the 2020 Election in which he questioned the validity of some absentee ballots to determine if this was an attempt to "explore the possibility of a more favorable outcome" for Trump.
Graham has denied any wrongdoing, and has argued that the Constitution's Speech and Debate Clause, which states members of Congress can't be questioned on matters pertaining to their legislative duties, means he can't testify to the special grand jury about the calls.
In their 27-page court filing, the Kaplan Hecker lawyers have dismissed a number of Graham's arguments to avoid testifying in Georgia, including that the grand jury subpoena seeks testimony from him on several topics, "the majority of which involve non-legislative conduct" as defined by the Supreme Court.
The amicus brief also argues that granting a stay for Graham would "undermine vital public interests in criminal law enforcement and ensuring election integrity."
"There is no constitutional bar to obtaining such testimony, and there is no merit to Senator Graham's assertion that questioning on such topics would serve only as a pretext to ask otherwise forbidden questions about his motives for legislative acts," the attorneys wrote.
"Senator Graham's objections to this approach misstate the facts and the law, and do not justify the extraordinary relief he seeks."
Prosecutors also argue that Graham's claim that the phone call to Raffensperger falls under a legislative investigation and is therefore covered by the Speech or Debate Clause is also in dispute.
The lawyers state that "nobody here denies" that a purely information-gathering investigation by a member of Congress relating to an upcoming legislative business is covered by legislative privilege, but Georgia election officials dispute the argument that the Senator was only gathering information during the call.
The lawyers specified Raffensperger's previous comments in which he described a November 13, 2020, phone call with Graham as the Senator trying to find a way to throw out a "substantial" number of legally cast ballots.
"It sure looked like he was wanting to go down that road," Raffensperger told The Washington Post in the days after the election.
The amicus brief adds that Graham has presented "virtually no evidence" to support his contention that the subpoena's other topics are "simply backdoor ways" to question him about his motives behind his legislative investigation.
"Senator Graham's position misstates the facts and misapplies the law," the lawyers stated.
"If accepted, moreover, it would have startling implications: virtually any federal legislator could contact state or federal officials, and engage in all manner of cajoling or even improper or unlawful conduct, and then later claim total immunity from any questioning related not only to their calls but also to the broader subject matter of the communication...That has never been the law."
Graham previously dismissed the suggestion his November 2020 phone call with Raffensperger was an attempt to have absentee ballots thrown out so the results would favor Trump over Joe Biden as "ridiculous."
Graham has been contacted for comment.