Lindsey Graham Says Joe Biden Is 'In His Basement' Because He 'Can't Carry a Message'
Republican Senator Lindsey Graham has accused Joe Biden of spending time in his "basement because he can't carry the message" for more than a few days.
Commenting on the Biden campaign strategy, Graham told Fox News host Sean Hannity: "He can't carry the message for five or six days. President [Donald] Trump is working his ass off, going all over the country with a lot of energy. He has really accomplished a lot in his first time.
"Joe Biden is in his basement because he can't carry a message."
Biden spent much of the summer on lockdown in his Delaware home as the pandemic spread across the country.
Critics of the former vice president accused him of retreating to the property in Wilmington, with Trump mocking his Democratic rival for "sleeping in his basement" at one rally. Trump has also referred to Biden as "Joe Hiden."
Biden has countered that narrative, painting Trump as willing to campaign, often in front of crowds where guidance on social distancing and masks was ignored, at any cost while coronavirus claimed thousands of American lives.
"Guess what. I have left my basement, and in the meantime 500 million people have watched what I've done out of my basement," he told ABC News in August.
"It's about being responsible. We're going to follow the science, what the scientists tell us. We've been able to travel places when we've been able to do it in a way that we don't cause the congregation of large numbers of people."
And as Election Day has neared, the former vice president has intensified his campaigning.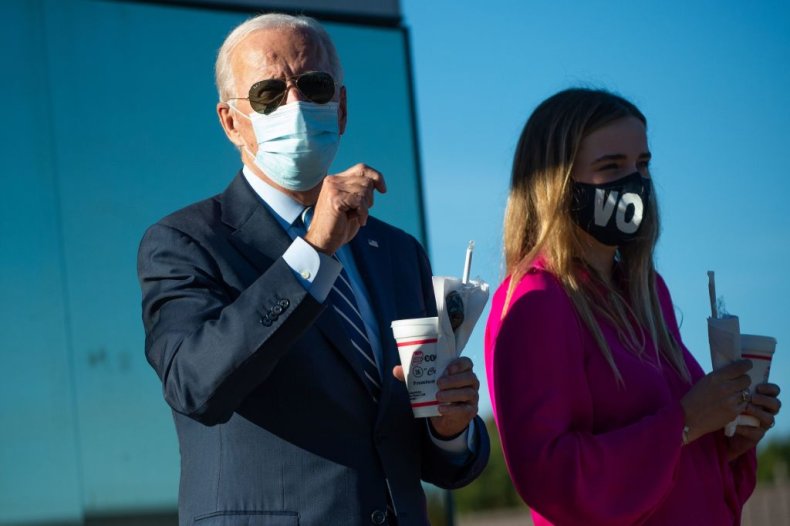 Graham said Thursday's second and final presidential debate in Florida would be a decisive moment in the campaign.
"At the end of the day, this debate Thursday is really going to be defining," he said. "We are going to win this race. I think there are a lot of Americans out there that are afraid of what the Democratic Party would do to our country.
"They should be supporting Donald Trump because he's been a hell of a good president and support people like me. I have been fighting for judge Barrett. Support us all. We are taking the country in a good direction.
"The only thing between socialism and free enterprise is this election. The only thing between law and order and chaos is this election. The only thing between conservative judges and liberal judges is this election. Take it like our country and your life depends on the outcome, it does."
Newsweek contacted the Biden campaign for comment.
On Tuesday, Graham shared a video on Twitter of him and his team being "confronted by two women" as he walked through the airport in Washington, D.C.
He was challenged over his support for Judge Amy Coney Barrett, Trump's conservative pick to fill the vacant Supreme Court seat left by Ruth Bader Ginsburg.