Liverpool 3 Arsenal 3: Firmino and Giroud Star in Thrilling Premier League Draw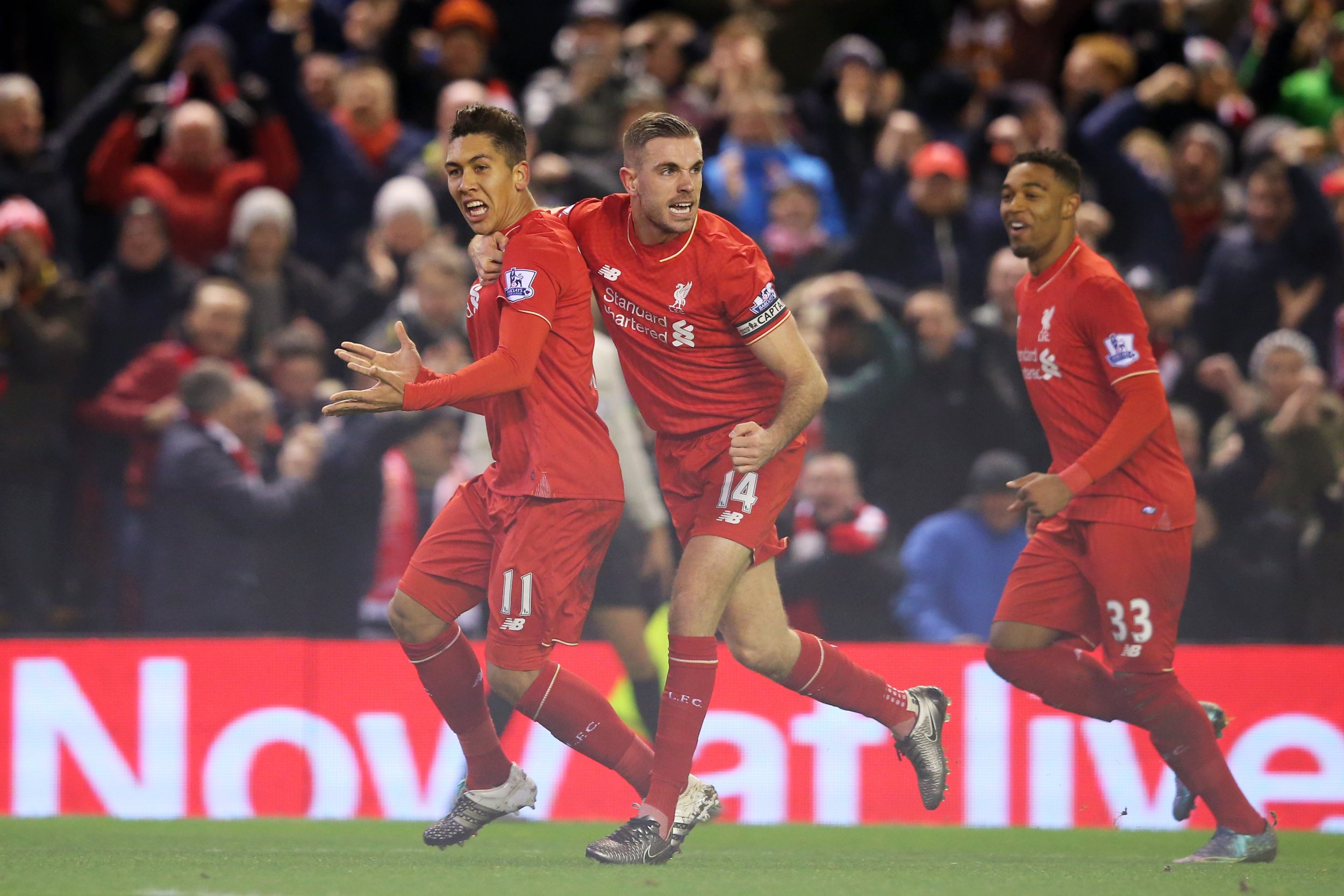 For the second night in a row, an English Premier League match provided a banquet of excitement. Liverpool and Arsenal shared six goals at Anfield, just as Manchester United and Newcastle United shared six at St. James' Park on Tuesday night.
So what did we learn from Wednesday's helter-skelter encounter?
Here was the madcap brilliance of the Premier League
Five goals in the first hour, three of them beautiful—two from Liverpool's Roberto Firmino and one from Arsenal striker Olivier Giroud—the others scrappy, down to human error. All compelling. This was a game played at such pace, with such whirling intensity, that errors were inevitable. Liverpool goalkeeper Simon Mignolet's mistake that let Arsenal midfielder Aaron Ramsey take the score to 1-1 was the worst of all. But those mistakes did not hurt the spectacle. Added to the fabulous goals, they meant 90 minutes of rough loveliness. This was the game of the Premier League season so far, capped by the most extraordinary finish, with an equalizer by Joe Allen, the Liverpool midfielder.
Joel Campbell has become a key figure in this Arsenal side
Which sounds strange, given how long he took to break into it. You will often hear commentators damn Campbell, the Costa Rican, with faint praise, usually something along the lines of: "He works hard enough to make up for his lack of touch." But judge Campbell on his own merits—not by those of his Arsenal teammates—and a different story emerges. It was Campbell's neat, intelligent pass that set up Ramsey for Arsenal's first equalizer in the first half, and he seemed to be everywhere from then on, tackling back with just the right dose of ferocity, and contributing in attack. Stealthily, he has become a crucial cog in the Arsenal side.
Firmino delights, and he frustrates
A beguiling player is Roberto Firmino, and one who befuddles, too. He scored twice in the first half, and the second goal was one of the best of the season so far, a thunderer into the top corner of the Arsenal goal that Petr Cech could do nothing about. This was Firmino playing as well as he did in the 4-1 victory at Etihad Stadium against Manchester City on November 21. More brilliance followed in the second half; on 71 minutes, he slid a pass into Jordon Ibe that showed verve and imagination. If only it were possible to work out what position he plays. Is the Brazilian a striker? A winger? A midfielder? He is none and all three, and that is why he is so confusing—and so dangerous.
Arsenal has resilience where once it was weak
It went behind once, and equalized. It went behind a second time, and again hit back. And then, in the second half, it hit the front through Olivier Giroud. Against a Liverpool team playing something close to the apogee of the style that manager Jurgen Klopp demands, Arsene Wenger's team absorbed blows to the body and stayed standing. It is not unfair to say that in the past, Arsenal might have folded like the proverbial cheap pack of cards under the pressure exerted by Liverpool. The final equalizer, that made the score 3-3, was far more down to Liverpool's indomitable spirit than it was to any failing of character from Arsenal.
Wenger remains a lesson in classy longevity
This was the week when it was revealed Liverpool had trademarked Jurgen Klopp's nickname, "The Normal One ," suggesting perhaps that the manager will be around for the long term. There were signs again at Anfield on Wednesday night that Klopp's project will reach a successful conclusion, once Liverpool loses its inconsistency. The frantic ending to the game proved as much. If he wants a model for how to construct the ideal long-term project, Klopp had only to look across the dugout area, where Wenger stood, quixotically urbane as ever in that caterpillar coat.
With Arsenal's change of style this season, Wenger has shown he can adapt as well as espouse the virtues of beautiful football. In his 20th year as Arsenal manager, he is now without peer in the Premier League.