Liz Cheney may have lost to Harriet Hageman in Wyoming's Republican primary on Tuesday, registering only around 29 percent of the votes cast, but she is ahead in one popularity race.
Currently, Cheney is beating Donald Trump in terms of the public's interest. For only the second time ever, the search term "Liz Cheney" is ahead of her political foe, "Donald Trump," on Google Trends.
At around 6:30 p.m. ET on August 16, for the first time ever, Cheney was a more popular search subject on Google than Trump. The number of searches for Cheney then fell but surged again from 7 p.m. to a peak at just after 10 p.m. when searches for Cheney were indexed at the maximum score of 100, and Trump searches were at just 14 points.
The gap has since narrowed, but searches for Cheney still lead searches for Trump 24 to 13.
The only other time this happened was in June. During the opening day of the January 6 hearings, on June 10, 2022, searches for Cheney briefly spiked above that of Trump, but other than that, the former president has usually been of far greater search interest on Google. Cheney is vice chair of the House select committee investigating January 6.
As far as Newsweek can determine, using the data from Google going back to 2004, Trump has otherwise always been ahead of Cheney in search interest, which is not surprising given his higher profile.
Cheney hinted at a future run for president after her defeat to Trump-backed Hageman in the state's Republican primary. In her concession speech on Tuesday night, Cheney said that she was not done with politics and said that "now the real work begins."
Trump has yet to formally announce that he will run for president in 2024, but has dropped strong hints about his candidacy in recent months.
As a measure of public sentiment, Google Trends is blunt but useful. It is a good gauge of overall interest, although it doesn't indicate party affiliation or any other demographic information.
However, data from Google indicates that people are keen to hear Cheney's thoughts, the top related query was "liz cheney speech today". Searches were evenly spread across the country, except for Wyoming, Cheney's state, which was way ahead of the others.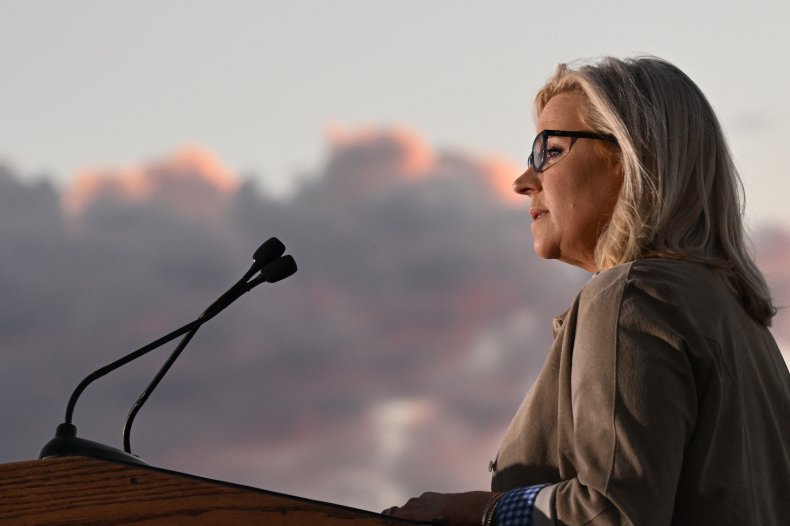 Over the last 24 hours, Cheney was also ahead of Trump in worldwide Google searches, with a higher score than the former president in nations including Japan, Italy, Canada, France and the U.K.
Google Trends doesn't give out the exact number of searches. Instead, it normalizes search data to make comparisons between terms easier.
"Each data point is divided by the total searches of the geography and time range it represents to compare relative popularity," Google explained. "Otherwise, places with the most search volume would always be ranked highest. The resulting numbers are then scaled on a range of 0 to 100 based on a topic's proportion to all searches on all topics."