The conservative-leaning Lincoln Project has taunted former President Donald Trump in a new ad released on Tuesday warning him that his Republican allies are "turning" on him.
The Lincoln Project's new ad, "Outsider," addresses the former president directly and argues that no one is being honest with Trump except the group that has produced the recent ad.
The new ad follows a familiar pattern for the Lincoln Project in ostensibly speaking to Trump and warning him about those close to him. It also highlights his own criticism of the group as the "Loser Project." The Lincoln Project describes itself as a "leading pro-democracy organization" and was founded in 2019 by former members of the Republican Party opposed to Trump. The group has become well-known for its ads aimed at the former president.
"You hate us," a female narrator tells Trump. "And we're not your biggest fans either."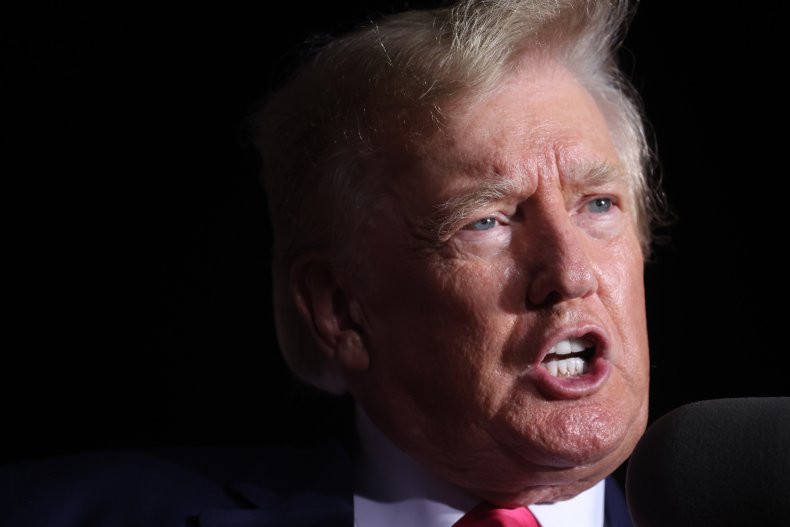 "But in a funny way, we're the only people you can trust," the narrator says as the video goes on to recap some of the Lincoln Project's other ads aimed at the former president.
"We told you that you'd lose, and you did," the ad said. "But you didn't listen. Now you're losing."
The narrator added that the Lincoln Project had told Trump "that Mike Pence would stab you on the back on January 6, and he did" and "how Mitch [McConnell] and Kevin [McCarthy] were using your name for money and power—and they are."
"And we told you Ron DeSantis was coming for you," the video went on, referring to Florida's Republican governor. "And now he thinks he's bigger than you."
The narrator went on: "They're turning on you. All of them."
"We'd tell you we're sad for you, but like we said before, we always tell you the truth," the ad concluded.
The most recent ad follows a Lincoln Project video where they suggested someone in Trump's inner circle had betrayed him over the recent FBI raid at Mar-a-Lago and offered possibilities.
"Was it Jared?—ungrateful." "Ivanka?—they're backing away from you." "Don Jr?—your own son." "Eric?—do you even care?"
Newsweek has asked former President Trump's office and the Lincoln Project for comment.
As Newsweek reported, two senior government sources have said that the FBI's warrant to search Mar-a-Lago was based on information from a confidential human source who could "identify what classified documents former President Trump was still hiding."
The Lincoln Project's new ad is accompanied by a targeted ad buy that will see it shown in Bedminster, New Jersey and West Palm Beach, Florida. Trump's Mar-a-Lago residence is in Palm Beach, and he also spends time at his Bedminster golf course.
The ad was released on the same day as key primary races in Wyoming and Alaska and the Lincoln Project issued a statement on Tuesday following Republican Representative Liz Cheney's defeat in Wyoming by Trump-backed challenger Harriet Hageman.
"Tonight, the nation marks the end of the Republican Party. What remains shares the name and branding of the traditional GOP, but is in fact an authoritarian nationalist cult dedicated only to Donald Trump," the group wrote.
"Liz Cheney stood up to the lawless, reckless attack on our nation led by Donald Trump and millions of Americans saw leadership that transcended ideological boundaries," it said.
"For standing up to Donald Trump and working to hold accountable those responsible for his violent insurrection, Liz Cheney risked and lost her political career as a Republican," the Lincoln Project said.