Liz Cheney Calls Matt Gaetz Sexual Misconduct Charges 'Sickening'
Representative Liz Cheney, a Wyoming Republican and the chair of the House Republican Conference, described the allegations that GOP Florida Representative Matt Gaetz paid a minor for sex "sickening" in a Sunday interview.
Prior to the allegations emerging against Gaetz, the congressman—a staunch supporter of former President Donald Trump—had strongly criticized Cheney for voting to impeach the former president following the assault on the U.S. Capitol on January 6. Gaetz participated in an unsuccessful House GOP effort to remove Cheney from her leadership position within the caucus and even traveled to Wyoming to lead a rally against her.
The Quote
"You know as the mother of daughters, the charges certainly are sickening and as the Speaker [of the House Nancy Pelosi] noted, there is an ethics investigation underway. There are also criminal investigations underway. And I'm not going to comment further on that publicly right now," Cheney told CBS News' Face the Nation.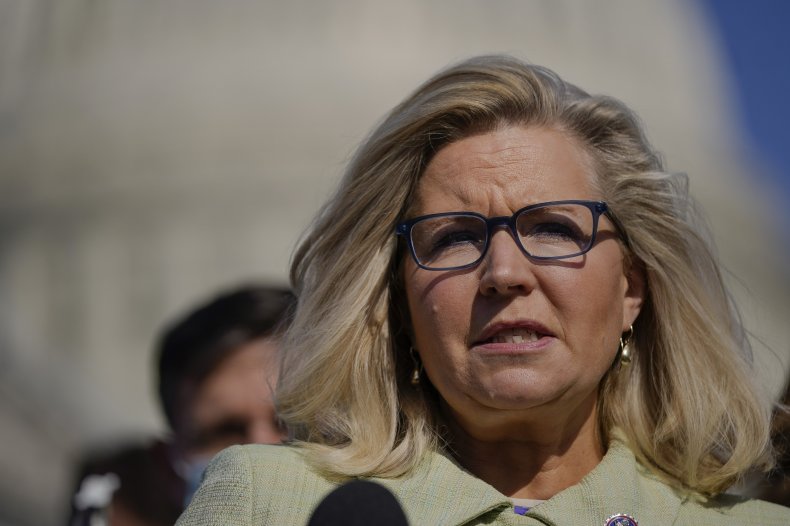 Asked if she was surprised by the allegations, the Wyoming Republican responded: "I'm not going to comment further."
Why It Matters
The Justice Department, as part of a probe that began last year while Trump's former Attorney General William Barr still led the agency, is investigating allegations of sex trafficking and whether Gaetz paid for and had a sexual relationship with a 17-year-old. Joel Greenberg, a close Gaetz associate and former county tax collector near Orlando, is expected to plead guilty to charges related to the alleged sex scandal and other crimes in a plea deal agreement with investigators.
"I'm sure Matt Gaetz is not feeling very comfortable today," Greenberg's attorney, Fritz Scheller, told reporters outside a federal courthouse in Orlando last week.
Gaetz and Cheney represent rival factions within the Republican Party. The Florida congressman has long been staunchly supportive of Trump, fully embracing his brash style of divisive politics and conspiracy theories. Cheney, conversely, routinely criticized Trump during his time in office and joined Democrats as well as nine other GOP House members in voting to impeach the then president for inciting his supporters to attack the U.S. Capitol on January 6. This condemnation drew the ire of Trump and Gaetz, after the former president had already clashed repeatedly with the Wyoming lawmaker.
Opposing View
Gaetz has denied the allegations and has claimed that his family is being extorted. The congressman has argued that he is facing political persecution due to his support for Trump and opposition to establishment politicians, such as Cheney.
"Folks won't be surprised that bizarre claims are being made about me shortly after I decided to take on the most powerful institutions in the Beltway: the establishment; the FBI; the Biden Justice Department; the Cheney political dynasty; even the Justice Department under Trump," Gaetz wrote in an opinion article published by the Washington Examiner on Monday.
Newsweek reached out to Gaetz's office for further comment.