Liz Cheney Receives Huge Applause From Republicans for Speech Against Trump
Republican Representative and vice chair of the House January 6 Committee Liz Cheney received thunderous applause from a GOP crowd for saying Republicans needed to make a choice between supporting Donald Trump and the Constitution.
Her speech comes at a time when the Republican Party is considering its future and whether to back the former president, who has so far only hinted at running for office again, or push for a new candidate.
Cheney was the speaker in the Ronald Reagan Presidential Foundation and Institute's A Time for Choosing speaker series on Wednesday.
The event is a forum for "leading voices in the conservative movement" and addresses the "critical questions facing the future of the Republican Party," according to the institute.
Speaking at the Ronald Reagan Presidential Library in Simi Valley, California, she reflected on the revelations from the committee hearings.
A video of the moment has also gone viral, with over 180,000 views on Twitter.
"It has become clear that the efforts Donald Trump oversaw and engaged in were even more chilling and more threatening than we could have imagined," Cheney said during her speech.
"As we have shown, Donald Trump attempted to overturn the presidential election, he attempted to stay in office and to prevent the peaceful transfer of presidential power.
"He summoned a mob to Washington, he knew they were armed on January 6, he knew they were angry and he directed the violent mob to march on the Capitol in order to delay or prevent completely the counting of electoral votes.
"He attempted to go there with them and when the violence was underway he refused to take action to tell the rioters to leave.
"Instead, he incited further violence by tweeting the Vice-President, Mike Pence, was a coward.
"He said 'Mike deserves it' and he didn't want to do anything in response to the 'hang Mike Pence' chants."
Cheney went on to argue the importance of moving beyond this event and going forward without Trump.
She said Republicans would have to choose between supporting the former president or the Constitution.
Trump has previously hinted and teased at another presidential bid for 2024 but has not formally announced himself as a candidate.
"I think we all have to recognize and understand what it is to say those words and what it means that those things happened," Cheney continued.
"The reality that we face today as Republicans, as we think about the choice in front of us, we have to choose.
"Republicans can not both be loyal to Donald Trump and loyal to the Constitution."
Cheney was then interrupted by thunderous applause and cheers from the audience.
Cheney also warned against Republican leaders continuing to support Trump as she deemed him a "dangerous and irrational man."
"We are confronting a domestic threat that we have never faced before," she said.
"And that is a former president who is attempting to unravel the foundations of our constitutional republic.
"And he is aided by Republican leaders and elected officials who have made themselves willing hostages to this dangerous and irrational man.
"Some in my party are embracing former President Trump. Even after all we've seen, they're enabling his lies.
"Many others are urging that we not confront Donald Trump, that we look away. That is certainly the easier path."
Trump has repeatedly denounced Cheney as a "RINO," or "Republican in name only," due to her vote to impeach him and her involvement with the January 6 committee.
The former president endorsed and has campaigned for Harriet Hageman, who hopes to unseat Cheney in Wyoming's GOP primary on August 16.
The Republican establishment has also rejected Cheney due to her stance on Trump. The Wyoming GOP ejected her from the state party last year and the Republican National Committee officially censured her for investigating the January 6 attack, describing the siege of the U.S. Capitol as "legitimate political discourse," earlier this year.
Newsweek has contacted Trump's office for comment.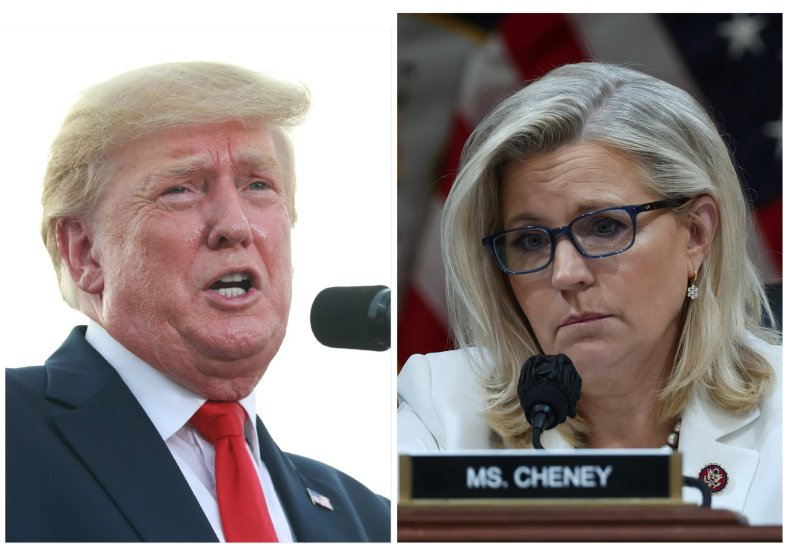 Update 07/01/22 7:45 a.m. ET: This article was updated to add context on where Cheney was speaking.