Liz Cheney Primary Loss Could Be Her Biggest 2024 Boost Yet: Experts
After a tumultuous 1 1/2 years of pushing back against her own party, Representative Liz Cheney of Wyoming saw the biggest political defeat of her career on Tuesday. Yet experts say the rock-bottom moment may be exactly what she needs to mount a significant 2024 challenge to former President Donald Trump.
Since the congresswoman voted to impeach Trump for his role in the January 6 Capitol riot, she has been ousted from her leadership position as the No. 3 House Republican and censured by the National Republican Party. On Tuesday, Cheney lost her primary election to Trump-endorsed candidate Harriet Hageman in one of the most-watched races of this midterm cycle, marking an end to her three-term tenure in Congress.
Shortly after the primary was called for Hageman, Trump wrote on social media, "Liz Cheney should be ashamed of herself, the way she acted, and her spiteful, sanctimonious words and actions towards others. Now she can finally disappear into the depths of political oblivion where, I am sure, she will be much happier than she is right now. Thank you WYOMING!"
But while Cheney was unseated, her primary loss is unlikely to be the deathblow that the former president is hoping it will be. Republican strategist Alex Patton told Newsweek that the loss elevates Cheney to the "bonafide leader of the resistance" while also raising her national profile.
There has long been national speculation that Cheney has been setting up for a presidential run. James King, a political science professor at the University of Wyoming, said that should she make a bid, her primary loss has helped Cheney position herself as an alternative to Trump.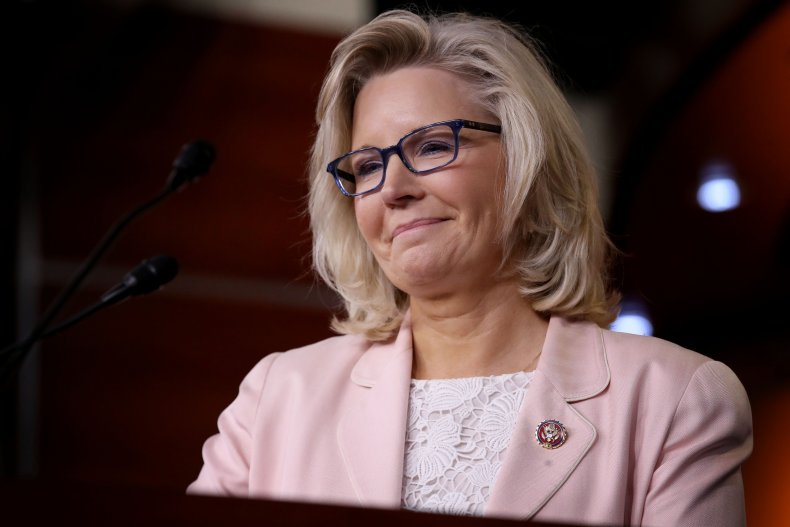 With the pressure of reelection gone, the Wyoming Republican would be able to draw national attention to her role as the vice chair of the House committee investigating the Capitol riot, which is now being further legitimized by the Justice Department's probe. If Cheney can maintain her reputation as one of the leading anti-Trump Republican voices, experts say she could emerge as a standout candidate in the 2024 presidential field.
Asked about running for the White House, Cheney told ABC News last month that she hasn't finalized a decision on a presidential bid yet, but that she would later "down the road."
"I'm obviously very focused on my reelection. I'm very focused on the January 6 committee. I'm very focused on my obligations to do the job that I have now," she said, adding that "The single most important thing is protecting the nation from Donald Trump."
Republican strategist Jay Townsend told Newsweek that Cheney's courage to break away from the pack has helped her stand out "in the ocean of cowards populating the Republican caucus in Congress." He said that regardless of Tuesday's defeat, "history will someday regard her as one of the greatest heroes of our time" and that she'll be remembered for her conviction in refusing to back down to Trump and his congressional loyalists.
Trump vowed to seek revenge on Cheney for her fierce criticisms of him, and while he was quick to claim victory over her primary loss, King said Tuesday's vote, which he described as a referendum on the congresswoman, had more to do with Cheney than Trump.
"This is very much an anti-Cheney vote within a Republican primary," he said. "The choice people are making is not about supporting a candidate, it's opposing a candidate."
The question that Wyoming voters were forced to answer at the polls was: Does Cheney represent us?
Many felt Cheney should have been more supportive of Trump, since he carried the state with more than two-thirds of the vote in both 2016 and 2020. King pointed out that while Cheney broke ranks to vote for Trump's impeachment, her voting record during the Trump administration was more conservative and aligned more with the Trump White House—voting with the former president about 93 percent of the time—than her critics within the Republican conference.
Nonetheless, Tuesday's election signaled that Wyoming Republican voters felt Cheney betrayed them when she joined Democrats on last year's vote.
But while voters seemed quick to reject Cheney and embrace Hageman, a win for her primary opponent also makes it easier for the public to make a caricature of the GOP, Patton said. Because the juxtaposition of Cheney against the Trump camp "further purges the GOP into a motley crew of fringe candidates and beliefs," it becomes more difficult for Republicans to win close races. So, a pro-Trump Republican Party could prop Cheney up in 2024.
"I don't know what the future holds for Representative Cheney, but she's not done," Patton said. "She'll collect her profile in courage award, and likely return to the arena swinging."