Liz Cheney Touts Murdoch-Owned Media Condemning Trump During Fox Interview
Representative Liz Cheney, a Wyoming Republican, pointed out during a Fox News Sunday interview that the editorial boards of right-leaning newspapers owned by billionaire media tycoon Rupert Murdoch agree with her assessment that former President Donald Trump is "unfit" to hold office again.
Cheney serves as the vice chair of the House select committee investigating the January 6, 2021, attack on the U.S. Capitol. In the wake of the violence carried out by Trump supporters toward the federal legislative branch of government last year, Cheney has emerged as one of the former president's harshest critics.
"It's not just me that's saying that Donald Trump is unfit for office. It's other entities owned by Rupert Murdoch," the GOP lawmaker said Sunday.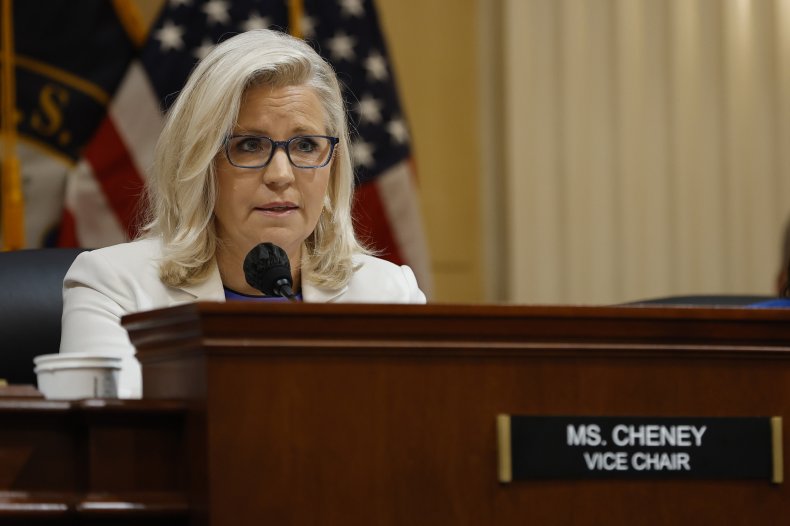 "It's the New York Post in their editorial on Friday. It's The Wall Street Journal—said the same thing after our hearing on Thursday night," she added. "So I'm going to continue to be guided by making sure I do my duty and making sure the American people understand the truth."
As Cheney pointed out, the Post on Friday published an opinion article by its editorial board entitled: "Trump's silence on Jan. 6 is damning."
"His only focus was to find any means—damn the consequences—to block the peaceful transfer of power. There is no other explanation, just as there is no defense, for his refusal to stop the violence," the editorial board wrote. "It's up to the Justice Department to decide if this is a crime. But as a matter of principle, as a matter of character, Trump has proven himself unworthy to be this country's chief executive again."
Similarly, the Journal's editorial board on Friday published an opinion article titled: "The president who stood still on Jan. 6."
"Mr. Trump took an oath to defend the Constitution, and he had a duty as Commander in Chief to protect the Capitol from a mob attacking it in his name. He refused. He didn't call the military to send help. He didn't call [then-Vice President Mike Pence] to check on the safety of his loyal VP. Instead he fed the mob's anger and let the riot play out," the editorial board wrote.
The article condemned Trump's actions, contending that "the facts it [the House select committee] is laying out in hearings are sobering."
Murdoch owns hundreds of local, national and international publishing outlets through his company News Corp., including the Post and the Journal. He also owns Fox News and presently serves as the chairman of Fox Corporation.
In a separate interview with CNN on Sunday, Cheney blasted Trump's actions related to January 6 and his effort to overturn President Joe Biden's 2020 election win.
"I think that Donald Trump, the violation of his oath of office, the violation of the constitution that he engaged in, is the most serious misconduct of any president in the history of our nation," the congresswoman said.
Cheney is facing-off against a Trump-backed challenger in what appears to be a difficult GOP primary. Recent polling shows her opponent, Harriet Hageman, in the lead by double digits among Republican voters in the solidly conservative state. The primary will be held on August 16.
The Wyoming representative drew Trump's wrath after she announced her intention to support his second impeachment for inciting his supporters to attack the U.S. Capitol on January 6. In total, 10 House Republicans voted to impeach Trump and seven GOP senators voted to convict him. Cheney has since been one of the former president's strongest and most consistent conservative critics—drawing substantial backlash from GOP colleagues.
Newsweek reached out to Trump's press office for comment.
Trump insists he did nothing wrong on January 6 or in his effort to overturn the 2020 election results. He claims that Biden only won through widespread voter fraud, but no evidence has emerged corroborating the allegation. The former president describes the House select committee probe and other investigations targeting him as a "witch hunt."