Liz Cheney Proposes Bill to Stop Another Jan. 6 Attack
Outgoing Wyoming GOP rep. Liz Cheney has announced proposals for a new bill which would help prevent "another effort to steal a presidential election" in the wake of January 6.
In an opinion piece for the Wall Street Journal, Cheney and Democrat congresswoman Zoe Lofgren (who are both part of the House Select Committee investigation the events leading up to the insurrection at the Capitol) announced a series of reforms to the Electoral Count Act which would "make it clear that Congress can't overturn an election result."
Cheney and Lofgren describe how Donald Trump is alleged to have committed numerous crimes in his attempt to overturn the last election, and still continues to make "intentionally false election fraud allegations, claiming that he should be reinstalled as president."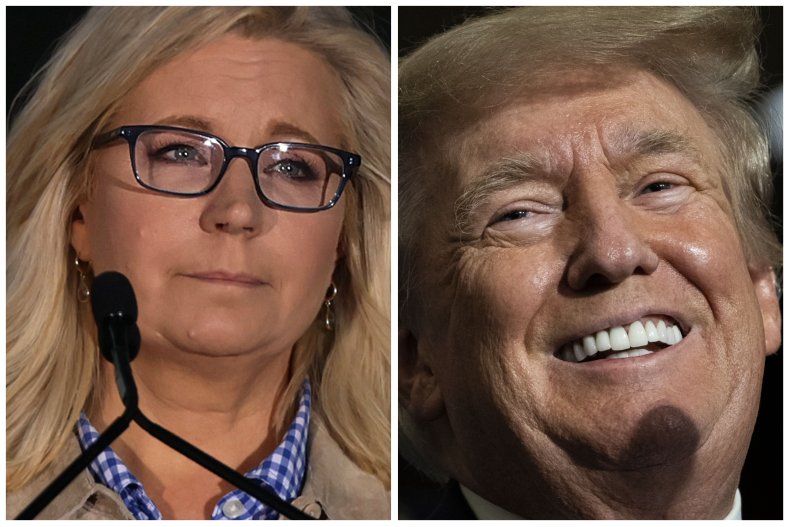 The lawmakers added that a number of current candidates for offices in the upcoming midterms—including those who oversee elections—may try and change the outcome of future results and also "embrace those lies and other groundless conspiracy theories."
"This raises the prospect of another effort to steal a presidential election, perhaps with another attempt to corrupt Congress's proceeding to tally electoral votes," Cheney and Lofgren wrote.
As part of the proposed changes, Cheney and Lofgren suggested updating the Electoral Count Act of 1887 on the basis of "four fundamental principles."
The first change will be altering the act to make it clear that a vice president "has no authority or discretion" to reject official state electoral slates or delay the count as part of their ceremonial role as presiding officer of the Senate.
As part of his attempts to overturn the 2020 Election, Trump falsely suggested Mike Pence had the power to stop the results being certified in Congress on January 6, 2021, even as the then-vice president said he had no constitutional or legal basis to do so.
Elsewhere, Cheney and Lofgren proposed narrowing the grounds in which members of Congress can object to electoral slates. Grounds which would be accepted include constitutional requirements for candidate and elector eligibility, as well the 12th Amendment's "explicit requirements" for elector balloting.
Once the objections have been filed, one-third of both chambers would have to approve for it to be entertained, and then a majority vote needed for it to be sustained.
Cheney and Lofgren also proposed that presidential candidates should be able to sue if any election official refuses to transmit lawful election results to Congress, and to have it written in federal law that elections can't change after the election has taken place.
"Our proposal is intended to preserve the rule of law for all future presidential elections by ensuring that self-interested politicians cannot steal from the people the guarantee that our government derives its power from the consent of the governed," the pair wrote.
Cheney, who lost her GOP primary to the Trump-endorsed candidate Harriet Hagemen in August, vowed following her defeat to continue in her attempts to prevent the former president from being allowed to run for office again.
"We must be very clear-eyed about the threat we face and about what is required to defeat it," Cheney said. "I have said since January 6, that I will do whatever it takes to make sure Donald Trump is never again anywhere near the Oval Office."
Trump has been contacted for comment.
Correction, 09/20/2022, 6:30 a.m. ET: The headline on this article was amended to clarify that the bill is intended to prevent the overturning of future election results and is not focused solely on Donald Trump.