Jan. 6 Panel Building 'Multi-Prong Criminal Case' Against Trump: Experts
The House select committee has been successful in putting together a strong case that Donald Trump should face criminal charges over the January 6, 2021 Capitol attack, according to experts.
The panel's hearings, which are due to return later in July, have so far outlined how Trump was allegedly aware that his claims the 2020 election was rigged were false but still pushed forward with plans to overturn the results, resulting in the insurrection at the Capitol last year.
On June 28, former White House aide Cassidy Hutchinson's remarks at the hearings gave arguably the most damning testimony against the former president.
While speaking under oath, Hutchinson said Trump was aware his supporters were armed on January 6 because he asked security officials to remove magnetometers, or mags, in order to increase the size of the crowd at his speech at the Ellipse.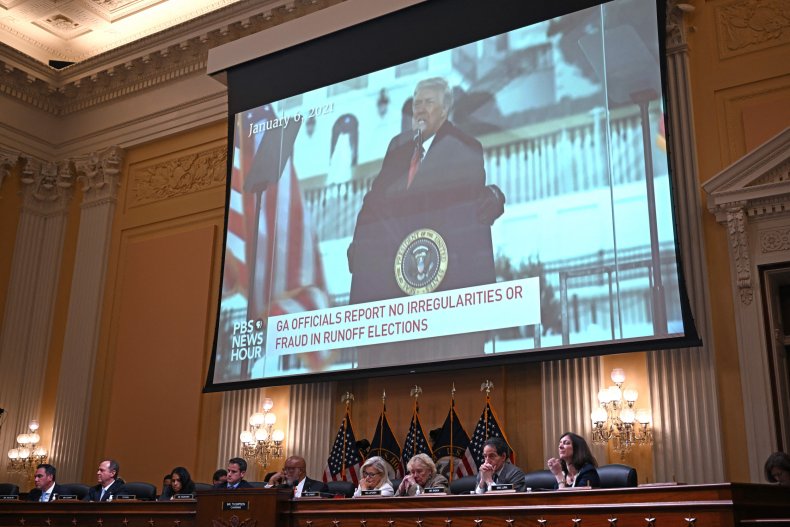 Despite allegedly knowing his supporters in D.C. that day were armed, Trump still urged them to "fight like hell" and told them to march the Capitol, where the electoral vote certification ceremony was taking place.
Hutchinson also testified she was told Trump was so irate that he could not join his supporters at the Capitol as the insurrection was unfolding that he tried to grab the steering wheel of the presidential SUV—and that Trump did not care that the rioters were chanting "hang Mike Pence" as he believed the former vice president "deserved it" for not stopping Joe Biden being confirmed at president.
Speaking to The Hill, Michael Bromwich, a former Justice Department inspector general, said what has been emerging during the select committee's hearings "has the makings of a powerful, multi-prong criminal case" against Trump.
"This includes evidence that he was aware of the substantial risks posed by his armed supporters, and his desire to further inflame them by personally traveling to the Capitol," Bromwich added.
Catherine Ross, a constitutional law professor at George Washington University Law School, said that Hutchinson's testimony about Trump saying "they're not here to hurt me" when told his supporters were armed was an "astounding" statement.
"That also goes to whether he can be indicted for incitement because one of the things that the government would have to show to prosecute incitement is an understanding that violence was likely to follow imminently," Ross said.
"So when you have a mob of people carrying weapons and wearing body armor, that's a pretty good indicator."
Other experts have also suggested the January 6 panel has been able to highlight Trump's state of mind in and around the Capitol attack and dismiss suggestions he was not aware his actions of conduct were wrong or even criminal.
Joshua Matz, who served as a lawyer for House Democrats during both of Trump's impeachment trials, told The New York Times that the "innocent explanations for Trump's conduct seem virtually impossible to credit" following Hutchinson's and others' testimonies.
"At the very least, they powerfully shift the burden to Trump and his defenders to offer evidence that he did not act with a corrupt, criminal state of mind," Matz said.
Even before Hutchison's testimony, experts suggested that the January 6 panel was compiling a strong case for an indictment against Trump.
"Ironically, one of Trump's great political strengths is that there are so many things wrong with him that it is hard to hold people's focus on just one thing for any length of time," David Niven, a political science professor at the University of Cincinnati, told Newsweek following the fifth live hearing.
"Each session is a reminder that Trump lied, Trump connived, and ultimately, Trump unleashed a torrent of violence against innocent people trying to lawfully do their jobs."
The former president has denied any wrongdoing in regards to the January 6 attack and dismissed the committee hearings as a "kangaroo court."