Rep. Adam Kinzinger has said that new witnesses have come forward willing to provide evidence to the House Select Committee investigating the January 6, 2021 attack since the damning testimony from former White House aide Cassidy Hutchinson.
Kinzinger, one of two Republicans on the panel looking into the events leading up to the insurrection, told CNN's State of the Union that people have been coming forward "every day" since Hutchinson testified on June 28.
Among some of the bombshell claims from Hutchinson's testimony was that Donald Trump was aware his supporters were armed on January 6 but still told them to march to the Capitol, and that he didn't care that his supporters were chanting "hang Mike Pence" during the riot.
Hutchinson also testified she was told that Trump was so irate at not being able to join his supporters at the Capitol as the insurrection was unfolding that he tried to grab the steering wheel of the presidential limousine and then lunged at a Secret Service agent who tried to calm him down.
"Every day, we get new people that come forward and say, 'Hey, I didn't think maybe this piece of a story that I knew was important, but now I do see how this plays in here,'" Kinzinger told State of the Union co-anchor Dana Bash.
When asked by Bash whether the committee will hear from new witnesses based on information which has come out of the hearings so far, Kinzinger replied: "Yes, there is and there will be way more information and stay tuned."
While Kinzinger did not shed any light on who the new upcoming witnesses may be, there have already been a few names thrown around who may come forward in the light of Hutchinson's testimony.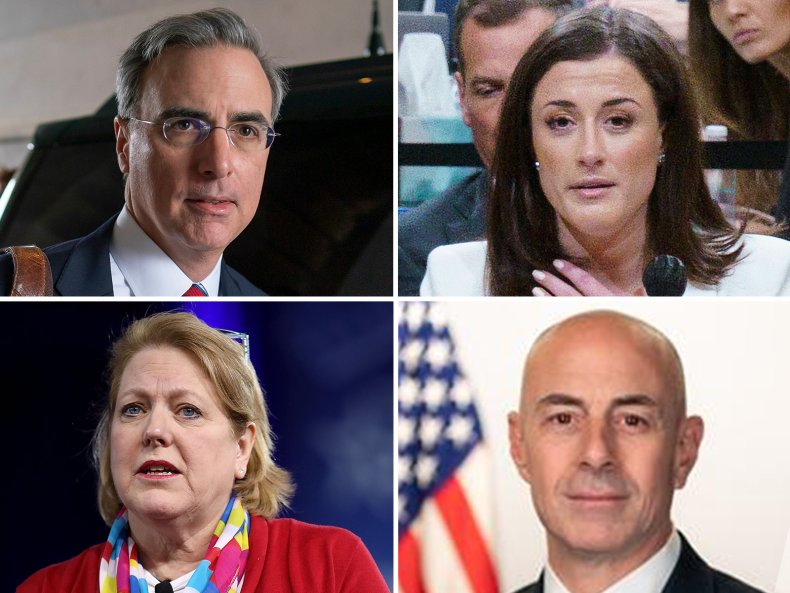 Tony Ornato
Secret Service agent Tony Ornato, Trump's White House chief of operations on January 6, is reported to be willing to testify to dispute the claims made by Hutchinson on June 28.
Hutchinson testified that it was Ornato who told her about the apparent incident involving Trump in the presidential vehicle known as "The Beast," including how Trump tried to grab at the throat of another secret service agent, Bobby Engel.
"When Mr. Ornato had recounted the story to me, he had motioned towards his clavicles," Hutchinson said.
If Ornato does go on record to deny the claims, the Secret Service agent could help undermine Hutchinson's reliability as a witness. However, Ornato hasn't been reported to be willing to deny some of Hutchinson's other claims, including how Trump knew his supporters had guns on January 6.
Others have accused Ornato of denying key White House conversations, including Olivia Troye, who served as a homeland security and counterterrorism advisor to then-Vice President Mike Pence, and Alyssa Farah Griffin, a former White House director of strategic communications.
Ornato has already been interviewed twice by the House select committee—once in January and again in March—although it is unclear if the apparent incident in the presidential SUV was raised.
"We had interviewed Mr. Ornato several times," fellow panel member Rep. Zoe Lofgren, told the Associated Press. "His memory does not appear to be as precise as hers. We certainly would welcome them to come back if they wish to do that."
Bobby Engel
Another Secret Service agent who is apparently willing to testify is Engel, who Hutchinson claims was the one Trump assaulted in the back of The Beast on January 6.
Reports that Engel is prepared to go on record to deny the allegations from Hutchinson emerged in the immediate aftermath of her televised testimony.
Hutchinson said Engel was in the same room when Ornato was discussing the apparent incident involving Trump in the presidential vehicle and he "did not correct or disagree with any part of the story."
Engel has already testified to the January 6 committee behind closed doors, although it does not appear the apparent incident in the limousine was discussed, according to Politico.
In a statement to Newsweek, a Secret Service spokesperson said: "Since March of 2021, the United States Secret Service has fully cooperated with the Select Committee and we will continue to make individuals with first hand knowledge of the conversations and interactions available for sworn testimony. We are awaiting the opportunity to do so."
Pat Cipollone
Another key line from Hutchinson's testimony was that White House counsel Pat Cipollone was concerned that allowing Trump to march to the Capitol with his supporters on January 6 would run the risk of criminal charges.
"Mr. Cipollone said something to the effect of, 'please make sure that we don't go up to the Capitol, Cassidy, keep in touch with me,'" Hutchinson testified. "We're going to get charged with every crime imaginable if we make that movement happen."
Hutchinson also described how Cipollone warned ex-White House chief of staff Mark Meadows that "people are going to die and the blood's going to be on your f*****g hands" unless the insurrection is stopped.
The panel have made Cipollone one of their main targets to give evidence, with panel vice chair Liz Cheney saying during the June 21 hearing that the lawyer "tried to do what was right" and stop Trump's plans on January 6, and that the former president "does not want Mr. Cipollone" to testify during the live hearings.
Cipollone is said to have spoken out about Trump's inner circle's plans to fire acting Attorney General Jeffrey Rosen and replace him with Department of Justice official Jeffrey Clark, who would be willing to support the false claims the 2020 election was rigged and even send letters falsely claiming there were some irregularities in key states during the 2020 election.
The panel subpoenaed Cipollone on June 29, and he is reported to be willing to give evidence on record.
Ginni Thomas
One person who may be more of a harder witness to have come forward on record is Ginni Thomas, wife of Supreme Court Justice Clarence Thomas.
There have been calls for Ginni Thomas to be subpoenaed to give evidence to the panel following allegations she texted Meadows urging him to prevent Joe Biden from becoming president while calling the 2020 election the "greatest Heist of our History."
She is also alleged to have emailed a number of GOP Arizona lawmakers calling for them to try to overturn the election results, saying it was their "Constitutional duty" to install a "clean slate of Electors" who would be willing to falsely declare Trump the winner in 2020.
Ginni Thomas has so far refused calls for her to voluntarily speak to the panel. Her lawyer, Mark Paoletta, said she doesn't believe there is any need for her to speak to the committee, The New York Times reported.