Why Pat Cipollone's Jan. 6 Testimony Could Be Key
The House committee investigating the January 6 attack has stepped up its desire to get one of its key targets to speak to it on record by subpoenaing White House counsel Pat Cipollone.
The panel made the move to formally subpoena the lawyer to testify under oath following the damning testimony from Cassidy Hutchinson, a former top aide to ex-White House chief of staff Mark Meadows.
During her testimony on Tuesday, Hutchinson replayed a number of conversations she had with Cipollone, or ones the lawyer had with Meadows, in and around January 6 which showed how he had actively fought against ex-President Donald Trump's attempts to overturn the 2020 election.
The January 6 hearings have now thrust the normally publicity-shy Cipollone, who previously represented Trump during both his impeachment hearings, into the limelight once again as the panel hopes that the lawyer will be willing to distance himself further from other members of Trump's inner circle who were pushing forward with the former president's alleged illegal activity.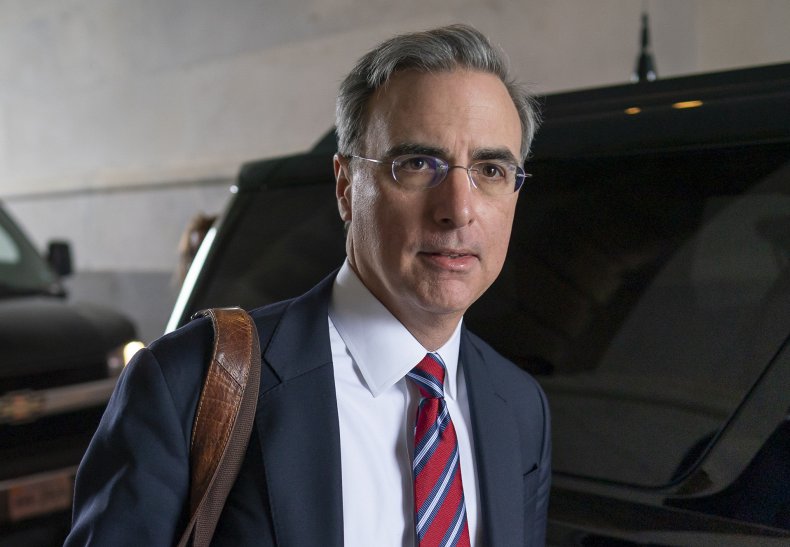 According to Hutchinson, Cipollone was concerned that Trump would face criminal charges if he joined his supporters, some of whom the former president knew were armed, in marching to the Capitol on January 6.
"Mr. Cipollone said something to the effect of, 'please make sure that we don't go up to the Capitol, Cassidy, keep in touch with me,'" Hutchinson testified. "We're going to get charged with every crime imaginable if we make that movement happen."
Hutchinson also said that Cipollone warned Meadows as the insurrection was unfolding that "something needs to be done or people are going to die and the blood's going to be on your f*****g hands."
Cipollone has already spoken to the panel investigating the insurrection in an informal interview on April 13. In a letter confirming the subpoena, panel chair Rep. Bennie Thompson said the committee had now obtained evidence which he is "uniquely positioned" to testify about.
Barbara McQuade, a University of Michigan law professor and former U.S attorney for the Eastern District of Michigan, said that Cipollone's testimony could be vital as he was present during alleged discussion of illegal activities by Trump's team, and also that he may not be shielded by executive privilege.
"We have heard testimony that Cipollone participated in the discussion with the Justice Department officials about firing [acting Attorney General] Jeffrey Rosen and replacing him with Jeffrey Clark and sending letters to swing states falsely stating that DOJ had found irregularities in the elections in their states," McQuade told Newsweek.
"We've also heard from Cassidy Hutchinson that Cipollone said that if Trump went to the Capitol, they would all be charged with countless crimes.
"Although Cipollone was White House counsel, his client is the office of the presidency, not Donald Trump. Therefore, it may be that certain conversations fall outside the scope of the attorney-client privilege.
"Cipollone has been portrayed as an essential witness to understanding the story of what happened on January 6 and the days leading up to it," McQuade added.
Neama Rahmani, president of West Coast Trial Lawyers, agreed that Cipollone is "one of the most important witnesses for the committee" if they can get him to testify. Rahmani added the panel may be able to get around issues surrounding attorney-client and executive privilege if they argue Trump was discussing and planning illegal activity—like what they did what attorney John Eastman.
"Even without getting into privilege issues, the committee will be able to ask Cipollone about communications he had with people other than Trump about issues that didn't directly involve Trump," Rahmani told Newsweek.
"If the committee is able to do this to obtain new information from Cipollone about how much White House officials knew about the situation at the Capitol being dangerous, that would help in implicating Trump.
"It would help because Trump's knowledge and intent is everything, leading up to Jan. 6 and that day itself, and any piece of information about what White House officials knew is useful."
Panel Vice-Chair Liz Cheney has also repeatedly urged Cipollone to come forward and speak on record about the events leading up to the insurrection.
During the June 21 hearing, Cheney said the committee had evidence that Cipollone "tried to do what was right" and stop Trump's plans on January 6. Cheney also suggested that Trump "does not want Mr. Cipollone" to testify during the live hearings.
Following Hutchinson's testimony, Cheney tweeted that it is clear that Cipollone had "significant concerns" about Trump on January 6 and "it's time for Mr. Cipollone to testify on the record."
Cipollone's name was previously mentioned during the panel's first primetime televised hearing when Jared Kushner, the former president's son-in-law, described how the counsel had threatened to quit over Trump's plot to install Clark as an attorney general who would be willing to support the false claims the 2020 election was rigged.
The panel played video of Kushner's testimony in which he dismissed Cipollone's threat to quit over concerns over the president's alleged illegal conduct as "whining."
Cipollone has been contacted for comment.
Update 06/20/22, 2:07 p.m. ET: This article was updated with comment from Neama Rahmani.