Donald Trump Rails Against Pat Cipollone Subpoena: 'Dangerous Precedent'
Donald Trump has hit at the January 6 House Select Committee subpoenaing Pat Cipollone, suggesting trying to interview White House counsel for "dirt" will "set a terrible precedent."
Trump was reacting to the news that the panel has subpoenaed Cipollone following damning testimony from Cassidy Hutchinson on Tuesday.
Hutchinson, a former top aide to White House chief of staff Mark Meadows, told the panel that Cipollone was concerned Trump would face criminal charges if he joined his supporters in marching to the Capitol on January 6.
"Mr. Cipollone said something to the effect of 'please make sure that we don't go up to the Capitol, Cassidy, keep in touch with me,'" Hutchinson testified. "We're going to get charged with every crime imaginable if we make that movement happen."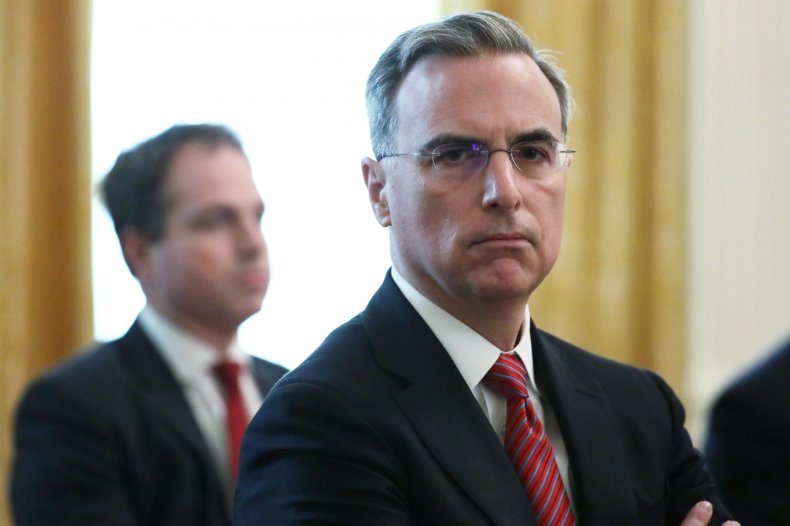 Writing on Truth Social, Trump hit out at the panel for subpoenaing the White House lawyer to give evidence while continuing his attacks on Hutchinson about the bombshell allegations she made under oath on Tuesday.
"Now that fake storyteller Cassidy Hutchinson has been totally discredited and marginalized for making up the most ridiculous ever story that I tried to commandeer control of a moving White House Limo, and even went for a choke hold on the other very strong Secret Service Agent sitting in the front seat, in addition to her other lies, the Unselect Committee is asking to interview the former White House counsel for dirt, even though that would set a terrible precedent for future Presidents. NO!," Trump wrote.
Cipollone has already spoken to the panel investigating the insurrection in an informal interview on April 13. In a letter to Cipollone, panel chair Rep. Bennie Thompson said that the committee has now moved to subpoena the lawyer as it had obtained evidence which he is "uniquely positioned" to testify towards, but has so far declined to co-operate further.
"The Select Committee's investigation has revealed evidence that Mr. Cipollone repeatedly raised legal and other concerns about President Trump's activities on January 6th and in the days that preceded," Thompson and panel vice chair rep. Liz Cheney said in a joint statement.
"While the Select Committee appreciates Mr. Cipollone's earlier informal engagement with our investigation, the committee needs to hear from him on the record, as other former White House counsels have done in other congressional investigations. Any concerns Mr. Cipollone has about the institutional prerogatives of the office he previously held are clearly outweighed by the need for his testimony."
On Wednesday, Cheney urged Cipollone to come forward and speak to the panel following Hutchinson's testimony.
"As we heard yesterday, WH counsel Pat Cipollone had significant concerns re. Trump's Jan 6 activities," Cheney tweeted. "It's time for Mr. Cipollone to testify on the record. Any concerns he has about the institutional interests of his prior office are outweighed by the need for his testimony."
Cheney previously said the panel had evidence that Cipollone "and his office tried to do what was right" and had "tried to stop a number of President Trump's plans for January 6."
Cipollone has been connected for comment.