Trump Knew He Was 'Playacting' During Presidential Run, Scaramucci Says
Donald Trump had openly admitted that he was "playacting" while running for president in 2016 and was aware his act was "all a lie," according to Anthony Scaramucci.
Scaramucci, who lasted just 10 days as Trump's White House Communications Director before being fired in July 2017, made the remarks as part of a New York Times article highlighting the former president's state of mind in and around the January 6 attack.
Scaramucci, who is now a vocal and frequent critic of Trump, suggested that Trump was well aware the 2020 Election was not stolen and that his attempts to overturn the results were illegal, but continued to push the "big lie" to his supporters regardless—behavior which Scaramucci claimed is reminiscent of his first run for the presidency.
"I do believe that President Trump knows that the whole thing that he is doing is a ruse," Scaramucci told The New York Times.
"On more than one occasion throughout the campaign [in 2016] he would turn to me and others and say funny things like, 'Why can't people realize what you guys realize about me, that I am playacting and full of it at least 50 percent of the time?' That sort of joking. So he knows that this is all a lie."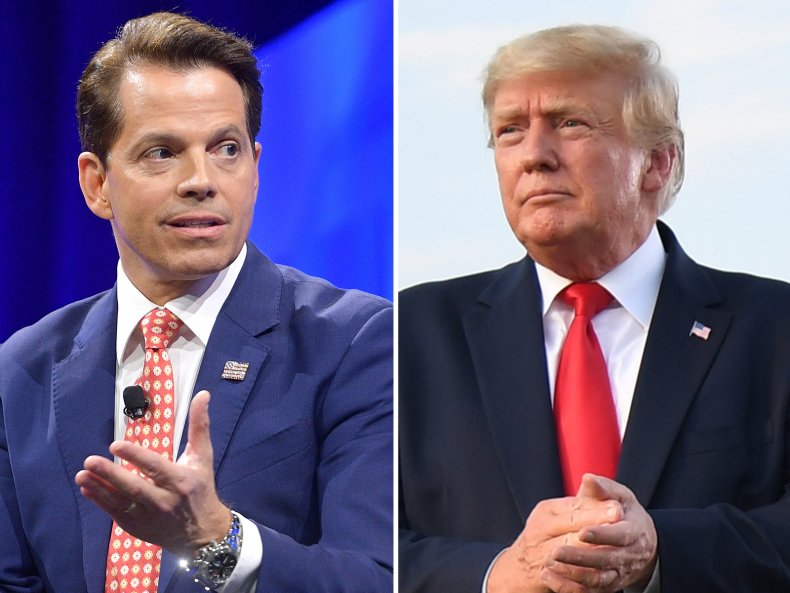 The question of whether Trump believed the 2020 election was rigged has played a key part in the House Select Committee's hearings around the insurrection.
Cassidy Hutchinson, a former White House aide, also gave damning testimony on June 28 stating Trump was aware his supporters were armed on January 6 but still ordered them to the Capitol, and that he did not care that the rioters were chanting "hang Mike Pence" as he believed the former vice president "deserved it."
The Times noted that one reason why Trump has survived previous scandals throughout his presidency was that it was difficult to determine whether he was aware that what he was doing was wrong, or even criminal.
Fact checkers who detailed tens of thousands of Trump's false or misleading claims during his presidency were also careful not to outright suggest he was lying, given that he may actually believe what he was saying.
However, others have suggested that testimonies from the January 6 hearings have now made it harder to argue for Trump's ignorance around the legitimacy of the 2020 Election, or that he didn't know his supporters would violently attempt to prevent the peaceful transition of power after he told them to "fight like hell" at the Ellipse.
"The innocent explanations for Trump's conduct seem virtually impossible to credit following the testimony we have seen," Joshua Matz, who served as a lawyer for House Democrats during both of Trump's impeachment trials, told The New York Times.
"At the very least, they powerfully shift the burden to Trump and his defenders to offer evidence that he did not act with a corrupt, criminal state of mind."
Trump has frequently denied any wrongdoing, and still falsely claims there was widespread voter fraud at the last election. The former president has also dismissed the January 6 hearings as a "kangaroo court."
Trump has been contacted for further comment.