How the Jan. 6 Committee Successfully Got Inside Donald Trump's Head
The House Select Committee investigating the January 6 Capitol attack showed on Monday how former President Donald Trump still pushed ahead with his false election fraud claims, despite being repeatedly told he had fairly lost to President Joe Biden.
During the second day of live televised hearings, the panel detailing the events which led up to the insurrection at the Capitol showed in live and recorded testimony how Trump stubbornly refused to concede that he did not in fact beat Biden in 2020.
Instead of admitting defeat, Trump instead went on to push even more outlandish claims—including that Dominion voting machines were rigged in favor of Biden despite no evidence to back this up—as well as pin his hopes on dozens of court cases that were virtually all thrown out.
After weeks of ignoring advice from his campaign advisers, top government officials and even his own family members, Trump's insistence that the so-called "Big Lie" was the truth resulted in a mob of his supporters storming the Capitol on January 6, 2021, in an attempt to stop Congress certifying the election results in favor of Biden.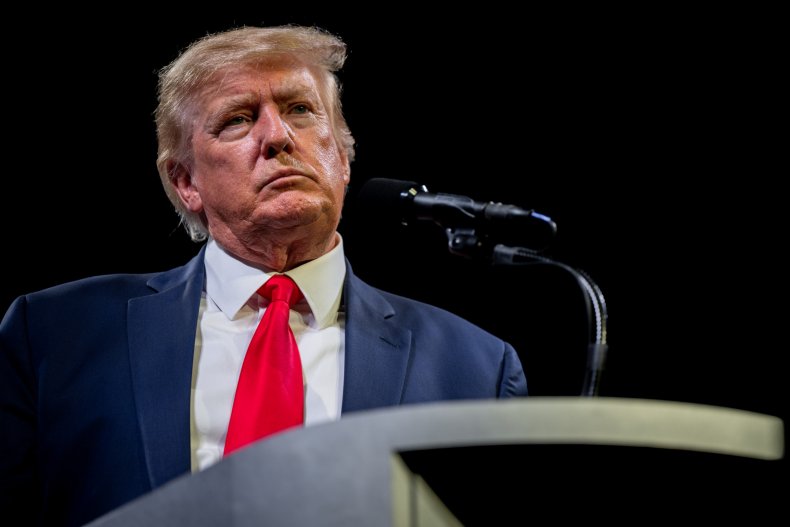 "The January 6 committee has done a good job 'getting inside Trump's head' and showing the American people that Trump knew that his election fraud claims were bogus," Neama Rahmani, former federal prosecutor and president of West Coast Trial Lawyers, told Newsweek.
"The witnesses who testified have generally fallen into two categories: those who talked about what they said to Trump and those who testified about how the riots and voter fraud claims affected them.
"The statements made to Trump are important to show his state of mind in the days and weeks after the election."
The committee showed recorded testimony from former Trump campaign manager Bill Stepien, who was due to appear at Monday's hearing in person but pulled out after his wife went into labor.
One of the key moments from Monday's hearing was when Stepien described how Trump chose not to believe "Team Normal"—who were telling the then-president not to declare himself the winner on election night in November 2020 because they had to wait until early and mail-in ballots were counted.
Instead, Trump chose to listen to "Team Crazy," which consisted of his "apparently inebriated" attorney, Rudy Giuliani, who advised the then-president to prematurely and falsely declare he had already won the election.
William Barr, the former U.S. attorney general who quit in December 2020 after refusing to support Trump's voter fraud claims, also described how Trump had become "detached from reality" and showed no interest in hearing the truth about the election.
"Before the election, it was sometimes possible to talk sense to the president," Barr said in videotaped testimony played Monday.
"But I felt that after the election, he didn't seem to be listening. There was never an indication of interest in what the actual facts were."
Barr also claimed that he had asked some of Trump's closest allies in the weeks after the election, who also expressed some sort of concern.
Recorded testimony revealed Barr said after a meeting with Trump in November 2020, that he asked then-White House Chief of Staff Mark Meadows and Trump's son-in-law Jared Kushner: "How long is he going to carry on with this stolen election stuff?"
Barr told the panel that Meadows assured him that Trump "knows there's a limit to how far he can take this" and will soon stop pushing the unsubstantiated claims.
Kushner was said to have replied, "We're working on this," according to Barr.
Kushner is married to the former president's eldest daughter, Ivanka Trump, another key member of Trump's inner circle who pushed back on the election fraud claims. During Thursday's opening hearing, a brief was played from Ivanka Trump's testimony in which she said she "accepted" Barr and the Department of Justice's stance that there was no evidence of voter fraud.
Despite Meadows' assurance that Trump would soon stop pushing the false elections claims, the former president still continued to do so more than 18 months later, including a 12-page tirade issued in the wake of the hearings.
The panel also claimed that one of the reasons that Trump insistently kept on pushing the false election fraud claims was so he could obtain donations from his irate supporters.
In her opening statement, Rep. Zoe Lofgren, a California Democrat and panel member, said supporters gave millions of dollars to Trump's team on the assumption it would be used to cover legal costs fighting the false election fraud claims in the courts.
"But the Trump Campaign didn't use the money for that. The 'Big Lie' was also a big-rip off," Lofgren said.