Jan 6. Hearings Have Exposed the Extent of Trump's Delusions, Experts Say
The latest public hearing from the January 6 committee showed the extent to which Donald Trump was willing to believe "delusions" about the results of the 2020 election, experts have said.
Monday's proceedings heard live and recorded testimony from those who were close to the former president around November 2020 revealing how they told him that there was no evidence of voter fraud and that he should not falsely declare himself the winner before the votes were counted.
However, Trump refused to listen to what his former campaign manager Bill Stepien described as "Team Normal"—the group who were telling him not to declare himself the winner on Election Night—instead siding with "Team Crazy," which consisted of an "apparently inebriated" Rudy Giuliani, who insisted Trump push on with his false claims.
Elsewhere, former Attorney General William Barr said in recorded testimony that Trump "didn't seem to be listening" to anyone who tried to tell him that his claims of widespread voter fraud were wrong after the election.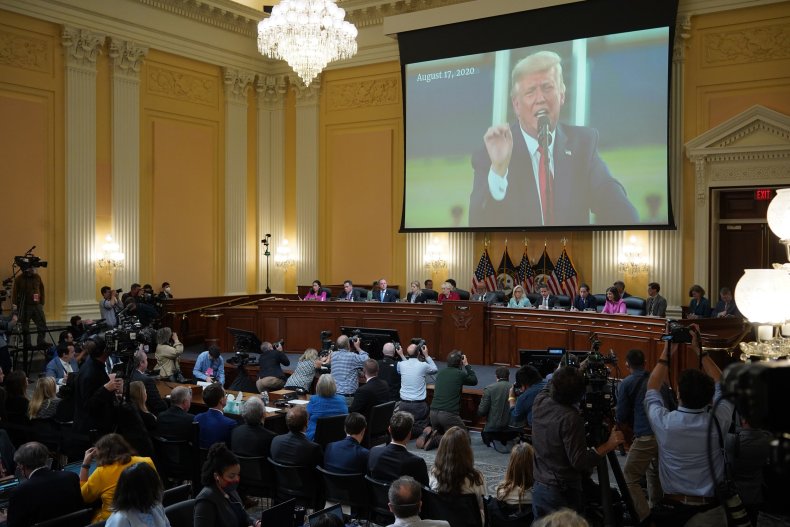 Barr also described some of the election conspiracy theories pushed by Trump as "b******t." Barr said he was most concerned about the "disturbing" claims the Dominion Voting Systems machines were rigged to swap votes from Trump to Biden as there was "zero basis" for the allegations.
"I thought, boy, if he really believes this stuff, he has, you know, lost contact with, become detached from reality," Barr said.
Thomas Gift, founding director of University College London's Centre on U.S. Politics, said that the biggest takeaway from Monday's hearing was showing "just how out of step Trump was" with members of his inner circle in his continuing spreading of election fraud claims.
"Without a doubt, the star witness was former Attorney General Bill Barr—a reliable pro-Trump ally during his time leading the Justice Department—who bluntly referred to Trump's claims of vote-rigging as 'bogus,' 'nonsense,' and 'detached from reality,'" Gift told Newsweek.
"Today's testimonies left no doubt over the extent of Trump's delusions about the election outcome."
Barbara McQuade, a University of Michigan law professor and former U.S attorney for the Eastern District of Michigan, added the testimony from Stepien and Barr "went much further" than had been reported previously and helped show just how much Trump was ignoring people informing him there was no widespread voter fraud.
"It is now clear that Trump's advisers were telling him he lost and should stop saying the election was stolen. When he persisted in claiming that the election was stolen, he knew that it was a lie," McQuade told Newsweek.
However, as noted by Gift, many of the key talking points from Monday's hearings were already known.
Trump openly and publicly spread false claims of voter fraud even as the polls opened in the 2020 election, and has continued doing so 18 months later despite no evidence to back his claims.
Barr resigned as attorney general in December 2020 over Trump's false insistence the election was rigged, and he called the voter fraud claims "b******t" in his recently released memoirs.
Gift suggested that at times Monday's session "began to sound like a broken record" and that the panel will need to find new angles and evidence in order to "maintain the nation's attention amid a narrative that's so well-documented."
One tactic that the panel unveiled on Monday was trying to get Trump supporters on its side by detailing how the former president's team raised hundreds of millions of dollars from them under false pretenses.
In her opening statement, Rep. Zoe Lofgren, a Democrat of California and panel member, mentioned how supporters gave money to Trump's team on the assumption the money would be used to cover legal costs fighting the false election fraud claims in the courts.
"But the Trump Campaign didn't use the money for that. The Big Lie was also a big-rip off," Lofgren said.
On Monday, Trump released a 12-page statement in which he criticized the January 6 hearings as a "kangaroo court" while still pushing his false election fraud claims.