Logan Praised by Russia as 'Real America's Voice' as Schwarzenegger Shunned
Russian officials are praising television personality Lara Logan for depicting Ukrainians as Nazis while castigating actor and former California Governor Arnold Schwarzenegger for his appeal to the people of Russia.
The Russian reaction to the very different takes from Logan and Schwarzenegger show the Kremlin and its media allies remain on the lookout for Western voices offering justification for its military action as well as critics to accuse of Russophobia.
Kremlin-associated Twitter accounts on Sunday applauded Logan, a former CBS News correspondent, for repeating the Russian talking point that Nazis have a strong presence in Ukraine's military during an interview on right-wing Real America's Voice.
During the interview, Logan took issue with the Azov Battalion, a Ukrainian paramilitary unit with alleged extremist ties. Earlier this month, a NATO official told Newsweek that the Western alliance did not notice what appeared to be a "Black Sun," a symbol associated with Nazism occultism on the uniform of a Ukrainian soldier that appeared on Twitter.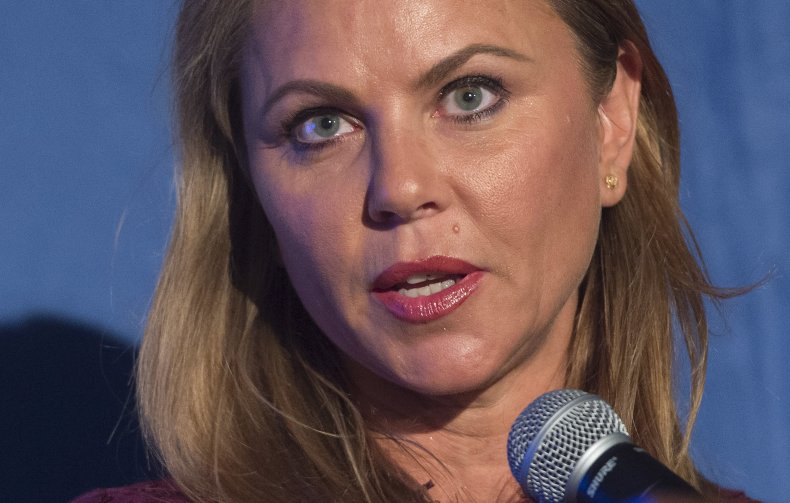 Logan said the Black Sun, as well as the swastika and other Nazi imagery, are widely displayed by Ukrainian soldiers.
"The White House wants to believe this doesn't matter," said Logan. "It's just a small number of troops. It's not true."
Before being removed from her show on Fox Nation, Logan has become associated with media supporting QAnon and other conspiracy theories. Right-leaning political and media figures in the U.S., notably Tucker Carlson of Fox News, have been accused of promoting Kremlin talking points after clips of their remarks have been used by Russian state media.
Alexander Alimov, Russia's deputy permanent representative to the U.N., shared a clip of the interview on Twitter, noting that Logan is an Emmy Award winner. He said Logan claimed that Western mainstream media outlets "deliberately turn a blind eye to the facts of manifestations of Nazism" in Ukraine.
Other Twitter users associated with Russian diplomatic accounts also tweeted out clips of the interview.
"Real America's Voice - Lara Logan!" proclaimed Russia's embassy to the West African country of Senegal.
Meanwhile, Kremlin-friendly media outlets lambasted Schwarzenegger for a heartfelt viral video commending the bravery of Russians who've protested their government's invasion of Ukraine.
"That face is the cover page of American imperialism and colonialism," TV host Vadim Gigin said of Schwarzenegger on the show Sunday Evening With Vladimir Solovievon, his Russian-state television show, reports the Daily Beast. "Not the caricature image of Uncle Sam, but this Schwarz, in a Hollywood production."
The movie star and ex-GOP governor posted a video online expressing his deep affection for the Russian people and disdain for their government's invasion of Ukraine.
"Those in power in the Kremlin started this war," said Schwarzenegger, who praised the bravery of those who've risked imprisonment protesting. "This is not the Russian people's war."
Vladimir Soloviev, a Russian media personality appearing on Solovievon's show, also took aim at Schwarzenegger, saying he "twice traveled to Iraq to support the American troops and never tried to tell the Iraqi people why they're being destroyed," according to the Daily Beast.