Chicago Mayor Lori Lightfoot has put out a "call to arms" while demanding action be taken to ensure the rights of the LGBTQ+ are not also targeted if Roe v. Wade is overturned.
Lightfoot made the remarks amid reports that the Supreme Court is planning on throwing out the landmark 1973 ruling that legalized abortions across the country.
In a tweet, Lightfoot suggested that if the leaked Supreme Court majority draft, which is not a final ruling, does come to fruition, the conservative majority on the bench may also go after landmark LGBTQ+ rights decisions. It has been argued that part of the reasoning put forth in the leaked majority draft could potentially threaten other recently recognized rights.
Among some of the historic rulings that other Democratic figures fear the Supreme Court could overturn include Obergefell v. Hodges, which established the right to same-sex marriage in 2015, and Lawrence v. Texas, which struck down laws that made sodomy illegal in 2003.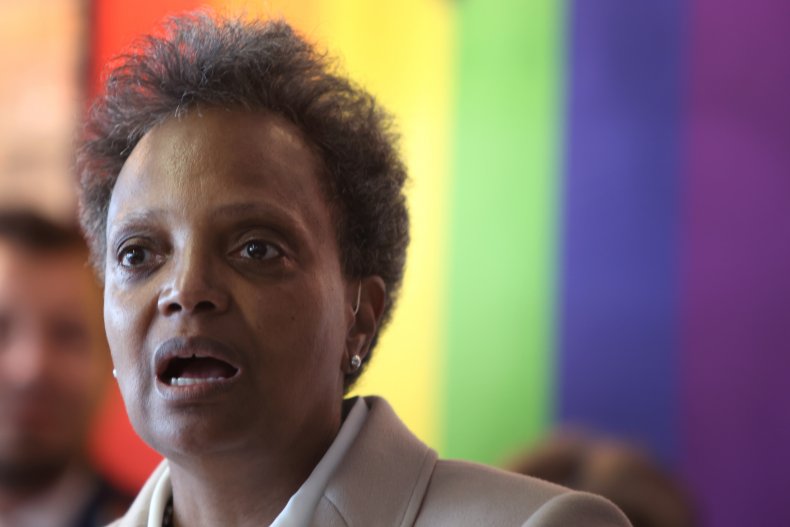 "To my friends in the LGBTQ+ community—the Supreme Court is coming for us next. This moment has to be a call to arms," Lightfoot tweeted.
"We will not surrender our rights without a fight—a fight to victory!"
Lightfoot made a similar claim regarding fears the Supreme Court may target more than abortion rights when she announced on Monday a $500,000 investment in the Chicago Department of Public Health to support abortion access for women.
"This includes women's rights, trans rights, immigrant rights and of course the right to same sex and interracial marriage. We simply cannot stand idly by and let that happen," Lightfoot said, via Fox 32.
Lightfoot was asked later to explain her "call to arms" during an interview on MSNBC.
"I think everybody who saw that draft opinion has gone through a range of different emotions," Lightfoot said. "But we can't just be angry. We've got to be intentional, we've got to be dedicated.
"And that's why I'm calling upon fellow elected officials across the country, and particularly my fellow mayors to join me in making a pledge that we made today, which is a justice for all pledge. And fundamentally, it reaffirms Chicago as a welcoming city, a city that doesn't discriminate, and a city that's going to stand with women."
There have been abortion rights protests outside the homes of Supreme Court justices Samuel Alito—who wrote the leaked draft opinion—Brett Kavanaugh and Chief Justice John Roberts over the suggested plans to overturn Roe v. Wade.
On May 3, President Joe Biden called the leaked draft opinion a potential "radical decision" that could have knock-on effects on "all the decisions related to your private life."
"Who you marry, whether or not you decide to conceive a child or not, whether or not you can have an abortion, a range of other decisions," Biden said.
"Does this mean that in Florida they can decide they're going to pass a law saying that same-sex marriage is not permissible, that it's against the law in Florida?
"It's a fundamental shift in American jurisprudence if it were to hold."