Los Angeles Area Pediatricians Call For Schools to 'Immediately Reopen,' Despite State COVID Guidelines
A group of pediatricians in Southern California have called for the immediate reopening of Los Angeles County schools, in a move that goes at odds with current coronavirus state guidelines.
A Wednesday statement from the Southern California Chapter 2 of the American Academy of Pediatrics encouraged school campuses to reopen after nearly a year of lockdown orders and school closures.
"Schools should open immediately," Dr. Alice Kuo, Executive Board member of the Southern California Chapter and Professor of Pediatrics at UCLA said in the statement reviewed by Newsweek.
"We are causing undue harm to millions of children by keeping schools closed for this long," she added.
The group represents about 1,500 primary care pediatricians, pediatric medical sub-specialists and pediatric surgical specialists in the Los Angeles County area.
With the right safety measures put in place, the statement said that school campuses can begin reopening without making the coronavirus pandemic worse.
"Schools are safe when adherence to mitigation practices are in place, such as mask wearing, hand hygiene, social distancing, and limitation of potentially higher-risk extracurricular activities," the statement said. "A year into the pandemic, and after great effort and expense, schools know how to implement mitigation."
The call for action falls in line with last week's report from the Centers for Disease Control and Prevention, which said that schools across the country should resume in-person as soon as possible.
In the report, published in the Journal of the American Medical Association, the CDC said its researchers found "little evidence that schools have contributed meaningfully to increased community transmission" when proper safety precautions were followed.
To further support their claim, the Los Angeles pediatricians cited a December survey of more than 500 teachers who reported "low levels of student attendance and engagement" due to school closures, and said children are suffering emotional and mental impacts "related to social isolation, anxiety, lack of structure."
"The prolonged physical absence of our children from the classroom continues to accelerate educational inequities and the negative impacts on the emotional and mental health of all students," they wrote. "Suicidality among teenagers is now an active area of investigation."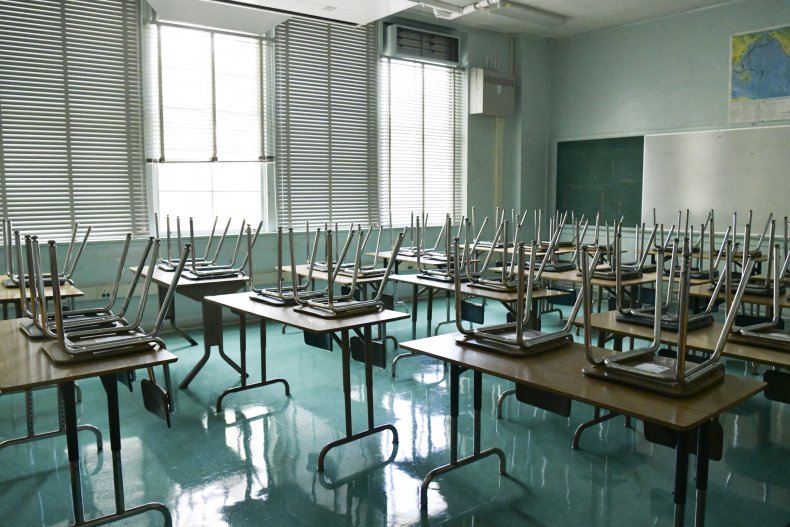 However, the pediatricians' statement goes against current California guidelines, and has been met with pushback from United Teachers Los Angeles, the union that represents Los Angeles teachers, librarians, nurses and counselors.
"Saying the temporary trauma from distance learning is greater than illness and death of family members conveniently minimizes the reality that COVID-19 disproportionately impacts families of color in Los Angeles," said Cecily Myart-Cruz, president of the union, according to the Los Angeles Times.
Additionally, the pediatricians made no distinction regarding reopening protocols for certain grade levels.
Under current California state guidelines, in-person elementary-level classes can resume when the seven-day average of daily cases falls to 25 or fewer per 100,000 residents. For secondary schools, the rate is seven cases or fewer per 100,000 residents.
But in every Southern California county, current infection rates are higher than these thresholds, the Los Angeles Times reported.
On Monday, the superintendent of the Los Angeles Unified school district said campuses will remain closed until community infection rates drop and more teachers become vaccinated.
The decision to reopen schools has been a hotly debated topic since the pandemic first took hold last Spring.
On Wednesday, the fellow California city of San Francisco moved forward with plans to sue its school board and school district for not reopening schools yet.
"The Board of Education and the school district have had more than 10 months to roll out a concrete plan to get these kids back in school. So far they have earned an F. Having a plan to make a plan doesn't cut it," San Francisco City Attorney Dennis Herrera said Wednesday.
California Governor Gavin Newsom has said he will not force public schools to reopen but instead will work to "incentivize" them with a $2 billion plan called "Safe Schools for All."
Los Angeles County is currently the hardest hit region in the United States, and is the only county to report more than 1 million coronavirus infections, according to data from Johns Hopkins University.
By mid-January, it was estimated that 1 in 3 Los Angeles County residents have already contracted the virus.
Newsweek contacted the Southern California Chapter 2, but they did not provide additional comment outside of the official statement.