Louisiana Legislature Passes Resolution Praising Bitcoin, Encourages Use
The Louisiana House of Representatives has passed a resolution praising Bitcoin and encouraging state and local governments to explore ways to use the cryptocurrency.
The resolution, signed by Speaker Clay Schexnayder, a Republican, lauds Bitcoin "for its success in becoming the first decentralized trillion dollar asset," and notes that it "could potentially replace gold as a monetary reserve."
The resolution said Bitcoin has benefited businesses and has "proven to be a critical tool for citizens around the world to protect themselves from currency debasement."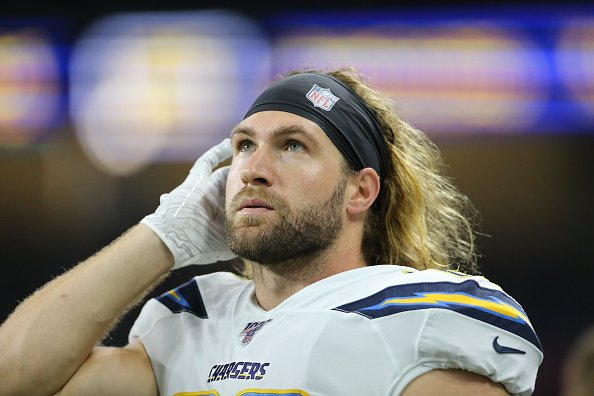 Sean Culkin, who previously played for the Los Angeles Chargers, will have his entire NFL salary converted into bitcoin in 2021.
Photo by Rey Del Rio/Getty Images
It praised Satoshi Nakamoto, the pseudonym used by the engineer or team of engineers who created Bitcoin in 2009, for "his contribution to economic security."
Does the resolution underscore growing acceptance of Bitcoin, or does it suggest a market top?
In 1929, Joseph Patrick "Joe" Kennedy, father of President John F. Kennedy, said he knew it was time to get out of the stock market when he got investment tips from the man who shined his shoes.
He shorted the then-rampaging market and became a multi-millionaire. The market crashed in October 1929, leading to the Great Depression.
Prior to the bubble bursting in technology stocks in 2000, ads for stock funds appeared at ballparks and in other public spaces—another sign of a market top.
The Louisiana resolution was drafted by politicians, not financial wizards.
Perhaps a resolution is an indication of unwarranted euphoria as much as a recognition of Bitcoin's potential.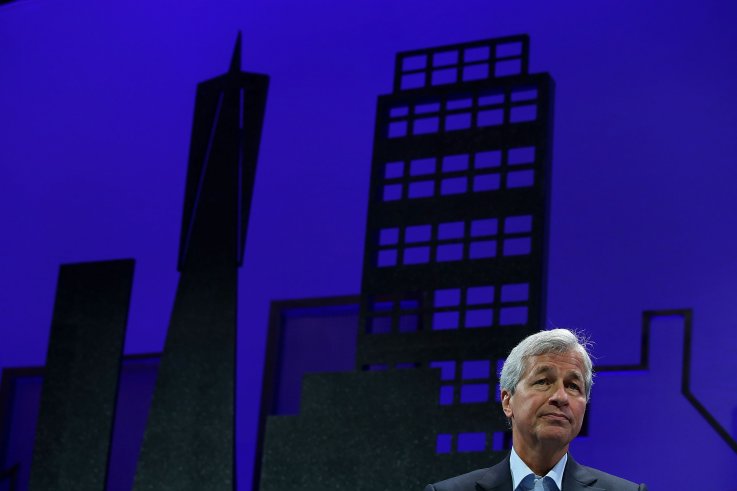 JPMorgan Chase and Co. chairman and CEO Jamie Dimon speaks during the Fortune Global Forum on November 4, 2015 in San Francisco, California.
Justin Sullivan
On the other hand, JP Morgan Chase is preparing to offer an actively managed Bitcoin fund to selected private wealth clients, according to press reports.
In 2017, CEO Jamie Dimon told an investor conference in New York that if any of his traders were discovered trading Bitcoin he would "fire them in a second."
He called the cryptocurrency a "fraud" and said it was "worse than tulip bulbs," a reference to tulip mania that swept Holland in the early 1600s and is the first documented market bubble.
Other CEOs have misjudged new technology.
The honcho at the now defunct Blockbuster video said Netflix wasn't a competitor. The former CEO at Microsoft said the software giant would never embrace Apple's iPhone.
JP Morgan Chase follows Morgan Stanley and other Wall Street firms in offering Bitcoin investments to top clients.
Some mutual funds offer clients a chance to place a bet on the cryptocurrency and Bitcoin derivatives are traded on the Chicago Mercantile Exchange.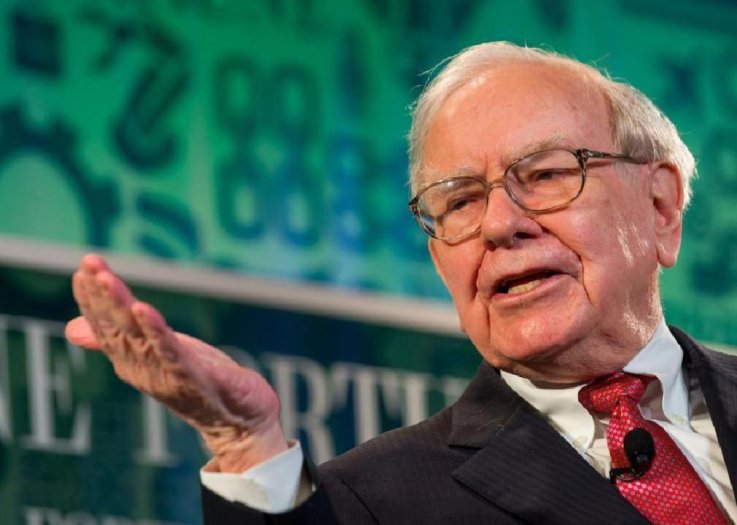 Warren Buffett of Berkshire Hathaway has called Bitcoin "rat poison squared."
Fortune Live Media / Flickr
But Warren Buffett, CEO of Berkshire Hathaway and a billionaire value investor, has called Bitcoin "rat poison squared."
He acknowledged the importance of blockchain technology, but last year told CNBC:
"Cryptocurrencies basically have no value and they don't produce anything," Buffett said. "They don't reproduce, they can't mail you a check, they can't do anything, and what you hope is that somebody else comes along and pays you more money for them later on, but then that person's got the problem. In terms of value: zero."
Buffett earlier said, "I can say almost with certainty that (cryptocurrencies) will come to a bad ending."
Buffett, known on Wall Street as the "Oracle of Omaha" for his shrewd stock picks, looks for undervalued strong companies and holds the shares long-term. He has invested in Bank of America, Apple, Coca-Cola, American Express and Verizon.
In 2009, Buffett made what he called an "all-in wager on the economic future of the United States" and acquired Burlington Northern Santa Fe Railway for $44 billion in a deal some have described as "pure genius."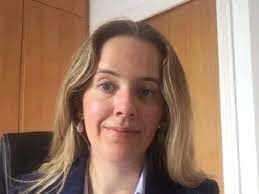 Economist Dr. Marion Laboure, researcher, Deutsche Bank (Photo Provided: Deustche Bank)
Deustche Bank
In a variation on Buffett's theme, Dr. Marion Laboure, an analyst at Deutsche Bank, said the "Tinkerbell effect" drives Bitcoin's price.
A majority of Bitcoin investors believe it will make them rich. At least 25 publicly traded companies have doubled their investment in the cryptocurrency.
Contrary to the resolution adopted by the Louisiana House, most investors see Bitcoin as a buy-and-hold investment and don't use it in commerce. Nevertheless, Elon Musk has said Tesla will accept Bitcoin in payment for the company's electric cars.
So, take your pick: Does Bitcoin's recovery from the recent downturn underscore its resiliency and potential for long-term gains, or is it merely a prelude to the next wild price swing?
Has Bitcoin repealed Buffett's tried-and-true theory of value investing and does the cryptocurrency benefit from Tinkerbell's assistance?
For some, the answer one way or another is almost an article of faith.
However, Bitcoin's recent run-up in price has boosted its market cap above $1 trillion. This makes the cryptocurrency "too important to ignore," Laboure said in her report.
In mid-day trading Friday, Bitcoin fetched $57,094.86, up 6.05% in the last 24 hours. However, it's off 11.93% from its record high of $64,829.14, but still up 96.03% for the year, CoinDesk reported.
Market Pulse
Rising demand, higher commodity costs, increased transportation expenses and spot shipping bottlenecks mean higher prices for many routine items.
Procter & Gamble, General Mills and Coca-Cola have announced price hikes. Other companies are likely to follow.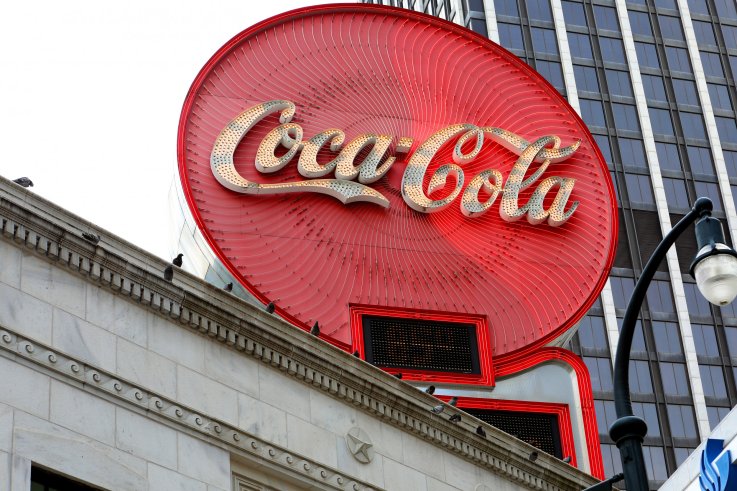 Coca-Cola signage is pictured atop the Olympia Building downtown in Atlanta, Georgia on July 27, 2019.
Raymond Boyd/Getty Images
"(The company) started the process of implementing price increases on baby care, feminine care and adult incontinence product categories in the United States," the company said in a statement. "The exact amount of the price increase will vary by brand and sub-brand in the range of mid-to-high single digit percentages and will go into effect in mid-September."
P&G's competitors, including Kimberly Clark, have announced similar price hikes.
The Consumer Price Index for urban consumers rose 0.6% in March after increasing 0.4% in February, the U.S. Bureau of Labor Statistics reported.
During a recent earnings call with Wall Street analysts, Kofi Bruce, chief financial officer at General Mills, said the company is seeing "about mid-single digit inflation" in freight costs as competition for transport increases amid rising demand.
"As we're exposed to the spot markets on those external supply chain lanes, the cost of delivering to customers and distribution centers is higher," he said. "And as supply and demand come more into balance, as our inventory levels in the system come more into balance, I would expect those costs to abate."
Coffee prices are also likely to increase.
Reuters reported in February that port congestion had pushed prices to the highest level in about a year. J.M. Smucker, leader in the $10 billion at-home coffee market with brands such as Folgers and Café Bustelo, said it faces higher costs.
However, most of the increase in the Consumer Price Index comes from a 9.1% increase in gasoline in the last month.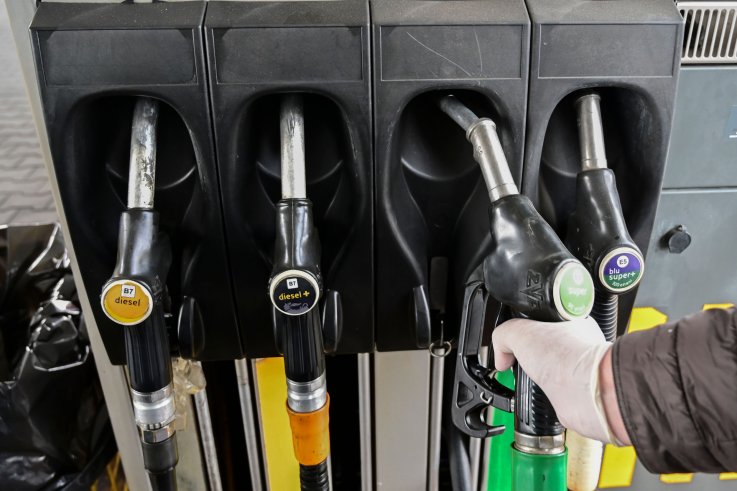 This file photo shows a customer at a gas station on the outskirts of Milan, Italy on March 25, 2020.
MIGUEL MEDINA/AFP via Getty Images/Getty
Gasoline prices are up about 22.5% from the same time last year and are expected to continue to rise as demand increases during the summer driving season.
The Energy Information Agency, a key part of the federal government's statistical services, expects prices to climb to a three-year high this summer and average $2.78 a gallon at the pump. That's a 34% increase from 2020 when demand fell and prices plunged.
"We forecast 15% more highway travel this summer as a result of rising employment, easing regional restrictions designed to slow the pandemic, and increasing overall economic activity as vaccination rates increase," Steve Nalley, EIA Acting Administrator, said in a statement.
The rebounding economy is good news for stocks.
The Dow Jones Transportation average rose 0.8% Thursday as shares of railroads, trucking companies and airlines reflected optimism that strong economic growth will boost profits.
Overall, the transportation average has gained 23% this year and reached record levels.
Economists surveyed by Dow Jones expect household income, including wages, investments and government checks, to increase 20% in March from February – the largest increase since 1959.
More money and pent-up demand drove consumer spending, which represents about two-thirds of the U.S. economy, up an estimated 4% last month.
The nation's gross domestic product, the value of all goods and services produced, rose 6.4% in the first quarter, the U.S. Commerce Department reported.