Louisiana Power Outage Map: Over 1 Million Still Without Power From Hurricane Ida
Over 1 million people were still without electricity in Louisiana Monday morning after Hurricane Ida ripped through the state, damaging buildings, uprooting trees and knocking out power lines.
Approximately 1,042,398 customers are still without power statewide, with most outages occurring in southeastern Louisiana, according to PowerOutage.us. In some parts of the state, including New Orleans and Plaquemines and Terrebonne parishes, nearly 100 percent of customers tracked lack power.
In total, the power outage monitor reported over 80 percent of 14 counties are experiencing electricity loss. Meanwhile, in neighboring Mississippi, over 130,000 customers were left in the dark by Monday morning.
In New Orleans, as Ida's winds hit with monstrous force on Sunday night, an electrical transmission tower fell into the Mississippi River, causing a widespread blackout.
Entergy Louisiana, one of the state's energy providers, said Sunday that all eight transmission lines that deliver power to New Orleans were out of service because of Ida's "catastrophic intensity." New Orleans' Office of Homeland Security and Emergency Preparedness said the only power in the city late Sunday was coming from generators.
Entergy warned Sunday that some customers who were in the direct path of the hurricane could experience outages for up to three weeks. However, 90 percent of customers are expected to have it restored sooner. The company said Monday morning that over 850,000 customers in New Orleans alone are without power.
The New Orleans Sewerage and Water Board (SWB) reported that several of its sewage pump stations lost power, increasing the potential for sewer backups in homes.
"We urge those residents who still have power to minimize wastewater leaving their homes by not running your dishes or washing clothes. These stations will be out of service until the storm passes and it is safe for us to make assessments," SWB New Orleans tweeted Sunday.
Hurricane Ida made landfall as a Category 4 storm near Port Fourchon, Louisiana, just before noon local time on Sunday. Packing winds up to 150 mph, the storm immediately swamped the barrier island of Grand Isle and ripped off roofs on buildings around Port Fourchon.
Ida's arrival fell on the 16th anniversary of Hurricane Katrina. The storm's threat sent hundreds of thousands of people rushing to evacuate this weekend, while countless others sheltered in place.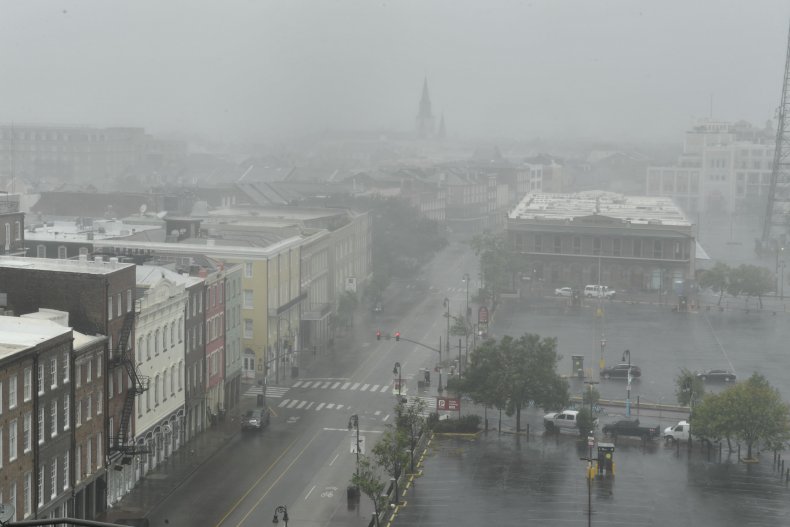 As the hurricane churned through far southern Louisiana wetlands and put more than 2 million people in Baton Rouge and New Orleans at risk, reports of intense flooding, heavy rains and damaged buildings followed. One person was confirmed dead on Sunday night in Prairieville, located outside Baton Rouge, after police responded to a report of someone injured by a fallen tree.
In LaPlace, situated between New Orleans and Baton Rouge, rushing floodwaters and crippling winds led to residents begging authorities for help. In some parts of the region, at least 200 people were reportedly stranded and in "imminent danger" on Sunday after floodwaters reached more than 10 feet.
By Monday morning, the National Hurricane Center had downgraded Ida to a tropical storm as it moved over southwestern Mississippi. Forecasters on Monday said Ida could bring heavy rainfall and severe flooding to Louisiana, the southern parts of Mississippi and coastal communities in Alabama throughout the day. Rainfall totals could reach as high as 24 inches in some parts of southeast Louisiana, The New York Times reported.
Tornadoes are also possible on Monday in southeast Louisiana, southern Mississippi, southwest Alabama and the western Florida Panhandle. Although severe weather will still be felt throughout much of the region, forecasters said Ida is expected to weaken during the next day or so and could be downgraded to a tropical depression by Monday afternoon.