'Mandalorian' Fans Call for Lucy Lawless to Replace Gina Carano As Cara Dune
Star Wars fans are calling for Xena: Warrior Princess star Lucy Lawless to replace Gina Carano as Cara Dune in The Mandalorian.
Fans of The Mandalorian are reeling from the news on February 11 that Carano has been fired from the Disney+ show after an offensive social media post about the Holocaust.
The former MMA fighter was dropped by Lucasfilm after she shared an Instagram post that compared being a Republican today to the experience of Jewish people during the Holocaust.
"Gina Carano is not currently employed by Lucasfilm and there are no plans for her to be in the future," a Lucasfilm spokesperson said in a statement, according to The Hollywood Reporter. "Nevertheless, her social media posts denigrating people based on their cultural and religious identities are abhorrent and unacceptable."
The Instagram post appears to have been the final straw for Lucasfilm, after the Donald Trump-supporting actress was involved in a number of controversies in recent months. Some Mandalorian fans had petitioned for the 38-year-old to be cut from the show over comments on mask-wearing and a transphobic joke.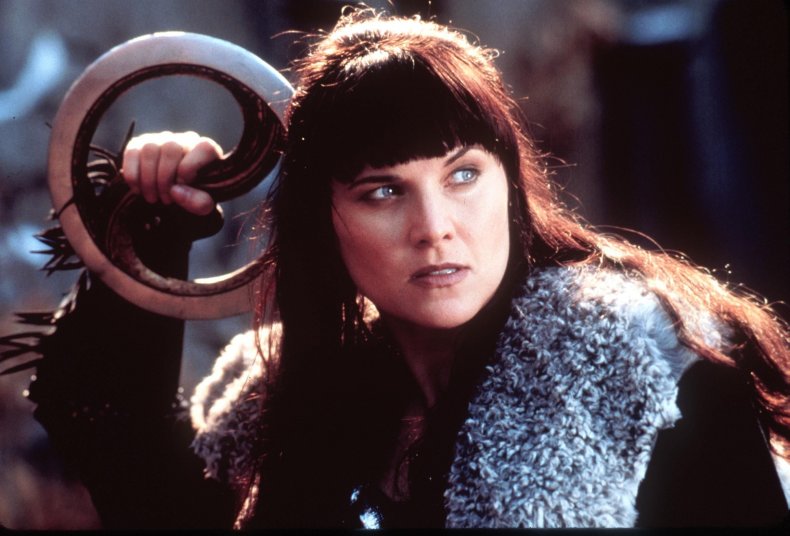 Carano's exit would leave a vacancy for the role of Cara Dune—and many fans think Lawless is the perfect replacement.
"Instead of #canceldisneyplus, can they just cast Lucy Lawless as Cara Dune and pretend it was her the whole time?" read one viral tweet.
Another person added: "Hear me out, casting Lucy Lawless as Cara Dune would sell SOOO many action figures. I'm just saying. She'd bring in a lot of bank."
"ok but what if: lucy lawless as cara dune," posted a Twitter user.
Another social media user calling for Lawless to take the role wrote: "From the looks of it I'm not the only one who thinks that!"
A quick search of Twitter shows dozens more tweets expressing similar sentiments.
Lawless, 52, was hailed as a warrior on social media a few weeks ago for taking down her former co-star Kevin Sorbo, who had tweeted a pro-Trump conspiracy theory.
The iconic 1990s action star blasted the Hercules actor, 62, for peddling a false theory that left-wing activists posing as Trump supporters were responsible for storming the Capitol on January 6.
"No, Peanut. They are not Patriots," she wrote. "They are your flying monkeys, homegrown terrorists, QAnon actors. They are the douchebags that go out and do the evil bidding of people like you who like to wind them up like toys and let them do their worst. #keepingYourFilthyHandsclean #enabler."
Her comments were the latest shot in a long-running feud between the pair.