'You Ever Cry?': Moving Answer From 'Macho Man' Randy Savage Resurfaces
A 30-year-old interview with pro wrestling icon "Macho Man" Randy Savage has resurfaced on social media.
Savage was one of the most recognizable stars in the initial rise of WWE in the 1980s thanks to his flamboyant dress sense, distinctive voice and impressive ability in the ring.
A fan favorite who coined the catchphrase "Oooh yeah!" Savage was admired by fans and experts alike for his willingness to put his body on the line in the name of sports entertainment.
But there was another side to the Ohio-born showman, which many were reminded of after screenwriter Todd Spence shared a clip from an interview with the Macho Man on The Arsenio Hall Show to Twitter.
First broadcast on July 13, 1992, the clip saw Hall attempt to get to know more about the person behind the persona.
"Your middle name is 'Macho,'" he begins. "But, I'm wondering if you ever cry? Has 'Macho Man' ever cried?"
In the space of the 35 seconds that follow Hall's question, Savage provides an answer that's personal and powerful in almost equal measure.
"Well yeah, uh huh," the WWE star replies. "It's OK for macho men to show every emotion available right there, you know."
He continues: "Because I've cried a thousand times [and] I'm gonna cry some more. But, I've soared with eagles and slithered with the snakes and everywhere in between and I'm gonna tell you something right now: there's one guarantee in life and that is that there are no guarantees, yeah."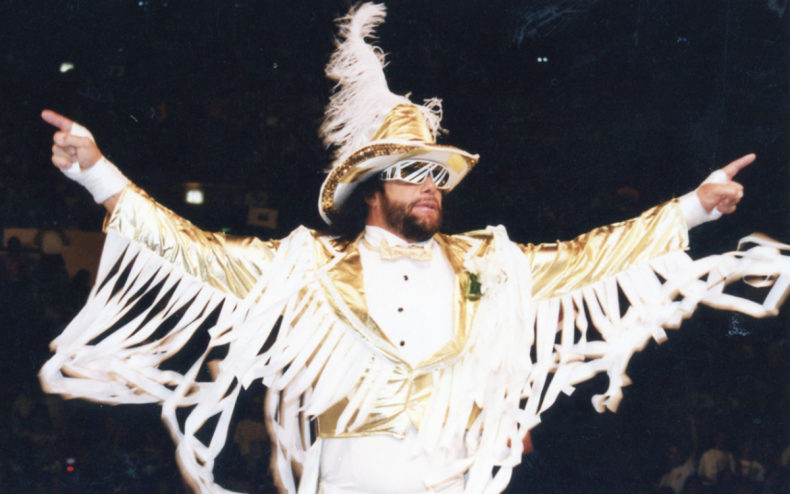 Savage adds: "And…understand this: nobody likes a quitter, nobody said life was easy. So if you get knocked down, take the standing eight count, get back up and fight again and you're a macho manic, dig it?"
Ending his answer with a thumbs up to camera, Macho Man's words prompt a round of applause from those watching in the audience. But more than three decades on, it would appear that his words still have resonance with viewers today, given the response generated by Spence's video.
At the time of writing, the clip has been viewed more than 615,000 times, earning more than 37,000 likes and close to 10,000 retweets. Those commenting on the clip have been quick to praise the Macho Man's mantra for remaining as relevant today as it was all those years ago.
One Twitter user sharing the clip called it the "best life advice" while another wrote: "Gotta love Macho Man Randy Savage. Who else can break down toxic masculinity so eloquently while dressed like that?"
One fan called it, "the best Macho Man quote ever," with another declaring, "I wanna be a Macho Man."
One viewer raised an interesting point about the clip, commenting: "If Macho Man Randy Savage was speaking against toxic masculinity in his day, no other men have any excuses."
Another fan added: "This is why I will always have love and respect for the Macho Man Randy Savage. He knew that no man or woman is an island and that it's okay to have and show different emotions, no matter who you are."
One viewer remained in awe of the fact that Savage gave "a thoughtful and sensitive answer to the question without ever once stepping outside his utterly absurd wrestling gimmick. Truly the cream of the crop."
Perhaps the best comment, however, was from a Twitter user, who simply declared: "Macho Man drops the flying elbow on Toxic Masculinity."
Spence told Newsweek how he came upon the clip and why he decided to share it online.
"I'm a screenwriter so I'm always falling into rabbit holes online, Googling things constantly, and just came across Macho Man's interview on Arsenio," he said. "Always loved wrestling from that era, and Arsenio had some great interviews so I stopped scrolling to watch the two talk. Macho is already a pretty fascinating person but his answer to that question was really quite profound. He didn't laugh the question off and avoid it, he answered like a poet, and it struck me so I thought other people might feel the same."
He also offered up an explanation as to why the video appears to have resonated with so many people online.
"The contrast of this man who is almost a cartoon character of masculinity talking about how it's okay to be vulnerable, that we're all human, especially resonates because it's coming from a wrestler whose job is to exude strength and dominance," Spence said.
Hearing the audience applaud after he says 'And I'll cry some more' says it all now as much as it did then. Men just don't ever hear this kind of message and serves as a great reminder to those forgetting that it's okay for dudes to have feelings. If anyone can punch through toxic masculinity, it's Macho Man."
A wrestling icon who dabbled in everything from music to acting, including a cameo in Sam Raimi's original Spider-Man movie, Savage passed away on May 20, 2011, after suffering a sudden heart attack. He was 58.
Despite his loss still being keenly felt by wrestling fans, Savage's legacy in the ring, as well as out of it, ensures he will never be forgotten.
Update 8/11/22 10:57 a.m. EDT: This article has been updated with comments from Todd Spence.