Macron's Government to Lose Another Minister as Approval Rating Dips Below 20 Percent
One of French President Emmanuel Macron's closest allies has announced his plan to resign from the government next year, as a new poll shows that less than 20 percent of French approve of the leader.
Gérard Collomb, Macron's interior minister, told French newspaper L'Express in an interview published Tuesday that he would step down next year to run for election as the mayor of Lyon, a position he held before joining the president's government.
"I will run in Lyon if I don't get diagnosed as seriously ill any time before that," Collomb said jokingly in the interview. "I won't be interior minister right up until the last moment. After a certain amount of time it would be better to be totally free for the campaign," he added.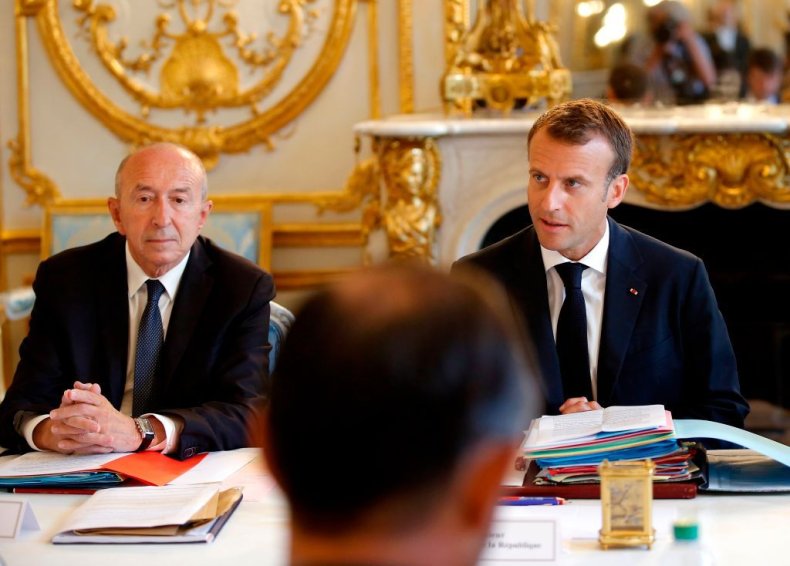 Collomb's announcement follows on the heels of Environment Minister Nicolas Hulot's decision to leave Macron's government at the end of last month. In his resignation announcement, Hulot criticized the government for not doing enough to address increasing environmental concerns. He also accused Macron's administration of being swayed by powerful lobby groups.
At the time of Hulot's announcement, Macron's approval rating had fallen to just 31 percent. On Monday, a new poll by Kantar Sofres–OnePoint for French media RTL, LCI and Le Figaro showed that the president's approval has sunk even lower, with only 19 percent of those surveyed having a positive view of the leader, Bloomberg reported. Conversely, 60 percent reported holding a negative opinion, and the remainder had no opinion or were undecided.
Many French have increasingly criticized Macron as the "president of the rich," especially following a series of high-profile incidents have made him appear disconnected from the reality faced by ordinary citizens. Collomb himself, who has long been seen as loyal to the president, recently admitted there is a "lack of humility" in Macron's administration, according to Reuters.
Over the weekend, the 40-year-old head of state drew fresh criticism after a video of him brushing aside an unemployed man's complaints went viral. During the encounter, Macron suggested the man was simply not looking hard enough for work and argued that he could find a job by simply "crossing the street."
Macron has also been mocked for scolding a teenager who addressed him by his nickname earlier this year, as well as for ordering 1,200 plates at a cost of hundreds of thousands of euros from a high-end producer. Last August, it was also reported that Macron had spent about $30,000 on makeup during his first three months in office.
The president faced and survived two no-confidence votes in parliament at the end of July, after his former chief bodyguard was filmed hitting a male protester and wrestling a woman to the ground. The incident occurred in May, and the man now faces charges of assault and impersonating a police officer. He was initially only suspended for just two weeks but was fired in July following significant public backlash.