Madison Cawthorn Critics Think Cocaine Orgies True as New Images Surface
Some critics now believe that Representative Madison Cawthorn's claims about getting invited to orgies and observing cocaine use in Washington, D.C., are "real" after a new video and report surfaced suggesting an intimate relationship between the North Carolina Republican and a male staffer.
The Daily Mail first reported on Thursday about a video it obtained that allegedly shows Cawthorn in a vehicle with another male. The brief cellphone clip records Cawthorn saying, "I feel the passion and desire, and would like to see a naked body beneath my hands." The man filming the video, who is Stephen Smith according to a new ethics complaint and is listed by Congressweb as Cawthorn's scheduler, responds, "me too," before reaching over and rubbing his hand on the GOP lawmaker's crotch area.
An ethics complaint filed with Office of Congressional Ethics on Wednesday, along with the video and other images, alleges that Cawthorn and Smith have an inappropriate relationship, that the lawmaker lives with the staffer and has paid him thousands of dollars in gifts. It also included screenshots of alleged 2018 Venmo payments from Cawthorn to Smith, which included messages reading: "The quickie at the airport" and "Getting naked for me in Sweden," among other suggestive comments.
"The complaint is ridiculous. Stephen is his cousin—they're family," Cawthorn spokesperson Luke Ball told Newsweek on Friday in an email. "The PAC that filed the complaint did no research."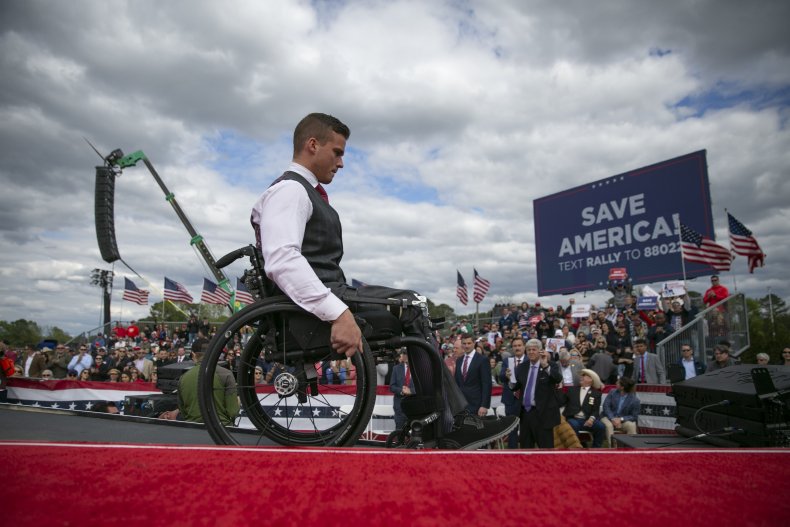 Insider reported that Cawthorn referred to Smith as his third cousin once removed in a 2017 deposition. American Muckrakers PAC, which filed the ethics complaint, has described its objective as to ensure that Cawthorn's "first term in office is his last," according to Insider.
Cawthorn, 26, joined Congress in January of 2020, becoming its youngest member. He has received backlash from critics over homophobic remarks and staunch opposition to the transgender community.
After the Daily Mail report began circulating online, some on Twitter brought up a controversy involving Cawthorn at the end of March. In an interview with the Warrior Poet Society podcast, Cawthorn claimed that leaders he'd "looked up to" in Washington had invited him to an "orgy" and did "a key bump of cocaine" in front of him.
Fellow Republicans quickly balked at the claim, and House Minority Leader Kevin McCarthy said publicly that the congressman had "lost his trust," saying Cawthorn had admitted that the allegations were not true in a private conversation.
"ik [I know] i said 90% a couple days ago. but now i believe the cocaine orgies are 100% real [sic]," left-wing political commentator Hasan Piker tweeted Thursday evening, sharing the new Daily Mail report about Cawthorn.
"they are coming down so hard on this guy that i half wonder if the cocaine orgies are real," New York Times opinion columnist Jamelle Bouie wrote in a Twitter post.
"There is clearly a coordinated effort underway by the GOP to take down Madison Cawthorn," liberal political action committee MeidasTouch said in a tweet. "They must have really not liked him talking about their cocaine orgies."
"Madison Cawthorn, your party has turned on you. Before you go please disclose which Republican House Members offered you cocaine and invited you to an orgy," Democratic activist and Fox News contributor Chris Hahn tweeted.
"So Madison Cawthorn wears lingerie, goes to coke orgies, gets his junk touched by eager staffers, inside trades, brings guns to the airport, drives recklessly without a license. What does any of that have to do with his record on... yeah, I can't in good faith complete this joke," filmmaker Jeremy Newberger wrote in a Twitter post.
Although McCarthy told reporters that Cawthorn admitted the orgy and cocaine claims were untrue, Cawthorn did not do so publicly. Days after he received backlash for the remarks, Cawthorn released a statement saying in part: "Corruption and unethical activities exist in Washington. It's an indisputable fact. If you don't think that's true, you've not witnessed the Swamp." He contended that the media and the left were using his remarks to "disparage" GOP colleagues and that they were "falsely insinuating their involvement in illicit activities."
Some Cawthorn supporters publicly argued that he told the truth about the orgies and drug use. Right-wing strategist Roger Stone, an ally of former President Donald Trump—who publicly endorsed Cawthorn's reelection bid—said that the congressman told him he never denied the remarks in his conversation with McCarthy.
"Congressman Madison Cawthorn just told me that he has NOT retracted his claims about sex fueled orgies among DC elites. Why would anyone believe anything said by RINO Kevin McCarthy or repeated by CNN? Nothing reported by CNN is accurate or true!" Stone wrote in a post on his Telegram channel on March. (RINO is an acronym for "Republican in name only.")
In what Ball told Newsweek was a reference to the report on his relationship with his staffer, Cawthorn tweeted on Thursday evening: "Many of my colleagues would be nowhere near politics if they had grown up with a cell phone in their hands."
In another tweet referenced by Ball, Cawthorn shared a screenshot of an article by The Epoch Times titled: "Rep. Cawthorn Says 'Establishment' Targeting Him With 'Coordinated Drip Campaign.'" The congressman wrote: "We see through it, RINOs."
Politico first reported old photos last Friday of Cawthorn wearing lingerie. He dismissed the images as "goofy vacation photos." But some critics said that the images demonstrated his hypocrisy when it comes issues of gender identity and sexuality.
Newsweek reached out to Cawthorn's Washington, D.C., office but was told by a staffer to email Ball.