A video has emerged showing Madison Cawthorn appearing to be groped by a man believed to be one of the North Carolina congressman's staff members.
The footage, which was obtained by the DailyMail.com and shared on Twitter by the Meidas Touch Twitter account, shows Cawthorn in a car with another male.
The brief cellphone video records Cawthorn saying "I feel the passion and desire, and would like to see a naked body beneath my hands."
The man filming the video, believed to be Cawthorn's scheduler, Stephen Smith, responds "me too," before reaching over and rubbing his hand on Cawthorn's crotch.
The footage was featured among fillings submitted to the Office of Congressional Ethics by the political group Fire Madison Cawthorn, who are trying to get the congressman investigated over alleged misconduct and inappropriate behavior.
According to the filings, Cawthorn has provided Smith with loans and other gifts which were not declared, and the staff member has not returned.
Smith is also said to have lived with the GOP lawmaker in his home in Hendersonville, North Carolina for free ever since the freshman congressman took office.
The filings suggest that Smith and Cawthorn have a "personal relationship between them, separate and apart from the professional relationship of employer and employee."
The pair are said to be so close that Smith joined Cawthorn and his wife on their honeymoon in Dubai in April 2021, with a number of pictures of the pair engaging in activities beyond a professional relationship appearing on social media.
Cawthorn and his wife, Cristina Bayardelle, separated in December 2021 with the pair stating Cawthorn's move into politics put a strain on their relationship.
The Fire Madison Cawthorn group, which is operated by the American Muckrakers PAC, also submitted screenshots of what is believed to be Venmo payments between Smith and the congressman with notes such as "Getting naked for me in Sweden," "The stuff we did in Amsterdam," and "The quickie at the airport" and "breaking and entering."
Other alleged Venmo payments Smith sent to Cawthorn included messages such as: "For loving me daily and nightly" and "Nudes."
Newsweek has been unable to verify the Venmo payments, and it is unclear if the labels were meant as jokes between the pair.
In a statement to the DailyMail.com and Insider, Cawthorn spokesman Luke Ball said that Cawthorn and Smith are cousins.
A representative for Cawthorn called the complaint against Cawthorn "ridiculous," as reported by Insider.
As further noted by Insider, Cawthorn referred to Smith as his third cousin once removed in a 2017 deposition.
Cawthorn appeared to address the cellphone footage in a tweet on Thursday.
"Many of my colleagues would be nowhere near politics if they had grown up with a cell phone in their hands," Cawthorn tweeted.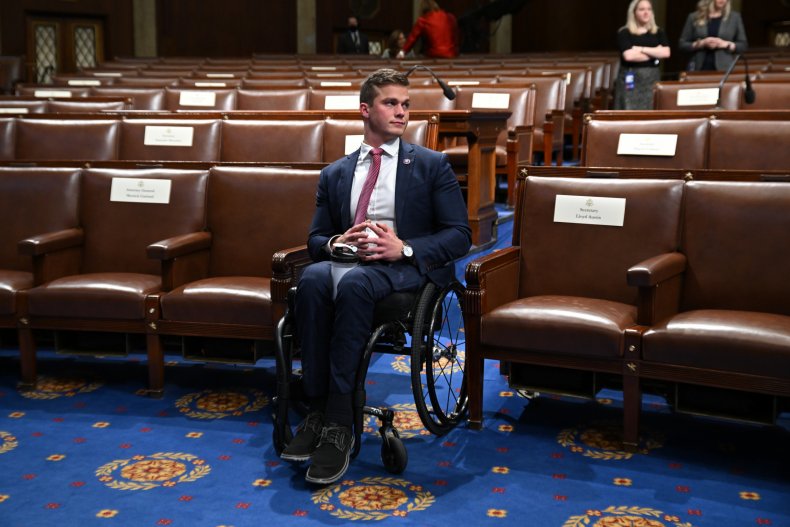 The congressman also suggested the series of controversies that have dogged him ahead of his primary election bid on May 17 are part of a GOP-led campaign to have him kicked out of office.
The potentially damaging stories involving Cawthorn that have emerged in recent weeks include being accused of illegal cyptocurrency insider trading, being cited for having a loaded gun at a security checkpoint at Charlotte Douglas International Airport, and having pictures of him in women's lingerie leaked to the press.
"We see through it, RINOs [Republican in name only]," Cawthorn tweeted while sharing a headline from The Epoch Times reading: "Rep. Cawthorn Says 'Establishment' Targeting Him With 'Coordinated Drip Campaign."
The frequent negative press attention towards Cawthorn arrived after he was heavily criticized by his own party, including House Minority Leader Kevin McCarthy, for claiming lawmakers invited him to orgies and that the congressman had witnessed others do cocaine in front of him.
Cawthorn and Smith have been contacted for comment.