Madonna Reacts to Hoax of Dog Selling Her Old Miami Mansion for $31 Million
This Newsweek article has been updated to reflect that the November 17, 2021, Associated Press article it was based on has since been reported to be erroneous. AP has retracted its report and published an explanation for its error, which can be read here.
---
Madonna has shared her reaction after catching sight of an erroneous story that a dog was "selling" a Miami mansion she once owned for a huge profit.
The Associated Press reported on November 17 that handlers for Gunther VI, a German shepherd, had put the Tuscan-style villa he lived in on the market for $31.75 million. The AP has since retracted the story, stating that it is a hoax.
The original report had said Madonna had sold the eight-bedroom mansion for $7.5 million two decades ago.
Gunther VI's handlers were quoted as saying the dog had inherited the palatial waterfront property from his grandfather, Gunther IV. The AP had reported that the trust fund that paid for the villa was left to Gunther III, Gunther IV's father, by his owner, a German countess called Karlotta Liebenstein. The AP has since stated that no evidence can be found the countess existed.
When the original report circulated, Madonna posted on her Instagram Story last Thursday, sharing a photo of herself feigning a forlorn look.
The "Material Girl" singer captioned the image: "When you find out a dog is selling your old house for 3 times the amount you sold it for!"
She then posted a screenshot of an article about the sale, adding the comment: "Too much [greatness] in 1 house."
The AP has since reported that the story, which was based on a press release from publicists representing the real estate agents handling the listing, is a hoax.
"The AP published a story that did not meet our standards and should not have been published. We did not do our due diligence in the reporting process. We have corrected the story, and we apologize," AP spokeswoman Lauren Easton said in a statement.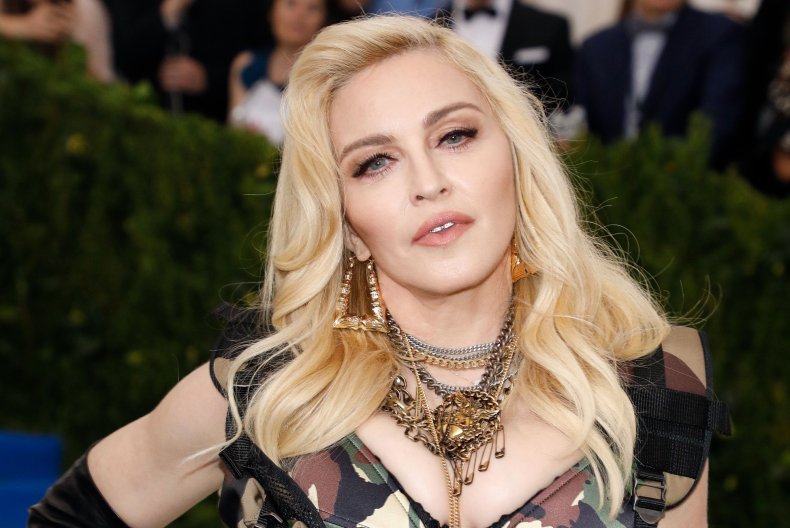 Madonna, who is worth an estimated $550 million according to Forbes, is currently busy working on the screenplay for her biopic.
The singer announced in June that she was working on the script with writer Erin Wilson, whose credits include the 2002 film Secretary, starring Maggie Gyllenhaal.
The news came after it was reported that Diablo Cody had departed her role as screenwriter for the biopic.
Entertainment Weekly reported in April that Cody, who won an Oscar for writing Juno, had submitted a completed draft to movie studio Universal and moved on to another project.
During an Instagram Live session in September 2020, Madonna confirmed that she and Cody were working on the biopic, per Entertainment Weekly.
She said the film would be "about my struggle as an artist trying to survive in a man's world as a woman, and really just the journey."
She revealed: "We do talk about Andy [Warhol] and Keith [Haring] and Jean-Michel Basquiat and Martin Burgoyne and the whole coming up as an artist in Manhattan, downtown, Lower East Side in the early '80s.
"Honestly, [it's] one of the best times of my life and one of the worst times. I hope I can portray or express what a thrilling time that was for me in every way."
She added: "It's not a musical, but there's a lot of music, and there's a lot of the actress who will play me singing my songs, but in places where she's supposed to be singing."