MAGA Republicans Rip 'Democrat' Mitch McConnell After Lisa Murkowski Wins
The right wing of the Republican Party is eviscerating Senate Minority leader Mitch McConnell for backing Alaska's sitting U.S. Sen. Lisa Murkowski in her recent win over Donald Trump-backed candidate Kelly Tshibaka, a former state official who sought to portray her moderate Republican opponent as a liberal that regularly sides with Democrats.
Following Tshibaka's loss in this week's final round of counting in the state's ranked-choice election—the first in Alaska's history—multiple users took to social media to analyze the reasons behind Tshibaka's loss in the red-leaning state. Many placed the blame on the figurehead of the Senate Republican caucus—McConnell—and the active role he'd played in denying Tshibaka the seat.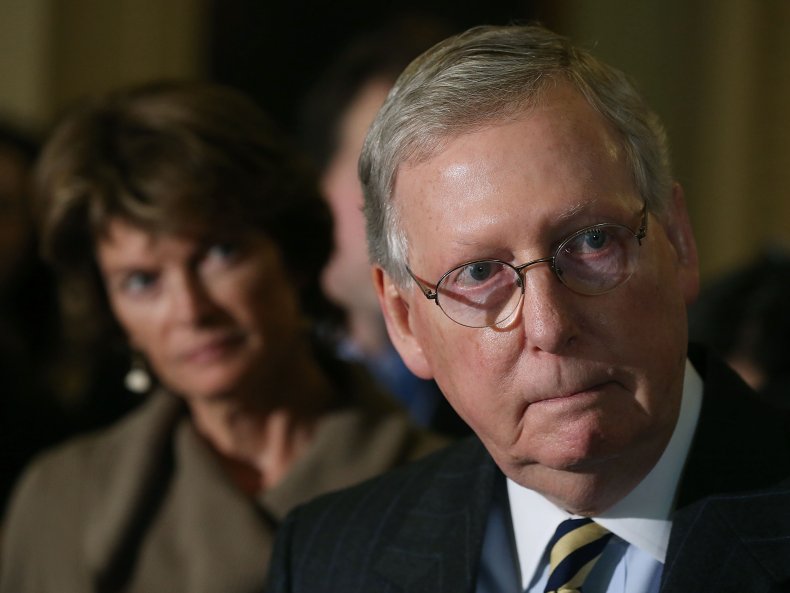 While Murkowski already boasted a sizable financial advantage over Tshibaka entering the campaign and through the closing months of the campaign, the McConnell-aligned Senate Leadership Fund—arguably the most influential fiscal arm of Senate Republicans' efforts this cycle—ranks as the race's largest source of outside spending.
According to campaign finance records, the fund spent upwards of $6.1 million in media opposing Tshibaka, whom they accused in advertisements of "ripping off taxpayers" in what was widely seen as a proxy battle between Trump and McConnell for control of the GOP.
Tshibaka credited that spending, as well as the state's newly adopted ranked-choice voting system, as the primary reasons she lost.
"It is regrettable that Sen. Mitch McConnell spent millions of dollars in this race on deceptive ads to secure what he wanted—a Senate minority that he can control, as opposed to a majority that he could not," Tshibaka said in a statement after conceding the race.
"Donors' money would have been better spent in other states to elect more Republicans that would have secured a majority in the Senate," she added. "In the end, however, our Alaska U.S. Senate election turned out to be another victory for the Washington, D.C. insiders who rarely have our best interests at heart."
Others felt similarly, saying McConnell's unwillingness to back candidates close to Trump's "Make America Great Again" movement only served to hurt the GOP's chances to take control of the Senate.
"McConnell backed Murkowski because he didn't want a Trump Republican to win," tweeted James Bradley, a fringe figure in California politics who earned 3 percent of the vote in his recent U.S. Senate primary. "We all know why. Because McConnell is a Democrat who IDENTIFIES as a Republican.
"Mitch McConnell wouldn't support Blake Masters so he could get Lisa Murkowski elected. He joined the chorus who tried to stop @Kathy4Truth from winning in PA. Not to mention McCarthy doing the same to America First candidates for House. These so-called leaders have got to go," Willie Montague, a far-right candidate in Florida who has lost two consecutive GOP congressional primaries in his liberal district, wrote of McConnell's efforts to defeat hardline Senate conservative candidates like Kathy Barnette.
"Mitch McConnell blew money on the Alaska midterm to get Murkowski to win," Lavern Spicer, a conservative influencer from Florida, wrote on her Twitter page. "Reminds me of how the establishment sprinted millions in to try and stop @Kathy4Truth during the last three days of her campaign. These establishment ppl don't care about winning. They care about control."
Meanwhile Trump, who has nursed a regular, public feud with McConnell, had yet to post on his Truth Social page as of Thanksgiving morning.
Newsweek has reached out to his office for comment.