Magic Johnson Sets Record Straight on Blood Donation
Former NBA superstar Earvin Magic Johnson set the record straight on Tuesday following false reports that he donated blood.
"I'm aware of the false story circling the internet, and to be clear, I have never donated blood," Johnson wrote on Twitter.
Johnson's tweet came in response to photos posted on Twitter that appeared to show him donating blood. Many Twitter users discussed the photos as Johnson is known to have HIV.
In a tweet last week, a satirical Twitter account posted a photo of Johnson appearing to donate blood and said, "Earlier today, NBA legend Magic Johnson donated some of his blood to the Red Cross to help underprivileged communities help fight COVID-19."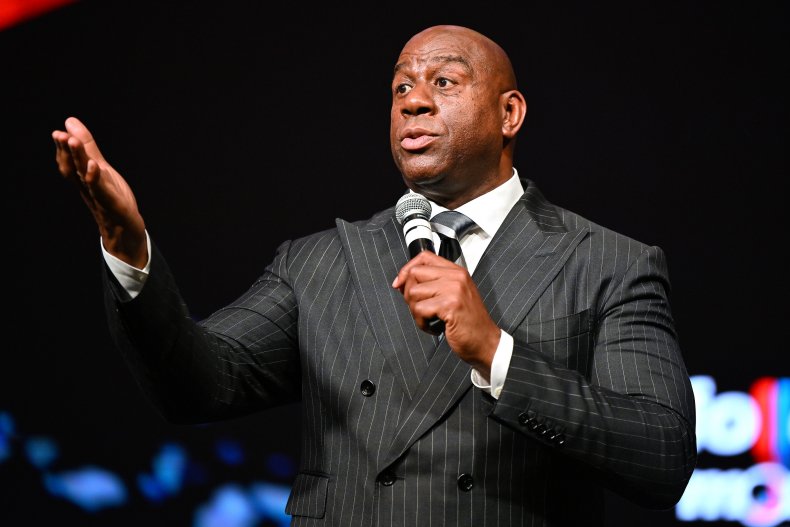 In response to the tweet, a number of social media users made jokes and questioned the validity of the photo.
"It's not real," Twitter user Gnometastic wrote.
In a reply to Johnson's tweet, one Twitter user shared the original picture that was posted and wrote, "it was a meme lol."
A number of other Twitter users also responded to Johnson's tweet, including one response that said, "We know Magic. We know."
Twitter user Andrew Torres wrote, "There will always be someone there to drag your name through the mud. Ignore them and Keep moving forward."
Similarly, Twitter user Jeremy Scott wrote, "Come on magic we know it was a joke.. you ain't have to clear it up."
Shortly after the photo circulated across social media, the Associated Press conducted a fact check and ruled that the reports of Johnson donating blood were false.
"The image is miscaptioned. It comes from a 2012 documentary and shows Johnson getting his blood routinely drawn at a doctor's appointment, not donating blood to the Red Cross recently," the AP reported.
According to the Associated Press, the picture was first taken during a PBS Frontline documentary in 2012. In the documentary, titled "Endgame: AIDS in Black America," Johnson had blood drawn by Dr. David Ho, the AP reported.
The American Red Cross states that if you have HIV or Aids "or if you have done something that puts you at risk for becoming infected with HIV," you should not donate blood. According to the American Red Cross, individuals who have experienced any symptoms associated with HIV or Aids, including a fever, enlarged lymph glands, sore throat or a rash, should not attempt to donate blood.
Newsweek reached out to reps for Johnson for further comment.
In 1991, Johnson first announced that he had been diagnosed with HIV and that he would be retiring from the NBA. Johnson won five NBA championships with the Los Angeles Lakers before his announcement. After announcing his retirement, Johnson returned to the NBA but officially ended his basketball career in 1996.
In 2017, Johnson returned to the NBA to serve as the Lakers' president of basketball operations, but he announced his resignation from the position in 2019.
Quincy Isaiah barely had an acting credit to his name before he was cast as the lead in the new HBO basketball biopic Winning Time: The Rise of the Lakers Dynasty.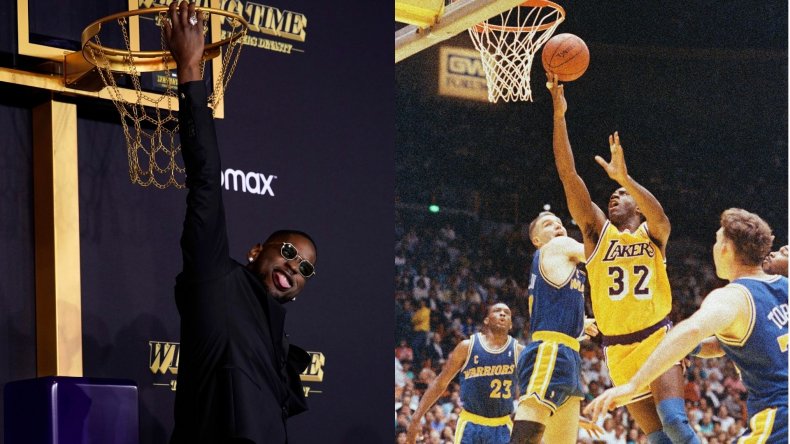 In Episode 1, "The Swan" we see briefly see Isaiah portray Johnson in the early '90s receiving his HIV diagnosis, but we spend the majority of the time in the show with Johnson as a young man when he first signs for the LA Lakers.
The basketball biopic is confirmed for a second season and has received positive reviews from critics and audiences but recently courted controversy from the real-life people depicted in Winning Time.
Jerry West demanded a retraction for how he was portrayed by Jason Clarke while Kareem Abdul-Jabbar called the show "deliberately dishonest."