Over 60 percent of Americans are opposed to state laws that aim to prohibit teaching LGBTQ lessons in elementary schools, according to a new poll.
The survey, which was conducted by ABC News/Ipsos, found that 62 percent of respondents oppose legislation that bans teaching about gender identity or sexual orientation to younger children, while just 37 percent support it.
The poll found that attitudes toward such laws differed across party lines. Sixty-two percent of Republican voters said they support such legislation, while only 20 percent of Democrats and 35 percent of independents agreed. The survey also found that Americans over 65 are more likely to support such laws opposed to those who are younger and college educated.
Survey responses were collected from March 11 through 12 using information from 622 U.S. adults. The margin of sampling error is plus or minus 4.4 points.
The poll was conducted just days after Florida's state legislature passed the controversial Parental Rights in Education law, which critics have labeled the "Don't Say Gay" bill.
If signed into law by Republican Governor Ron DeSantis, the bill would prohibit any classroom instruction on gender identity and sexual orientation from kindergarten through third grade. It would also ban such teachings "in a manner that is not age appropriate or developmentally appropriate for students," which opponents say could be applied to all grade levels. Furthermore, parents could also sue school districts and teachers for any alleged violations.
The bill has received national attention, with LGBTQ activists and members of President Joe Biden's administration calling the legislation "hateful." Those who oppose the bill fear that it could create a hostile environment for LBGTQ students and instructors.
"Leaders in Florida are prioritizing hateful bills that hurt some of the students most in need," U.S. Education Secretary Miguel Cardona said in a statement this week. "We stand with our LGBTQ+ students in Florida and across the country, and urge Florida leaders to make sure all their students are protected and supported."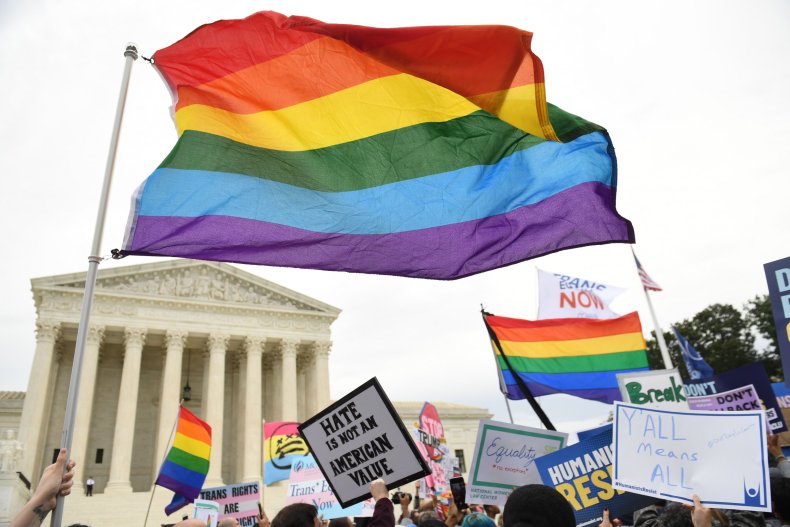 DeSantis has previously indicated his support for the legislation and criticized reporters for "pushing false narratives" by calling it the "Don't Say Gay" bill. Earlier this week, the governor slammed the Walt Disney Company for being "woke" after its CEO opposed the bill and announced a pause on all political donations in the state.
"First graders shouldn't have 'woke' gender ideology imposed in their curriculums," DeSantis said in a statement on Friday.
Florida isn't the only state looking to prohibit such content in classrooms. In Georgia, lawmakers introduced a bill last week that would prohibit private schools from discussing sexual orientation or gender identity in primary grade levels "or in a manner that is not appropriate for the age and developmental stage of the student."
In Tennessee, a bill has been introduced that aims to prohibit public schools from using instructional materials that "promote, normalize, support, or address lesbian, gay, bisexual, or transgender issues or lifestyles." Meanwhile, an Oklahoma bill is making its way through the state Senate that would ban public schools and school libraries from stocking books that focus on "the study of sex, sexual lifestyles, or sexual activity."
At least 10 other states have moved forward to enact different LBGTQ bans, with some prohibiting transgender female athletes from participating in female school sports leagues.