Majority of Americans Now Support Removing Confederate Statues, Up 16 Points from 2018: Poll
A slim majority of Americans now support the removal of Confederate statues, a double-digit jump from two years ago, a new poll shows.
The polling by NBC News/Wall Street Journal showed that 51 percent of respondents believe Confederate statues should be taken down, while 47 percent disagree. That represents a significant shift from 2018, when a clear majority (63 percent) of Americans said that the monuments should remain, while just 35 percent said they should be removed.
At the same time, only a small minority (10 percent) of Americans believe that the statues should be destroyed completely. The most popular proposal—backed by 41 percent of respondents—is to place the statues in museums but remove them from public spaces. About a third (31 percent) said that the statues should remain in place with plaques added to provide greater historical context. Only 16 percent believed the monuments should remain exactly as they are without any changes.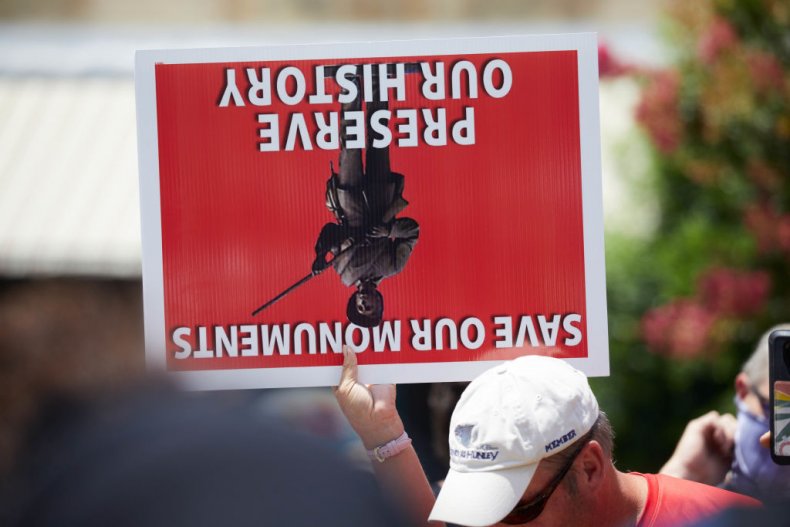 The shift in public opinion comes following the massive anti-racism and Black Lives Matter demonstrations that have swept across the country, and around the world, in the wake of the death of George Floyd. The unarmed black man died in police custody in Minneapolis on May 25 after an officer knelt on his neck for nearly nine minutes.
Activists have pushed for the removal of Confederate monuments, in addition to statues of other historical figures that oppressed and harmed minority communities, as the protests have persisted across the country. Some demonstrators have taken matters into their own hands, tearing down or vandalizing monuments.
But President Donald Trump has defended statues of Confederate soldiers, who fought in rebellion against the country in a failed effort to preserve slavery in the South. Trump has even threatened to veto the new National Defense Authorization Act if lawmakers pass the bill with language requiring the U.S. military to rename bases currently named after Confederate officers. The amendment to require the name change was put forward by Democratic Senator Elizabeth Warren of Massachusetts.
Meanwhile, many Republicans in Congress and military leaders are supportive of renaming the bases. Secretary of Defense Mark Esper last week effectively banned the Confederate flag from being displayed at U.S. military bases. Although his order did not explicitly mention the rebel symbol, it laid out which flags are acceptable and did not include the Confederate banner.
Many saw Esper's decision as somewhat at odds with the president, who has spoken favorably of the Confederate flag.
"When people—when people proudly have their Confederate flags, they're not talking about racism," the president said during an interview broadcast by Fox News Sunday. "They love their flag, it represents the South. They like the South. People right now like the South. I'd say it's freedom of, of, of many things, but it's freedom of speech."