Majority of Texas Teachers Do Not Want to Be Armed: Survey
A majority of teachers and other school employees in Texas do not want to carry firearms or be expected to take on a gunman, according to a new survey.
The Texas American Federation of Teachers (TAFT) found that 76 percent of the 5,100 people who responded said "no" to the question: "Do you want to be armed?" Ninety percent of respondents also said they were worried about a shooting happening at their school.
The survey comes two weeks after the mass shooting at Robb Elementary School in Uvalde, Texas, in which 19 children and two adults were killed. In the wake of the shooting, some Texas Republicans, including Attorney General Ken Paxton, said that a potential solution to stopping school shootings would be to arm and train teachers to protect their students.
TAFT said 3,673 of those who responded to the survey were K-12 teachers, 418 were other K-12 school employees and 427 were not listed as school employees. The survey was sent out to TAFT's estimated 65,000 members in the days following the May 24 shooting in Uvalde.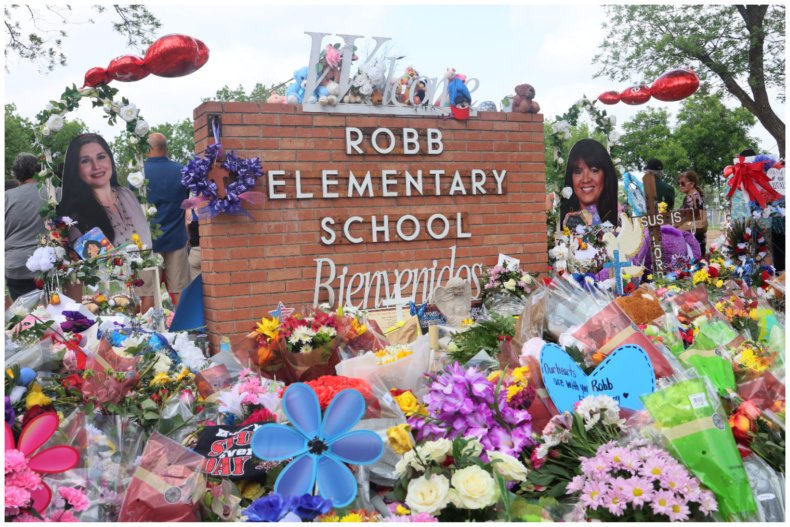 Those who responded were community members, parents, higher education employees, K-12 teachers, and school employees. TAFT said the majority of school employees were in favor of stricter gun safety in the state.
According to the union, 99 percent supported comprehensive background checks for purchases for all gun sellers, 96 percent wanted to raise the minimum age for legal gun purchases to 21, and 98 percent approved of "red-flag warnings" to stop people suffering mental health issues from buying or using guns.
Some 83 percent of respondents also supported a ban on assault weapons, like the one used in Uvalde, and 82 percent wanted to enhance secure-storage laws to prevent children from accessing guns at their homes or friends' homes.
The findings of the survey stand in stark contrast to the position of Republican Texas Governor Greg Abbott who is in favor of making it easier for Texans to own firearms.
Last week, Abbott instead urged schools to prioritize "active shooter" training drills following the Uvalde massacre and said in a letter sent to Dr. Pete Blair, executive director of Texas State University's Advanced Law Enforcement Rapid Response Training Center (ALERRT), that he wanted to "prevent the same tragic ending from happening again."
Abbott added: "An important part of these prevention efforts must focus on the proper training of law enforcement and school administrators on how to respond when they face the threat of an active shooter on their campus."
Texas Democrats have requested special sessions to address gun violence in the state and repeated calls for assault weapons bans and other firearm control provisions.
In a May 27 statement, Texas Democratic Party Chairman Gilberto Hinojosa said: "Not one more child. Not one more teacher. Not one more Texan. We're proud of our Democratic Leaders for standing up to Greg Abbott's lies every chance they get, and the Texas Democratic Party joins their call for a special session to ban assault weapons and pass life-saving legislation to end gun violence in Texas."
Since coming into office, Abbott loosened gun laws in Texas by allowing Texans 21 years of age and older to obtain and carry handguns without a license, background checks or formal training.
Before Abbott entered office in 2015, Texas had placed high demands on people wanting to carry firearms in schools, namely education employees. Since 2013, Texas has allowed teachers and other education employees to carry handguns upon the completion of the 80-hour School Marshal Program.
School marshals face strict requirements to be approved, including passing a psychological exam, completing the School Marshal Course, and holding a valid license to carry issued through the Texas Department of Public Safety, according to the Texas Commission on Law Enforcement
There are now 256 school marshals in Texas, an increase from the 34 before the high school shooting in Santa Fe in 2018. Denise Gottfredson, a criminologist at the University of Maryland, previously told Reuters that arming teachers is "ill-advised."
Gottfredson added: "These guns might be fired accidentally, the teachers who carry them might deliberately use them for unintended purposes, and, even more likely, the guns might end up in the hands of students."
Newsweek reached out to TAFT and the Republican Party of Texas for comment.