A man who was arrested and served time nearly a decade ago for threatening former President Barack Obama is facing new charges after he allegedly threatened President Joe Biden and the White House.
According to a federal one-page indictment filed yesterday in Michigan Eastern District Court and obtained by Newsweek, Timothy Findlay "knowingly and willfully made a true threat to take the life of and to inflict bodily harm upon the president of the United States, specifically, to bomb the White House and kill everyone" on April 28 of this year.
Findlay, 48, of Prescott, Michigan, faces one charge of "threats against president and successors to president." The indictment mentions no further information.
The defendant faced the same charge in a federal indictment filed in November 2013. According to that filing, Findlay "knowingly and willingly made a threat to take the life" of then-President Obama in or about March 2012.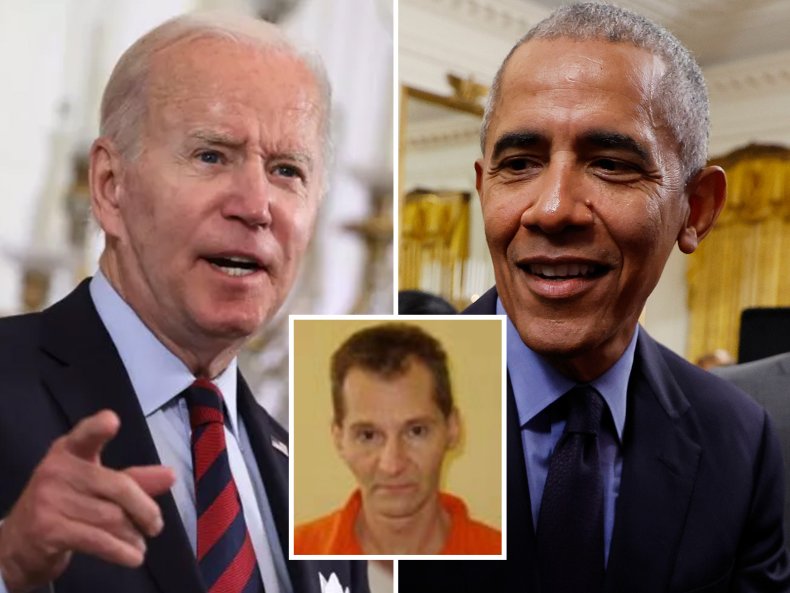 In 2014, Findlay pleaded guilty to count two of that particular indictment, which charged him with threatening to kill the president.
The plea stated that Findlay was in Ogemaw County Jail in West Branch, Michigan, in September 2013 for unrelated bomb threat charges. Jail staff discovered two notes written by Findlay: One said he wanted to kill a judge and the president "with a bomb," and the other said, "I want to bomb the White House."
He also wrote on the walls of his jail cell, "Kill Obama" and "F**king kill the president b**ches."
Five days later, on September 13, Findlay told a Secret Service agent that if he "were drunk" he would "definitely try to kill the president. He later admitted that he wanted to kill Obama, saying that once he got out of prison "he would get a rifle, borrow a car, drive to Washington DC, and kill the president," according to the plea.
Another note written by Findlay was reportedly discovered by a jail guard, in which he said he is "going to kill all the presidents of the United States."
The terms of the plea agreement suggested a sentence between 12 and 18 months. After serving 15 months behind bars and being on supervised release for three years, court records indicate he went back to prison in 2017 for not reporting to his probation officer.
In 2019, he was sentenced to four months for that specific charge.
Arrests for past threats
Threats against sitting presidents and other public officials are not uncommon.
In October 2018 Cesar Sayoc Jr., a self-avowed supporter of former President Donald Trump, was arrested for sending multiple numerous explosive devices to prominent Democratic politicians including Obama, Hillary Clinton and Democratic U.S. Representative Debbie Wasserman Schultz, among others.
In January of this year, two individuals were arrested for allegedly participating in the same threats made toward President Biden.
One was Scott Merryman, a contractor from Independence, Kansas, who according to court documents allegedly drove to Hagerstown, Maryland, to "lop off the head of the serpent in the heart of the nation."
The other man was Ryan Matthew Conlon, of Halethorpe, Maryland, who in addition to allegedly wanting to bomb the White House was also charged with threatening to bomb the National Security Agency headquarters in Ft. Meade, Maryland, and targeting NSA employees in a mass shooting.
Also in January, a criminal complaint filed in U.S. District Court in Brooklyn alleged that Thomas Welnicki, 72, was arrested for threats made to former President Trump and other elected officials.
Newsweek reached out to the U.S. Attorney's Office for comment.