Terror Charges for Man Who Threatened Mass Shooting At Parkland Survivors' 'March For Our Lives' Anti-gun Rally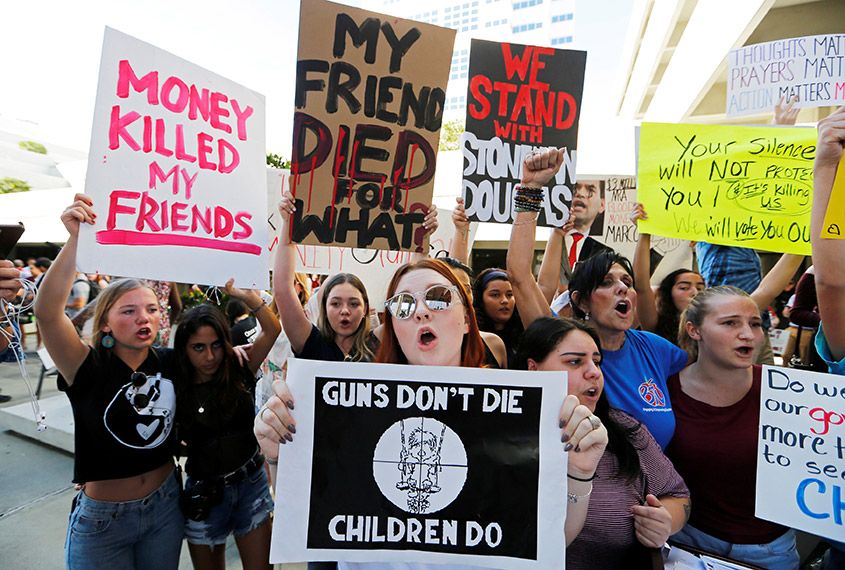 A man has been charged with making terroristic threats after allegedly warning he was going to "shoot up" a march calling for stricter gun laws due to be held in Washington.
Shane Steele, 42, of Lakewood, New Jersey, was arrested on suspicion of threatening to open fire using a machine gun at the "March For Our Lives" rally, organized by the survivors of the Parkland school massacre.
Authorities from the Manalapan Police Department were alerted to the threat on February 19, 2018, after Steele allegedly posted it on Facebook, according to a statement from the Ocean County Prosecutor's Office.
Announcing the arrest, Ocean County Prosecutor Joseph D. Coronato said Steele was living in Lakewood at the time of making the alleged threat. Police did not recover any firearms during a search of his home following his arrest.
Steele has now been charged with one count of Terroristic Threats, in reference to a Mass Shooting threat. He has been released on a summons to answer the charge at a future date.
"Multiple law enforcement agencies were involved in the investigation including personnel from The Lakewood Police Department, Toms River Police Department, Manalapan Police Department, South Brunswick Police Department, the Middlesex County Prosecutor's Office, the Ocean County Prosecutor's Office Major Crime Unit and the New Jersey Office of Homeland Security and Preparedness," a statement from Coronato added.
The March For Our Lives rally is due to take place in Washington DC on March 24 to demand that children's lives "become a priority and that we end gun violence and mass shootings in our school."
The event was organized by parents and survivors of the mass shooting at the Marjory Stoneman Douglas High School in Parkland, Florida, on February 14 in which 17 people were killed after suspected gunman Nikolas Cruz opened fire using an AR-15 assault weapon. Cruz, a former Marjory Stoneman Douglas High School pupil, denies all the charges against him.
According to the March For Our Lives website page, more than 720 similar rallies will also take place on March 24 calling for stricter gun control in the U.S. in the wake of the latest mass shooting to occur at a school.