A man has died from a fall after a ledge broke loose at a Utah canyon formation over the Easter weekend, according to police.
The Emry County Sheriff's Office (ECSO) confirmed in a Monday Facebook post that the man was one of two who died over the weekend at the San Rafael Swell, a popular destination for hikers and canyoneers.
According to police, Craig Barlow, 50, from Salt Lake City, died after he fell about 50 feet from a cliff on Friday, April 5.
In the post, an ECSO spokesperson said: "The [911] caller stated the man was sitting on a boulder on a ledge watching his friends rappel when the ledge broke loose and the man fell approximately 50 feet landing in the two to three feet of water."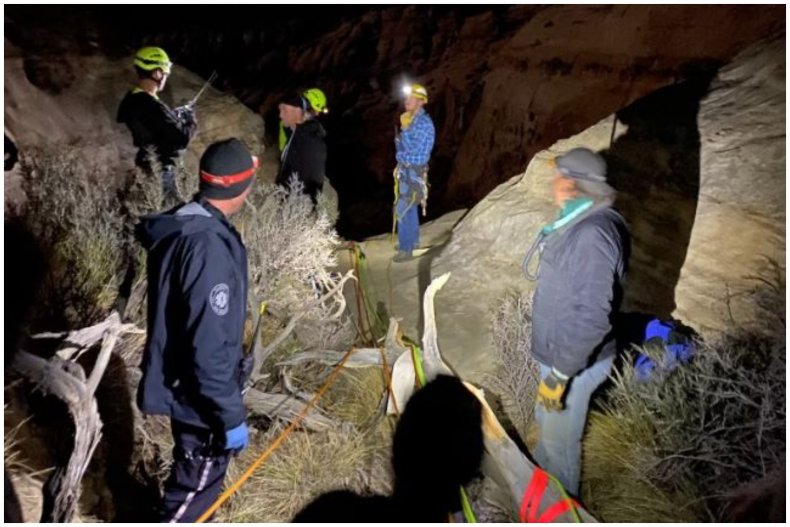 A Classic Air Medical helicopter left Moab shortly after the call came in and was able to land on a shelf in an area further up the canyon. Paramedics made their way to the victim who was transported to a hospital where he later died as a result of his injuries.
ECSO officers said the second victim, Arlo Lott, 41, from Steamboat Springs, Colorado, fell about 70 feet when his rappel anchor broke loose in Farnsworth Canyon on Saturday, April 16.
Again a medical helicopter was dispatched out of Moab and managed to pinpoint the victim's location.
The ECSO spokesperson said: "The man's condition worsened as he was being raised out of the canyon. Once the man was out of the canyon, the medical flight crew administered lifesaving measures for nearly one hour before pronouncing the man dead at the scene.
"Due to the difficult terrain, the State DPS helicopter was dispatched to extract rescue personnel and their gear. By this time, the wind had subsided enough for the helicopter to respond."
The spokesperson later added: "Emery County Sheriff's Office expresses sincere condolences to the families and friends of these two men. We also appreciate all agencies who responded to these two tragic accidents."
Newsweek has contacted Emery County Search and Rescue for comment.
Unfortunately, other people have died while visiting mountains and parks across the U.S. this year.
In one particularly tragic case, a 21-year-old hiker died after he fell 700 feet from an Arizona mountain peak while trying to take a selfie.
Richard Jacobsen lost his footing on the Flatiron Peak of Superstition Mountain in Lost Dutchman State park while attempting to take a photo of himself, according to police.