Man Has Eaten Big Mac Daily for 50 Straight Years: 'Nothing I'd Rather Eat'
Donald Gorske has eaten a Big Mac nearly every day for 50 years straight—and he has no plans to stop.
The McDonald's regular has been in the media spotlight for years, extending his own record as the years have passed. It culminated in an official celebration that took place Tuesday in his home state of Wisconsin.
He has only missed eight days of Big Mac consumption in five decades, often eating two of the fast-food juggernaut's classic burgers during each visit.
"I've only missed eight days in 50 years, which is phenomenal," Gorske told KFVS-12 from his hometown restaurant in Fond du Lac. "And like I say, I count every Big Mac. I've counted every Big Mac I've eaten my whole life."
The Big Mac is composed of two beef patties sandwiched between a sesame seed bun. They are accompanied by pickles, shredded lettuce, finely chopped onion, American cheese and the chain's special sauce.
The website Real Menu Prices lists Big Mac sandwich prices as $3.99 each, which means two sandwiches would cost Gorske over $8 after tax. The meal costs $5.99.
However, prices have certainly fluctuated. CNBC reported in February that the price of a Big Mac has risen about 40 percent over the past decade, blamed on economic factors such as the cost of labor, transportation, food and inflation.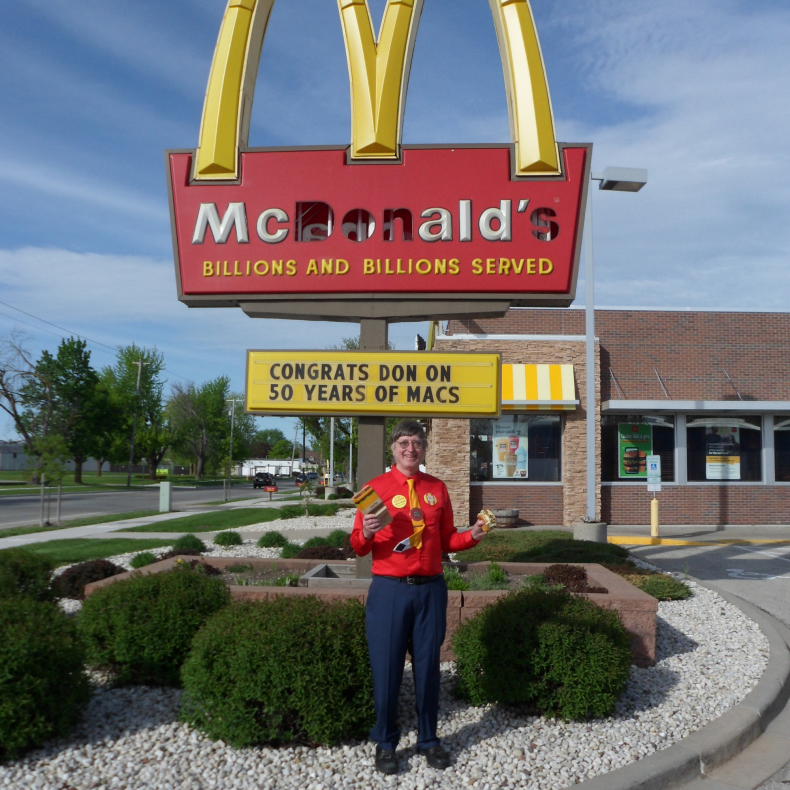 According to the McDonald's website, each Big Mac is 550 calories, has 38 percent of the daily value of total fat, and has 50 percent of the daily value of protein. The burger has 11 grams of saturated fat, or about 53 percent of the daily value, in addition to 1,010 milligrams of sodium—or 44 percent of daily value.
"All through life here, a lot of people said, 'You'll be dead before you reach 50 years of eating Big Macs,'" Gorske said. "I guess I proved them wrong."
Gorske's son, whose name was not specified, said his father always took him and his brother to McDonald's for happy meals. He had an affinity for chicken nuggets and his brother loved burgers.
"It's how we grew up," said Gorske's son. "It's just an everyday life kind of thing for us."
But things eventually changed. He said after eating chicken nuggets and burgers almost daily for years, "eventually you just get sick of it."
"I don't know how he does it, but he certainly does," the son said, referring to his dad.
Last August, Guinness World Records honored Gorske after he consumed a new high of 32,340 Big Macs eaten in his lifetime. He beat his own record of 15,490 Big Macs accomplished in 1999.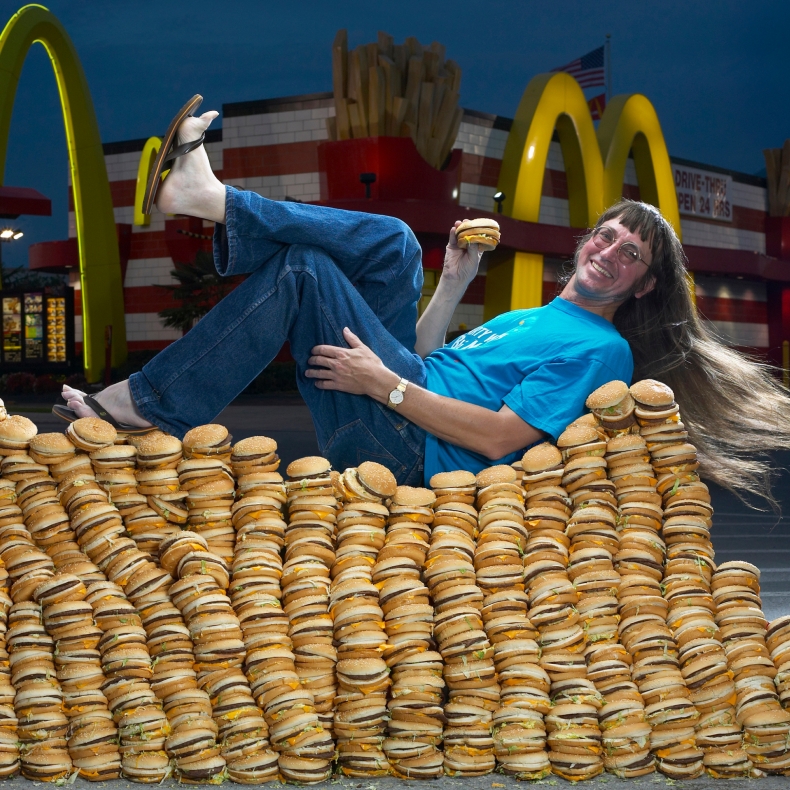 Gorske told Guinness World Records the Big Mac is still "the best sandwich in the world."
Yesterday, Gorske celebrated his 50-year streak at the same Fond du Lac restaurant branch where he had his first Big Mac in 1972. A sign outside read, "Congrats Don on 50 Years of Macs."
He is so diligent in his record-keeping that he keeps every Big Mac container and receipt, organizing them into boxes and pouches and labeling them by year. He is also rumored to update his 14-burgers-per-week schedule on a calendar, according to Guinness.
Gorske told Guinness World Records that he had one Burger King Whopper in 1984 and one Topper double burger in 1984, though never cared to try burgers at other chains. He is arguably the biggest McDonald's connoisseur alive.
"A lot of times people will say, 'You look like I'm eating a Big Mac for the first time,'" Gorske told Spectrum News. "I guess that's how I feel sometimes. They're that good to me, and there's really nothing else I'd rather eat."
Newsweek reached out to McDonald's for comment.