Man Ignites Debate Over 'Rip-off' DoorDash Fees: 'Price of Being Lazy'
A man's Buffalo Wild Wings order through DoorDash has sparked a debate after it amounted to $53 for two 10-piece boneless wings and fries.
The viral TikTok video was captioned, "Yes! It was including the tip too lol #prestontalks." It has been viewed 1.5 million times with 109,800 likes and 1,300 comments, and TikToker @prestonspams, or Preston Walker, who is also a YouTuber, shared the post on June 10 while tagging his girlfriend.
According to Statista, revenue from the online food delivery industry is expected to climb to $66.56 billion in 2022. The number of users is forecasted to reach 217.3 million by 2026. The website also reports that in 2020, the average cost of delivery services per unit was $5.37 for each item.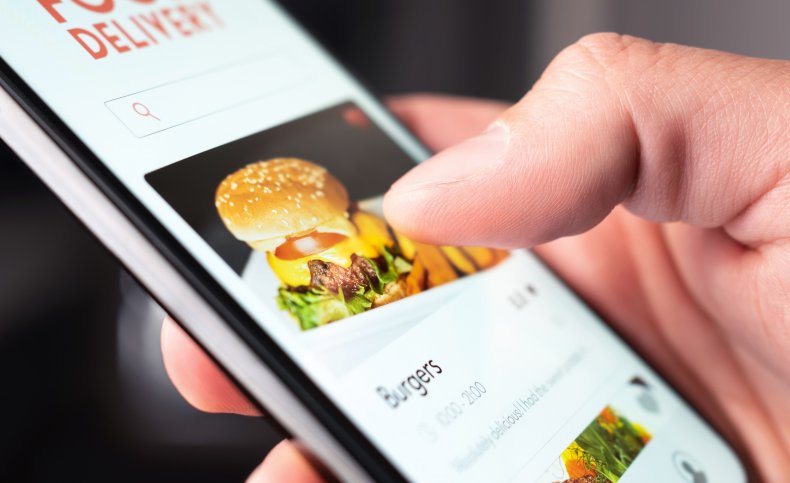 The 15-second video began with the TikToker panning the camera from the food to his girlfriend, explaining that they had just ordered food through DoorDash, which was sitting out on a table.
"$53 for this," he said while showing the food again. Different videos he revealed consisted of two 10-piece boneless wings and fries.
The boneless sauced wings sat in two paper containers with a box of fries separating them.
"My bad," Preston said, reaching for a bag of silverware and ranch cups.
"We got some ranch and forks, too," he said as he dumped out the bag to reveal its contents.
Did I 'Order Right?'
In a video update, Preston relayed again how he and his girlfriend had ordered DoorDash and how their order was over $50. He highlighted that someone said, "Y'all just don't know how to order right."
"What sense does that make? What do you mean? What? How is that even possible? Wait, order right? DoorDash is just expensive as f**k."
'Price of Being Lazy?'
In another update in response to a comment, Preston revealed the couple lives "out of town" 15 to 20 minutes away from everything. He said it was a "really expensive order," adding what the order consisted of. He revealed a person commented, "Price of being lazy" on the viral video.
"No, it's the price of living out of town, me only having my permit, not being able to drive yet, and we were hungry. If I have the money to pay for it, what does it matter? DoorDash is expensive, it's the price of being expensive. You know what I mean? And eating good. I mean, s**t, if it filled us up that's all that matters."
TikToker Takeaways
Numerous comments poured in over the viral TikTok, and a debate has ensued over ordering food through delivery services, especially DoorDash.
One TikToker revealed their "go-to" order at McDonald's is two of the $3 combos with a drink for $1, equaling out to $7. "To do something similar on DoorDash is $17 with tip and fees."
Another user said they ordered through DoorDash once in 2020. "It cost more for delivery and tip than the food," they said. "No thanks, I'll go get my own."
A TikToker admitted they "can't justify delivery apps anymore," adding, "It's cheaper to order from places that offer their own delivery. I tip their drivers well and still save a ton."
While a user added that they use DoorDash, and "unless you're on their monthly subscription for the pass it's not worth the extra fees."
A TikToker added that it was "almost like" it was a "luxury to have food delivered" to your home "when the restaurant doesn't offer it themselves because it's expensive to hire a driver."
Another user said that as someone who used to work for DoorDash, it and "food delivery in general is ridiculously expensive. A lot of the fees you pay do not go to us."
A TikTok user called it "ridiculous," adding that "UberEats is the same. Then they can't understand why we don't give a big tip. I'm done ordering."
Some people don't like using some of the food delivery apps. "DoorDash and Uber Eats are both rip-offs," a user said. "Took me a year to get my wife to stop using them."
However, another TikToker pointed out that the "prices are listed," and they wondered, "Why are you surprised? Read the print." Another reasoned, "You didn't have to order. So where is the problem?"
Newsweek reached out to TikToker @prestonspams for comment.
A DoorDash spokesperson told Newsweek: "Our support team did look into this, but were unable to locate the customer and his exact matching order. Without being able to see the specifics of the order, it is difficult to say what accounted for the total order value.
"What we can share is that fees vary for each restaurant on the DoorDash platform which go toward paying Dashers, operating the DoorDash marketplace app, and providing the best service possible. The total cost of an order includes the price of the menu items and tax, an optional tip to the Dasher, and delivery and service fees depending on the restaurant. In some cases, there may be an additional fee for orders below a minimum subtotal and for orders when demand is especially high.
"At DoorDash we're always thinking about new ways to enhance our services to provide consumers with the best possible selection and pricing while offering earning opportunities for Dashers and empowering merchants with services to grow their business and reach new customers online."
This isn't the only viral moment involving food delivery. The Internet loved a delivery driver offered food in a video clip. A video showed why DoorDash orders weren't delivered. In addition, a delivery driver said they won't deliver food without a tip in a video.