Man Killed in Front of Family After Being Lured to Car Sale: Police
A man in Los Angeles was killed Friday in front of his wife, daughter, and grandchild after he arrived at what he thought was a car sale, according to law enforcement officials.
When the man arrived at the location in South Los Angeles, he was confronted by three attackers who demanded money he had with him for the supposed sale, NBC Los Angeles reported citing the Los Angeles County Sheriff's Department. When he refused to give them the cash, he was shot. After being struck, the victim stumbled into an intersection where he was also hit by a vehicle.
Reached on Saturday afternoon, the Los Angeles County Sheriff's Department, who is still investigating the murder, referred Newsweek to a statement about the incident.
"The victim sustained gunshot wounds and traumatic injuries as a result of the traffic collision. He was pronounced dead at the scene," the department said, adding that the "suspects ran from the scene west on 109th Street out of view."
The sheriff's department has not identified the victim.
NBC Los Angeles noted that the car the man was trying to buy was later reported stolen.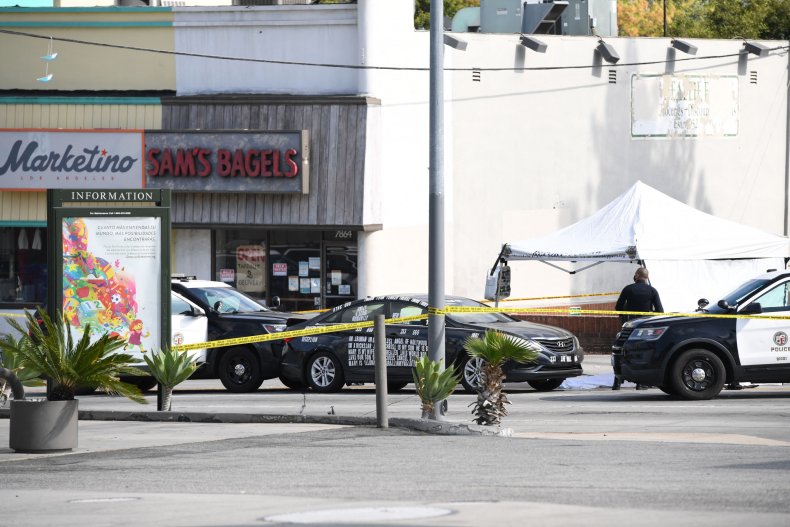 In a separate incident in Maryland in December, a professional boxer was fatally shot in front of his children on Christmas Eve. "Preliminarily, it appears the suspect's vehicle pulled up next to Kelly's SUV and someone inside opened fire," the Prince George's County Police Department said in a statement at the time.
In January, police said they arrested someone in connection with the boxer's death. Detectives said the man, Markell Lewis, 25, confessed to shooting Danny Kelly during a road rage incident, FOX 5 DC reported.
During another shooting in Los Angeles in November, a man was fatally shot in front of his wife and children. According to witness reports, the man was out getting food with his family when two men got out of a vehicle and shot him.
And in another incident in December, a California man was accused of shooting and killing his grandmother while his family was opening presents on Christmas.