Man Raging With Wife for Being 7 Minutes Late Ending Work Sparks Fury
The internet has sided with a woman who complained about her husband's "constant petty arguing" about everything, saying she's feeling "drained" by it.
In a post shared on Mumsnet on Saturday, the mom, under the username Workingmumma86, explained that she and her husband, who works night shifts, have been arguing so much about every small thing that she is now "wondering what the point is" in all of this.
Giving examples of the kind of arguments they have, she said: "I finished work at 5.07 pm instead of [5:00] pm as I was on a call which ran over. I then dared go log on a bit later when he was getting ready for work to finish something off."
Another example was: "I sat on the floor playing with youngest instead of sitting on the sofa cuddling [my husband]."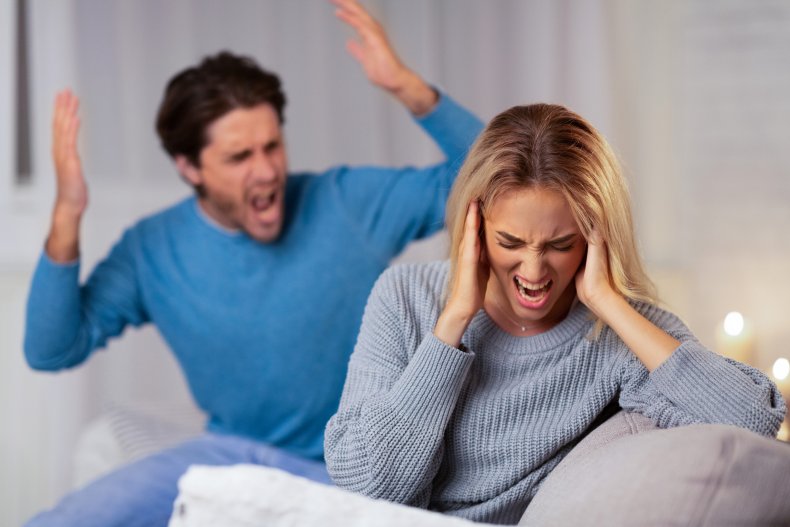 "I'm just feeling drained by the constant petty arguing!" the mom wrote.
According to Memphis divorce lawyers Miles Mason Family Law Group, about 20 percent of marriages end in the first 5 years, and 32 percent end in the first 10 years.
In 2022, the U.S. divorce rate is estimated to be at least 44.2 percent, based on a marriage rate of 6.1 people per 1,000 total population and a divorce rate of 2.7 people per 1,000 total population. So for every 6.1 people who get married, 2.7 will be divorced.
The states with the highest divorce rate include Nevada with 25.9, Hawaii with 14.2 percent and Arkansas with 8.4 percent, although the first two are wedding destination states.
The poll, which got a total of over 290 votes, ruled that the poster wasn't being unreasonable with a majority of 99 percent of users taking her side.
One user, mountainsunsets, commented: "He sounds awful." And Cognacsoft said: "How do you cope being married to a man child? I wouldn't argue, I just wouldn't engage with that behaviour." And girlmom21 added: "So he is the only important person in your house then? What a t**t."
Another user, C***Bucket said: "The problem is that you are married to a horrible man. Sorry. You deserve a happier life than this. Took me a long time to leave [ex-husband] and your post took me straight back to how miserable it was! Don't be me and keep wasting years hoping for improvement."
And Blahblahblah99 said: "He sounds insecure and needy. I think a chat to try and understand whether there is something feeding this behaviour might help." pilates wrote: "Sounds like you are walking on eggshells with him which must be exhausting. Marriage counselling?"
Another user, weltenbummler suggested: "The good news is that you have a job. You are already doing the nursery/ school runs anyway. Does not sound like he is bringing much to the partnership apart from picking childish arguments.
"Think about what your life might be like were you to separate. Probably the same amount (or less if he has the kids for some of the time) work for you but without him jealously trying to control everything you are doing to his liking."
Newsweek was not able to verify the details of the case.
Have you noticed any red flags that made you end a relationship? Let us know via life@newsweek.com. We can ask experts for advice, and your story could be featured on Newsweek.