One man's viral Reddit post defends his profession while simultaneously calling out his sister.
In a post published under username u/Tight-Change-3696 in the "Am I The A**Hole" forum, the man—who says he's a trauma surgeon—said he is "annoyed" with his sister. The post has been upvoted over 14,000 times.
The poster explained that his sister has been a registered nurse for just about three months, though she continually puts herself on the same professional pedestal as him. He said it has become nauseating due to her calling herself "a full-on doctor" and letting people believe she is a doctor.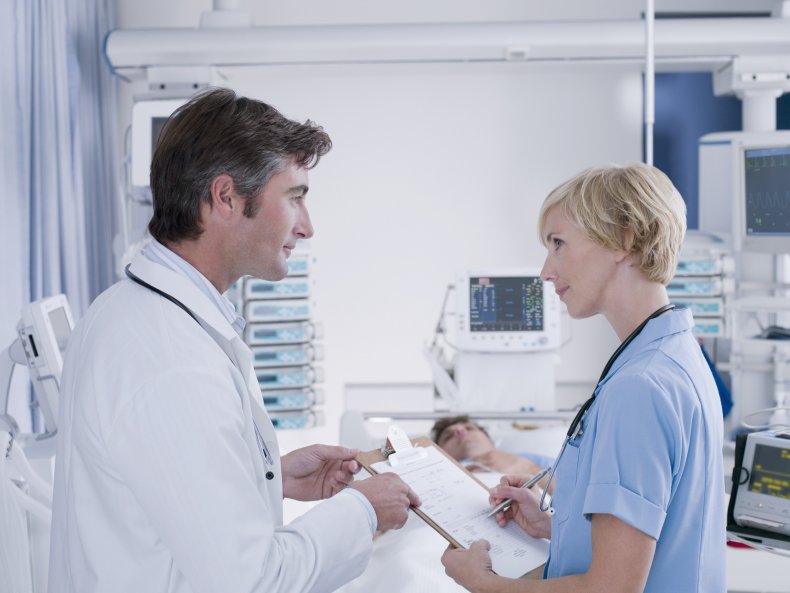 "When we meet someone new, she'll say she works in a hospital," he said. "And if they literally ask 'Ah, so you're a doctor?' she'll give a slight nod. When we're at home with family who know she's a nurse, she just says she's basically an honorary doctor.
"Obviously, as a doctor drowning in student loan debt and who's worked for years to attain the title, it just feels a little bit offensive."
The poster clarified that he has "all the respect in the world" for nurses, saying that society needs them because "they are the soul of the hospital" who keep things from grinding to a halt.
"But they're not doctors. Not anything close," he added. "Maybe after, like, five years of experience they end up soaking up some knowledge about the field. But not my sister, as she's been working for less than three months."
The poster's country of origin was never specified.
According to Salary.com, as of May 27 of this year trauma surgeons in the United States average about $424,000 per year. The range falls between approximately $368,700 and $504,500. One New York doctor who spent six days in war-torn Ukraine serving at a children's hospital has opened up about the dangerous experience, describing the horrors faced by the country's people as Russia's invasion continues.
The same website states that the average "level one" registered nurse salary is annually $65,640, with a salary range between approximately $58,900 and $75,000.
The U.S. Bureau of Labor Statistics, however, reports that the average median pay for registered nurses in 2021 was about $77,600 per year—or about $37.31 per hour. There were about 3.08 million nurses in the U.S. in 2020, with the field expected to grow about 9 percent between 2020 and 2030. Redditors added nurses to a list of jobs that should make more money.
The COVID-19 pandemic has caused many nurses to ponder leaving their professions entirely due to stress and burnout, according to a survey by staffing firm Incredible Health. The survey said about one-third of nurses, or 34 percent, are planning to leave their current jobs by year's end. One nurse was allegedly threatened after refusing to take what she felt was an unsafe number of patients.
After stress factors, nurses cited pay and benefits as secondary reasons for seeking other positions.
By the same token, the American Medical Association reported in January that doctors are facing their own "great resignation." A referenced survey of more than 20,000 respondents at 124 U.S. institutions showed that one in five physicians were likely to leave their current practice within two years, and about one in three doctors and health professionals intended to reduce work hours within the next 12 months.
Mall Mayhem Leads To Sibling Dispute
The tension grew due to a recent situation where the siblings found themselves front and center during a medical emergency suffered by a kid at a local mall.
The poster said he was handling the situation and "doing the appropriate things" to aid the individual, but simultaneously his sister allegedly tried to undermine him and instead offered her own critique of his handling of the event.
"At one point she literally grabbed my hand yelling why I won't listen to her, and I just told her to f**k off," he said. "At home after the kid survived, I just unleashed myself on her. She is completely and utterly arrogant and needs to realize she is nothing close to a doctor (yet), and that almost cost the kid his life today."
Most Redditors agreed with the poster due to his sister's experience, or lack thereof.
One Redditor commented that nurses with 15 or 20 years' experience could potentially possess more knowledge than doctors, to which the poster agreed. That is a different reality than that of the poster's sister, though.
Another Redditor mentioned nurses' "brutal schedules."
"To be fair, the nurses have a schedule just as bad as ours in my hospital, maybe slightly better in the ED," the poster replied. "And not only that, but I've seen so many a**holes just act like nurses are servants. Nobody treats doctors like that, arguably for a 'good reason but still, not really nice."
Newsweek reached out to the poster for comment.