Man Slammed for Requesting Ex, Not Wife, Take Care of Him in Hospital
Commenters in a popular internet forum criticized a man who requested that his ex rather than his wife care for him while at the hospital in critical condition.
The man's wife, known only as u/Ill-Firefighter-7196, posted about the incident on Reddit's popular "Am I The A**hole" forum where it received more than 9,500 upvotes and 1,200 comments.
You can view the Reddit post here.
In the post titled "AITA for making my husband's accident about myself?" the woman, 26, explained that her husband, 29, was in an accident on his way to work and was rushed to the hospital.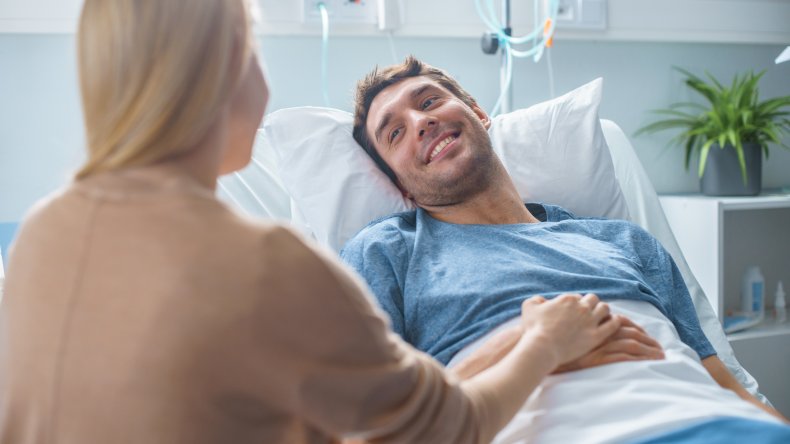 The woman said her mother-in-law called to say he was "almost dying" and she drove to the hospital. When she arrived, the doctors told her that he was asking for his ex and that they had to sedate him because he was freaking out that she wasn't there.
"I thought it was okay since the car crash was so bad but the doctors told me it wasn't," the post read. "He fractured his legs and there was a minor fracture in his arm."
She also said that he wasn't on any drugs and did not suffer any serious injuries, including to his brain.
"I let it go at that moment because his health came first, but now that he's home and recovering I can't help but be bothered by it," the post read. "I brought it up last night (3 weeks after the accident ) and he went off at me saying I don't know what it feels like to be in that position and that I made his misery about myself."
The man also told her that she doesn't understand the "dynamic" between himself and his ex and that she should stop bringing it up because it wasn't "about her."
He added that he was allowed to ask for his ex because he was hurt and she would "calm him down."
After texting his mother about it, his mother began berating his wife, saying her main priority should be nursing him back to health.
"A part of me wants to be petty and leave and tell him to call his ex and ask her to take care of him instead," the post concluded. "What should I make of this situation? I've been taking care of him and catering to all his needs and I haven't even gotten a single thank you. Am I the asshole for bringing it up?"
More than 1,200 users commented on the post, with many telling the woman she is not in the wrong.
"NTA. His response clearly shows he's trying to victimize himself and made no attempt to even say it wasn't intentional," one user commented. "OP could've had no insecurity and just been curious/found it funny, but he point-blank got defensive and turned it around on her just for asking."
"My suggestion is to leave and let his ex take care of him since he wants her so badly," another user wrote.
"He knew what he was doing. If he wants his ex so bad he should get back with her," another wrote. "I would have a hard time moving forward with him after this."
Others said they thought the man's reaction was overly defensive and wondered if he was perhaps cheating on his wife with his ex.
"You really need to get to the bottom of that. He should have said 'I'm so sorry. I was out of my mind. I have no idea what I said,'" one user commented. "But instead he gets mad at you? Then enlists his mother to berate you? Seems like an extreme defensive reaction on his part. Do you have any reason to believe he's cheating with her?"
Newsweek reached out to u/Ill-Firefighter-7196 for comment.
According to Ashley Madison, a website designated for married individuals who are looking to cheat, more than 17,000 individuals signed up for the site per month during the lockdown.
Another study found that approximately 13 percent of individuals in committed relationships admitted to contacting their ex-partner during the COVID-19 pandemic.
Of these individuals, a majority said they reached out to their ex because they were looking for a hook-up or to rekindle their relationship.
One woman gained support from commenters after she asked her brother to uninvite her future ex-husband from his wedding. While the woman had the support of commenters, she said the request caused a rift between her and her brother.
Another woman went viral on TikTok after exposing her cheating boyfriend by decorating his room with text messages and photos "proving" his infidelity.
A marriage and family therapist intern also went viral after claiming she can "predict" if someone's partner is going to be unfaithful.