Man Sparks Speculation of Affair After Expecting Best Friend to Move In
Commenters slammed a man who expected his wife to be okay with his best friend moving into their home, leading many to speculate the possibility of an affair.
The anonymous woman, known as u/Puma_Tiger_, posted about the situation in Reddit's popular "Am I The A**hole" forum where it received more than 8,000 upvotes and 1,200 comments. The post can be found here.
Are Affairs Common?
According to a 2021 survey by Health Testing Centers, a little more than 46 percent of individuals in monogamous relationships said they'd previously cheated.
Research has also found that men are more likely to cheat than women, with men between the ages of 55 to 64 being the most likely. Individuals with a past of infidelity are also more likely to cheat again.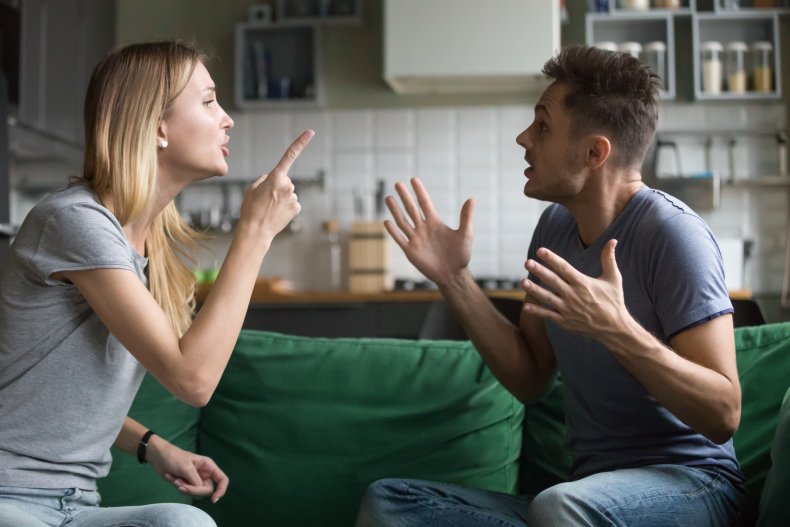 Of those who have cheated, the majority of individuals admitted their infidelity to their partner, while about 22 percent chose to hide the affair.
'AITA?'
In the post titled "AITA for not allowing my husband's friend to stay with us longer than we originally agreed?" the 29-year-old woman said she had been married to her husband Alex, 32, for three years.
The woman said Alex and his best friend Jack, 35, are close and spend a lot of their time together.
"At one point, I was almost starting to suspect that my husband was lying about his whereabouts and was actually with another woman," the post read.
But the woman said when she FaceTimed or asked her husband for a picture, he would "always comply" and was often with Jack.
'Should Have Some Say'
For the past few years, Jack has talked about building his dream home and has "roped" Alex into the planning process since he will "be over constantly anyway so he should have some say in things."
"This has been a passion project so many years in the making that I never thought would ever actually come to fruition," the post read. "But Jack and my husband came to me about a month ago with requests for Jack to stay at our place while his previous house sold and he worked on apartment hunting to tide him over until the build was complete."
She told Alex that Jack could stay for no longer than one month, but by the time a month rolled around he had sold his house but not rented a new place.
"I continually asked my husband for an update in the days leading up to July 30th and wasn't provided with much," the post read.
Recently, the woman decided to tell Jack that he "overstayed his welcome" and had until the end of the week to "figure something out."
"Both he and my husband immediately lashed out, saying I was being a terrible host and that he needed more time than that to sort out an apartment," the post read. "I said I had already given him a month. My husband currently isn't speaking to me. AITA for putting my foot down?"
Redditor Reactions
More than 1,200 users commented on the post, many backing the woman for standing up to her husband and his friend.
"He's well off and yet has to stay with you while he builds his dream home? That's a bit suspicious," one user commented. "Are you sure your husband isn't having an affair...with this dude? NTA for putting your foot down."
"Someone hold my Dr. Pepper while I jump into this pool of conclusions over here: Are your husband and Jack having an affair?" another user asked. "NTA either way, just curious."
"NTA. I suspect when the friend goes, the husband may follow. Sorry OP," another wrote.
"Yep, why else would he want to be involved in the planning process?" another user replied.
Newsweek reached out to u/Puma_Tiger_ for comment.
Other Viral Posts
In other viral Reddit posts, a man was blasted for saying he could "see himself cheating" just two weeks after getting married and another was criticized for wanting to install cameras in his home to watch his wife.
One woman was also criticized for admitting to having an affair with a married man with two children.