'The Mandalorian': Why Hasbro Has Canceled Gina Carano Toys
Hasbro has reportedly scrapped plans to release two action figures of The Mandalorian's Cara Dune after actor Gina Carano was fired from the Star Wars series after a series of tweets espousing conspiracy theories and expressing views seen by many as transphobic and anti-semitic.
On February 13, Star Wars fans who had pre-ordered a Cara Dune action figure from the Big Bad Toy Store company received an email reading: "We have been informed by Hasbro that they have cancelled production of the Star Wars: The Black Series 6″ Cara Dune (The Mandalorian) and will not be fulfilling our order. Unfortunately, this means we must cancel our pre-orders for this item. We apologize for the inconvenience and greatly appreciate your understanding."
This was then confirmed by a spokesperson from the store, who told The Hollywood Reporter: "The Star Wars Black Cara Dune figure was released in 2020 and sold out not long after the inventory was received. Hasbro planned for another production run and we were accepting preorders from that production run. Due to recent events, Hasbro was no longer approved to produce any more of this figure."
Two action figures of the character have now been canceled—the 6" Black Series and the Vintage Collection figure.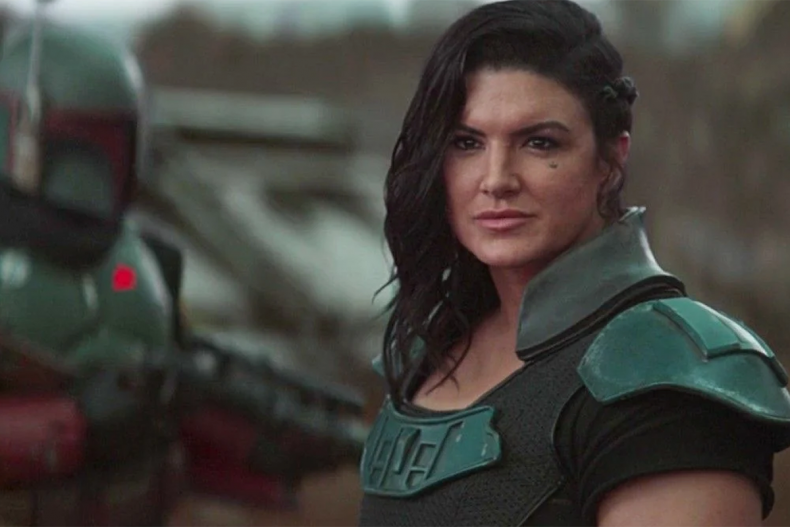 However, a number of Cara Dune figures are still believed to be going ahead. A Retro Collection toy, why replicates the throwback look of the original Star Wars toys, is intended to be released as planned. The Funko Pop of the character announced in fall 2020 will also go ahead as the company has already shipped the product to a number of retailers.
This announcement comes a few days after Lucasfilm announced they were no longer working with the actor and former MMA fighter. "Gina Carano is not currently employed by Lucasfilm," the statement read, "and there are no plans for her to be in the future. Nevertheless, her social media posts denigrating people based on their cultural and religious identities are abhorrent and unacceptable."
This came after she reshared a meme comparing the impact of so-called "cancel culture" on people with right-wing views with the experiences of Jews in the Holocaust. The post read: "Jews were beaten in the streets, not by Nazi soldiers but by their neighbors...even by children. Because history is edited, most people today don't realize that to get to the point where Nazi soldiers could easily round up thousands of Jews, the government first made their own neighbors hate them simply for being Jews. How is that any different from hating someone for their political views?"
Though Carano's time in the Star Wars universe is over, she has announced she is working on a film project with the conservative news website The Daily Wire.
News of the cancelation of the Gina Carano figures already seems to have risen prices on eBay for figures that have already been released. At the time of writing, for example, a Vintage Collection figure of The Mandalorian himself is listed for around $20-$30 while a similar one of Dune costs $99.99. One listing of a Dune Black Series figure, meanwhile, has bids up to $140 with two hours left to bid.
Whether these higher prices are being paid by the fans of Carano (including the 300,000 people who followed her on social media since her firing) or by savvy fans who realize that figures of her are about to become rare, however, is unclear.
Correction: This article was amended on February 17, 2021, to reflect the fact that Funko had shipped their Cara Dune figure before Carano's firing.