Gina Carano's Social Media Followers Surge by 300,000 After Disney Firing
Despite being fired from her role in Disney's The Mandalorian over a controversial Instagram post, Gina Carano's social media followers have surged in the past two days.
The actress and ex-MMA fighter has seen her followers increase substantially on both Instagram and Twitter amid the controversy, which saw her dropped by both Lucasfilm and her agent.
According to stats from Social Blade, Carano gained 142,908 new followers on Instagram on Thursday and on Twitter, her followers increased by 30,704 on Thursday and 133,765 today, Friday.
So the former Cara Dune star now has 1.7 million followers on Instagram and 764,300 on Twitter.
Earlier this week, the actress, who is a vocal Donald Trump supporter, shared a post to her Instagram that compared being a Republican today to the experience of Jewish people during the Holocaust.
The post read: "Jews were beaten in the streets, not by Nazi soldiers but by their neighbors... even by children... Because history is edited, most people today don't realize that to get to the point where Nazi soldiers could easily round up thousands of Jews, the government first made their own neighbors hate them simply for being Jews. How is that any different from hating someone for their political views?"
A spokesperson from Lucasfilm labeled the post "abhorrent" and confirmed in a statement that Carano has been terminated from the popular Star Wars franchise.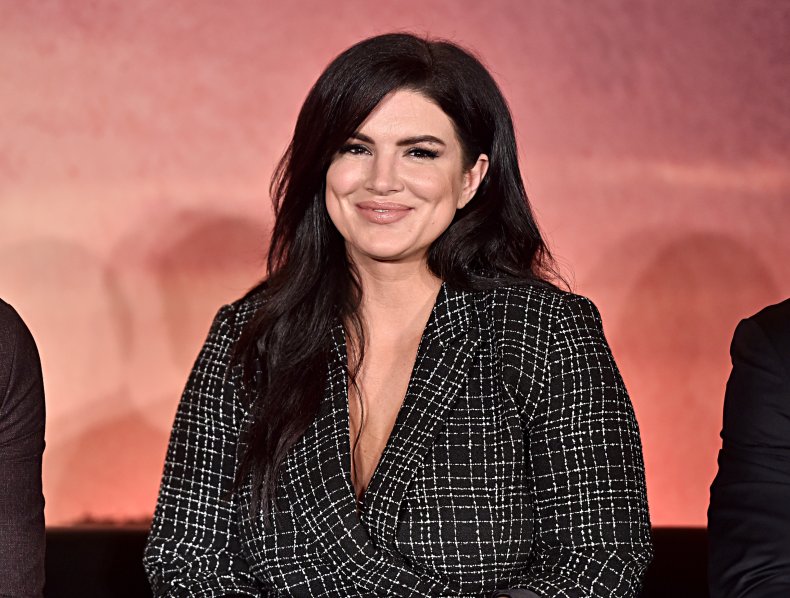 "Gina Carano is not currently employed by Lucasfilm and there are no plans for her to be in the future," a Lucasfilm spokesperson said in a statement.
"Nevertheless, her social media posts denigrating people based on their cultural and religious identities are abhorrent and unacceptable."
This is not the first time the actress has been at the center of controversy over her political views.
In November of 2020, she shared a meme on Twitter that appeared to criticize mask-wearing during the coronavirus pandemic—leading to Star Wars fans petitioning for her to be cut from the show.
She also previously shared baseless voter fraud claims on her Twitter about the 2020 election result.
Carano's firing yesterday led to outrage from conservatives who rallied around the actress in a display of support and rejection of what they called "cancel culture."
The hashtag #CancelDisneyPlus trended on Twitter yesterday, with many conservative voices calling for others to cancel their Disney+ subscriptions.
Meanwhile, many fans of The Mandalorian were pleased to see Carano had been dropped and began discussing who could be recast as Cara Dune in the show.
Lucy Lawless is currently a favorite among fans, with several people name-checking the 90s heroine and star of Xena: Warrior Princess on Twitter yesterday.