On Saturday, March 24, I'll be in Washington, D.C., marching with the Parkland students. But I'll also be marching for 22-year-old Stephon Clark, a father of two in Sacramento who was shot and killed in his backyard by police who said they thought his cell phone was a weapon. I'll also be marching for 16-year-old Jaelynn Willey, who died after she was shot at her Maryland high school. And I'll march for the 96 Americans who are shot and killed every day, and hundreds more who are wounded, and whose deaths and traumas receive little to no media attention.
From California to Maryland to Parkland, there is no community in this nation that remains untouched by gun violence. And on Saturday, we must set an example for our lawmakers by rising up to meet the moment, and to finally demand they end this national crisis.
For each of us, there comes a moment when you can no longer stay quiet. Mine was the day after the Sandy Hook Elementary School shooting in 2012 that stole the lives of 20 children and six educators. As a mom of five, I couldn't accept an America in which first graders and teachers are gunned down in the sanctity of a classroom. But for so many Americans, they don't have a choice on when enough was enough. For countless families, and particularly black families—black children are 10 times more likely to be victims of gun homicide than white children—this is a crisis that has felt urgent for decades.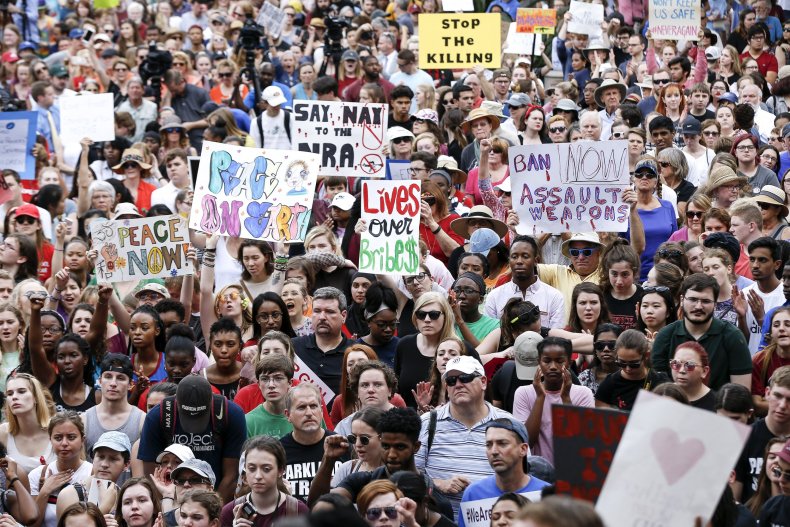 I'm ashamed that it took me until Sandy Hook to open my eyes to how many Americans are affected by gun violence every single day in this country.
Since I founded Moms Demand Action for Gun Sense in America five years ago, we've made enormous strides. With a chapter in every state, and millions of supporters and volunteers who go toe-to-toe with the gun lobby every day, we outsmart the NRA and we win. Our volunteers have helped pass laws requiring a background check on every gun sale in eight states, passed life-saving legislation to keep guns out of the hands of domestic abusers in 25 states, and helped pass Red Flag Laws that allow family and police to procure temporary gun restraining orders in five states. It's been an exhausting and exhilarating five years.
But here's the thing about growing a movement—it takes time. It can take years to build a solid ground game—but then the movement surges forward rapidly. Since the Parkland shooting, we've seen a surge like never before. More than 140,000 people have reached out to us wanting to volunteer, including thousands of students who became the first members of Students Demand Action, a new, student-led initiative fighting gun violence in communities across the country. More than 1.7 million people have joined us as online supporters. And across the country, students are rising up—from elementary school to college-aged Americans—demanding change.
It's inspiring to see so many new leaders in this movement spring up all at once—inspiring all of us to be bolder, louder and even more fearless as we demand our safety. It's too late for the 17 people who were killed on February 14 in Parkland, and for the hundreds of thousands of Americans shot and killed or wounded by gun violence as lawmakers failed to act, but make no mistake—gun violence is preventable. Stronger gun laws work, and the research proves it.
Join us in Washington, D.C., or find your local march to let your lawmakers know our lives are worth more than NRA dollars. Lawmakers will no longer get away with sending their "thoughts and prayers" without the promise of action. We demand they act to prevent gun violence, or we will throw them out of office.
Together, we can change America's gun violence crisis and ensure that future generations can live without fear of gun violence.
Shannon Watts is the founder of Moms Demand Action for Gun Sense in America, a grassroots movement to prevent gun violence, and a board member for Emerge America, an organization that trains progressive women to run for office.​