Marco Rubio Applauds Trump Caravan Surrounding Biden Bus in Texas: 'We Do That in Florida Every Day'
Florida Senator Macro Rubio joined President Donald Trump in applauding the caravan of vehicles that harassed Joe Biden's campaign bus in Texas.
At a rally for Trump's re-election campaign at Miami's Opa Locka Executive Airport Sunday Night, Rubio addressed videos that showed a group of vehicles, many sporting Trump flags and other memorabilia, surrounding a Biden campaign bus as it traveled down I-35 from San Antonio to Austin on Friday.
The caravan forced the Democratic campaign to cancel some stops on Biden's "Battle for the Soul of the Nation" bus tour due to safety concerns.
"I saw yesterday a video of these people in Texas," Rubio said to a large, mostly mask-less crowd. "Did you see it? All the cars on the road, we love what they did."
The Florida Senator continued: "We do that in Florida every day. I love seeing the boat parades. We thank all the great patriots."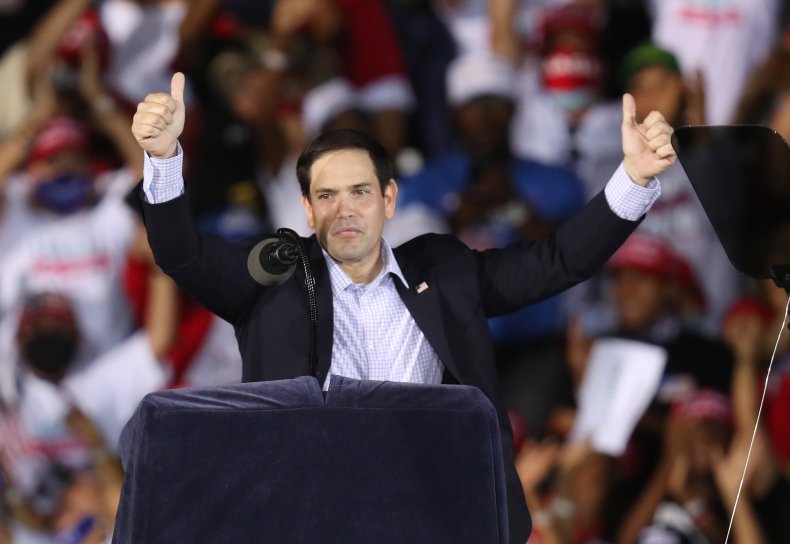 The president has previously applauded the Texas caravan in a tweet on Saturday that stated "I LOVE TEXAS!" alongside a video of the event.
Addressing the concerns of the caravan, Journalist Tony Plohetski tweeted that the FBI confirmed on Sunday that it was "aware of the incident and investigating." This led Trump to defend his supporters in a statement on Twitter.
"In my opinion, these patriots did nothing wrong," Trump tweeted. "Instead, the FBI & Justice should be investigating the terrorists, anarchists, and agitators of ANTIFA, who run around burning down our Democrat run cities and hurting our people!"
On Monday, Trump also stated that the news of the FBI investigation was "FALSE."
"This story is FALSE, tweeted Trump. "They did nothing wrong."
Trump and Rubio's support of the caravan comes as many raise concerns of potential voter fraud, suppression and intimidation, especially in the swing state Florida.
The state has seen accusations of "blatant" voter suppression from Democrats after Florida's voter registration website crashed on the last day of registration. The state has also faced voter intimidation concerns as armed men patrolled polls in St. Petersburg.
The Trump and Biden Campaigns didn't respond to Newsweek's request for comment in time for publication.