Vladimir Putin Questioned by His Greatest Cheerleader: 'I Serve Russia'
A Kremlin propagandist who will moderate a discussion with Vladimir Putin at a St. Petersburg forum has accused foreign journalists of not being objective enough for the role, even though she tweeted, "I serve Russia."
Editor-in-chief of RT, Margarita Simonyan will head the plenary session of the St. Petersburg International Economic Forum (SPIEF) on Friday. In 2017, former Fox News Channel anchor Megyn Kelly moderated proceedings at the forum in Putin's hometown, during which she asked him about claims of Russian interference in the 2016 U.S. election.
Russian state news agency TASS reported that Simonyan had been one of the frontrunners for taking charge of Friday's plenary session, which is part of the forum starting on Wednesday.
Citing Kremlin spokesman Dmitry Peskov, Simonyan said she had been confirmed as the moderator, as she took a swipe at foreign journalists.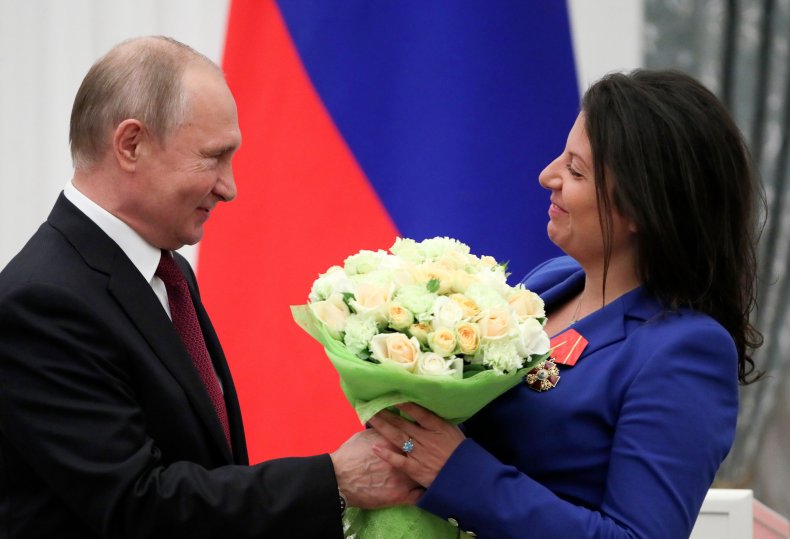 "The informational adequacy of many well-known western journalists is questionable for us," she tweeted on Tuesday, "we still could not call them objective journalists and real journalists."
In a thread, she referred to Peskov's comments that Putin had chosen the moderator from a list of several candidates. She then added, "I serve Russia!"
Simonyan is a close ally of Putin and is featured regularly as a guest on the state channel Russia-1 where she pushes the Kremlin line regarding the invasion of Ukraine as well as anti-western rhetoric.
Earlier this month, she told Russia-1 that the U.S. is "not a country, but a kindergarten for mentally disabled children." Last month, she told 60 Minutes that the Ukraine war will either end with Russia's victory or a catastrophe for humanity.
"Either this ends badly for all humanity or we win. There's no third option," she said.
Some business leaders are reluctant to be seen at the forum which celebrates its 25th anniversary, for fear of falling foul of international sanctions that have been imposed on Russia due to the Ukraine war, Bloomberg reported.
Some executives have asked forum organizers to remove their names from the badges so they cannot be identified and at least two executives will leave the event before Putin's speech, according to the outlet.
According to the forum's program, the CEO of the American Chamber of Commerce in Russia will speak during the event which ends on Saturday. Meanwhile, senior figures from the French-Russian and Italian-Russian Chamber of Commerce and Industry and the Canada Eurasia Chamber of Commerce will also take part in discussions.
Panels at the forum will discuss the media, green energy and Russia's relations with Asia. Many panels feature Russian officials as speakers although Bloomberg reported there would be fewer foreign representatives than usually attend.