Everyone Who Has Dropped Marilyn Manson Since Abuse Allegations
Evan Rachel Wood's allegations of abuse she experienced at the hands of shock rocker Marilyn Manson have seen the singer's upcoming appearances on a least two TV shows canceled, plus his record label has announced they are dropping him.
In an Instagram post released at the start of February, the Westworld actor posted: "The name of my abuser is Brian Warner, also known to the world as Marilyn Manson. He started grooming me when I was a teenager and horrifically abused me for years. I was brainwashed and manipulated into submission. I am done living in fear of retaliation, slander or blackmail. I am here to expose this dangerous man and call out the many industries that have enabled him, before he ruins any more lives. I stand with the many victims who will no longer be silent."
This allegation, which the singer has denied, was followed by further Instagram posts from four other women—Ashley Walters, Sarah McNeilly, Ashley Morgan and a woman called Gabriella who did not reveal her surname—alleging that Manson had abused them.
In response, Manson wrote an Instagram post of his own calling these claims "horrible distortions of reality."
The singer's record label Loma Vista Recordings, however, soon announced they were cutting ties with him. In a statement posted on Twitter, the label said: "In light of today's disturbing allegations by Evan Rachel Wood and other women naming Marilyn Manson as their abuser, Loma Vista will cease to further promote his current album effective immediately.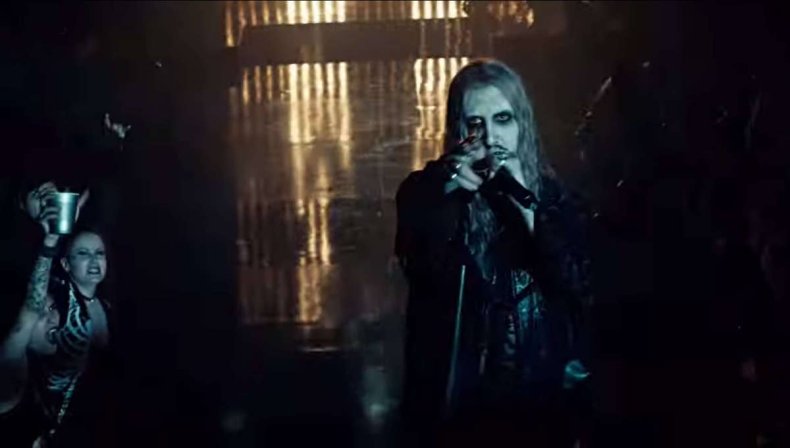 "Due to these concerning developments, we have also decided not to work with Marilyn Manson on any future projects."
Per Billboard, before this announcement the singer had already been taken off of Loma Vista's website.
This was shortly followed by statements from two TV shows that the singer was to appear in announcing that his role had been cut out of upcoming episodes.
In the current season of Starz's American Gods Manson has appeared so far in two episodes as the lead singer of a Viking-themed death metal band. However, Starz has now revealed that his upcoming appearances on the show will be taken out of their respective episodes.
A Starz spokesperson told Deadline: "Due to the allegations made against Marilyn Manson, we have decided to remove his performance from the remaining episode he is in, scheduled to air later this season. Starz stands unequivocally with all victims and survivors of abuse.
Manson was also set to appear in a segment of Season 2 of Shudder's horror anthology series Creepshow, made by AMC Networks. The company also confirmed that his segment would not air and would be replaced when the show returns at some point in 2021.